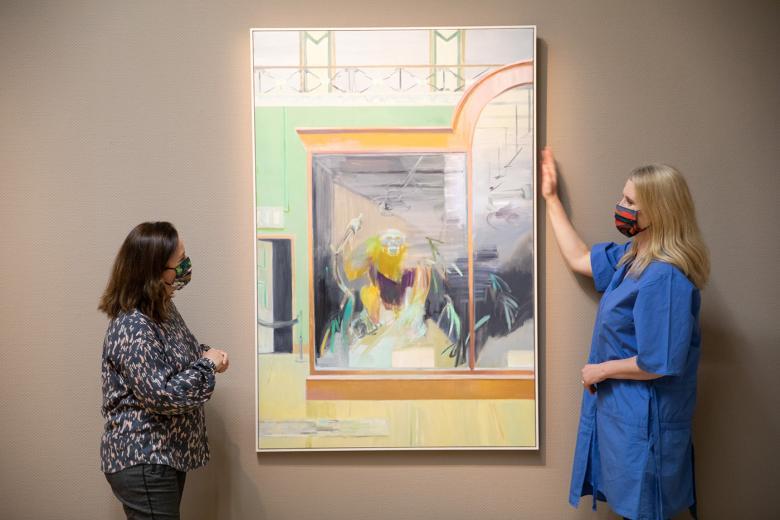 Curators Niamh MacNally and Janet McLean look at a painting by Mairead O'hEocha in New Perspectives. Acquisitions 2011-2020.
Photo: Naoise Culhane
Credit
The National Gallery of Ireland is delighted to announce it will reopen once again on Monday, 10 May 2021. The announcement comes following 137 days of closure.
To coincide with the reopening, the National Gallery of Ireland will open New Perspectives on Tuesday, 11 May, a show comprising acquisitions made by the Gallery between 2011 and 2020. This latest exhibition will allow the public to view many new acquisitions to the national collection for the first time. Some highlights include Cityscape by American artist Alice Neel and City Rectangle by Ilya Bolotowsky. New Perspectives also features works that have been purchased by Friends and Patrons of the National Gallery of Ireland, including Her First Communion by John Lavery and Crayfish by Anne Yeats.
As ever, visitor safety is at the heart of all reopening plans. The Gallery is operating a one-way system, and so entry is via Merrion Square only.  To comply with health and safety protocols at the Gallery, those intending to visit any part of the Gallery will be required to pre-book free tickets, for contact tracing purposes. Tickets for New Perspectives can be purchased online, starting from €5. Tickets can be booked by visiting www.nationalgallery.ie. The popular national collection will be open to the public for free upon reopening. The much-loved Gallery Shop will reopen on site on 17 May 2021.
Sean Rainbird, Director of the National Gallery of Ireland, commented: "We are very happy to be open again after months of closure. These extraordinary times have reinforced the importance and value of the National Gallery of Ireland. After months of staying at home, we know that people are craving culture and live experiences, and we are delighted to welcome our visitors back. Our latest exhibition New Perspectives is a culmination of ten years' of acquisitions. Visitors will find great variety in the show, and the stories behind each work are truly fascinating. We are grateful to our Friends, Patrons, and the public for their support over the last number of months. I especially would like to thank our Friends and Patrons, without whom, some of the art showcased in New Perspectives, would not have come to be here. We look forward to seeing you all over the coming weeks and months." 
Niamh MacNally, Curator at the National Gallery of Ireland, continued: "There is something for everyone in this exhibition. A great variety of subject matter, landscapes, portraits – visitors will recognise some of the places and faces that feature too. Over the past decade, we have been working hard on gender balance in the national collection, and this exhibition features almost an even split of work by male and female artists. The earliest work in the exhibition dates back 500 years and the most recent work was created just last year. It has been a privilege to get to know these works and to learn more about the story that accompanies each one. I'm sure visitors to the Gallery will feel the same."
To accompany the exhibition, a programme of online activity will run alongside it, including podcasts, videos, interactive webinars and guided tours. Events and activities will cater to all ages and focus on three themes: ways of collecting; a practical focus on variety of media; and a closer look at some of the contemporary artists represented in this exhibition, as we ask them to give their perspectives on their work, and to share what it means for them to be included in the national collection. Find out more at www.nationalgallery.ie.
Media contact:
Grace Cooney/ Breena Cooper, Drury Communications 
[email protected]  / [email protected]
086 153 6886 (GC) / 087 121 4607 (BC)
Kate O'Leary, Communications, National Gallery of Ireland 
[email protected] / 087 334 1587
Notes to Editor:
Images are available on request. 
Gallery representatives, including Director Sean Rainbird, are available for interview.
Mon: 11am – 5.30pm
Tues to Sat: 9.45am – 5.30pm 
Sun: 11.30am – 5.30pm
Gallery Shop reopens on 17 May 2021.
Visitor information:
Advanced booking required for entry to the national collection and for New Perspectives exhibition. Sanitising facilities at all entry points and throughout Gallery. Tours and audio guides will not be available, but versions of Gallery initiatives are available online. Lifts will be available but for single use or disability access only. Cloakrooms will be closed. Entry via Merrion Square only: a one-way system is in place at the Gallery. Read our Visitor Guide and FAQs for more information.
About the National Gallery of Ireland:
The National Gallery of Ireland is one of the country's most popular visitor attractions housing the nation's collection of European and Irish art from about 1300 to the present day, and an extensive Library & Archive. Entry to the collection is free for all to enjoy, learn and be inspired.
Highlights of New Perspectives exhibition
Peter Paul Rubens (1577–1640), Head of a Bearded Man
Pompeo Batoni (1708–1787), A Lady of the Leeson Family as a Shepherdess
John Lavery (1856-1941), Her First Communion
Seán Keating (1889-1977), Homo Sapiens: An Allegory of Democracy, 1929-1930
Marie-Louise von Motesiczky (1906-1996), Summer Landscape 
Alice Neel (1900-1984), Cityscape
Ilya Bolotowsky (1907–1981), City Rectangle
Brian O'Doherty (b.1928), Portrait of the Artist as a Naked Young Man
Inge Morath (1923-2002), Window Washers, 48th Street, New York
Markéta Luskačová (b.1944), Sleeping Pilgrim, Levoca, Slovakia
Aoife Layton, Clash
William Crozier (1930–2011), Flanders Fields
Elliott Erwitt (b.1928), Ballycotton, Ireland
Evelyn Hofer (1922–2009), 'Mulligan's' James Joyce's Pub, Dublin, 1966
Colin Middleton (1910–1983), Seated Woman
Mandy O'Neill (b.1967), Edna O'Brien Diptych
Saoirse Wall (b.1992), Gesture 2
Anne Yeats (1919–2001), Crayfish