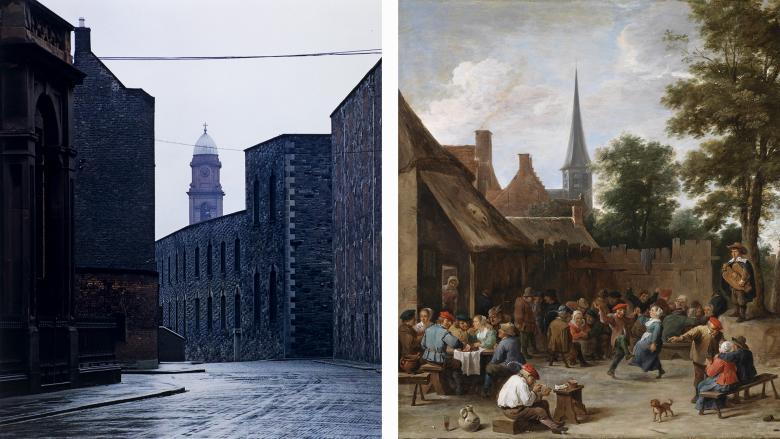 L: Evelyn Hofer (1922-2009), Distillery, Dublin, 1966 (detail), 2003. © Estate of Evelyn Hofer.
R: David Teniers II (1610-1690), A Village Kermesse near Antwerp (detail), mid-1640s. Photo © National Gallery of Ireland.
Credit
11 May – 2 August 2021
Beit Wing
Discover a decade of new acquisitions – many on display for the first time – in New Perspectives. The Gallery holds Ireland's national collection of art, a collection that is constantly growing and evolving through the addition of new works. These acquisitions augment and enrich the collection for the nation.
New Perspectives includes newly acquired Irish art, Western art, portraiture, works on paper, and archival material, featuring artists from Peter Paul Rubens (1577–1640) to Alice Neel (1900-1984), and Ilya Bolotowsky (1907–1981) to Mandy O'Neill (b.1968).
Works selected by Sean Rainbird
Curators | Janet McLean & Niamh MacNally
Booking your exhibition ticket
To visit New Perspectives, you must book a timed ticket in advance.
Become a member and see all exhibitions for free. Find out more about membership
Members (Friends and Patrons), children under 18, and carers, can visit the exhibition for free, but must book their free ticket in advance too.
There is no promo code for members; just log into Ticketsolve, select your date, time and ticket, and the price will be discounted fully at the checkout stage of the transaction.
Healthcare workers can visit this exhibition for free. Please email

[email protected]

to book your free ticket.
Discounts available for seniors, jobseekers and students.
Special offers available on select days.
You are welcome to explore the permanent collection and free exhibitions before and/or after your visit to New Perspectives.
Contact tracing
The Gallery is required to undertake contact tracing as part of its commitment to ensuring a safe and controlled environment for visitors and staff for the duration of the COVID-19 pandemic. As such, when you book tickets on Ticketsolve, certain personal data (name, number in party, time of entry and contact number) will be recorded and may be shared with the HSE for contact tracing purposes for up to 30 days following your visit. Read our Privacy Notice for more information. Read our Online Bookings Terms & Conditions for further details.