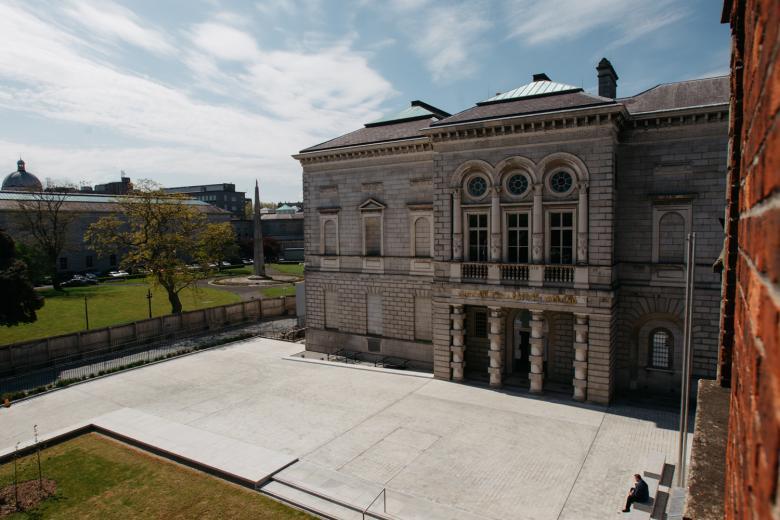 © National Gallery of Ireland. Photographer: Jack Caffrey, The Pimlico Project, 2017.
Credit
Statement of commitment
The National Gallery of Ireland is committed to making www.nationalgallery.ie accessible in accordance with S.I. 258/2020. We are committed to achieving AA standard under WCAG 2.1 guidelines. This accessibility statement applies to www.nationalgallery.ie, it does not apply to subdomains.
Compliance status
www.nationalgallery.ie is partially compliant with WCAG 2.1 AA guidelines.
Non-accessible content
Mega menu: The mega menu is the top navigation dropdown menu that is functional when www.nationgallery.ie is accessed via desktop (not mobile devices). The mega menu has duplicate headings (WCAG guideline 2.4.6) and keyboard navigation of the mega menu is not satisfactory (WCAG guideline 2.4.3). This can make it difficult for a user using assistive technologies to navigate the mega menu. The mega menu does not fit on the page when the page is scaled to 200% (WCAG guideline 1.4.4).
Images: Some images have incorrect or missing alt text. If images do not have the correct descriptions then a user using assistive technologies will not learn the information conveyed in the image (WCAG guidelines 1.1.1).
Audio content: Some of the podcasts and audio guides on www.nationalgallery.ie are not accompanied by downloadable text transcripts (WCAG guideline 1.2.1).
This is not an exhaustive list of non-accessible content.
Exempted content
PDF documents that were published before 23 September 2018 are exempt from these guidelines except where it is related to a service that a member of the public has to use.
Videos or audio published before 23 September 2020 are exempt from these guidelines.
Live-streamed events.
How we are going to improve accessibility on the site 
Mega menu: All issues with the mega menu (top navigation dropdown menu on desktop) will be addressed.
Images: All new images uploaded to the website have correct alt text that follows guidelines. We will fix the alt text for images uploaded to the website prior to the audit.
Audio content: Transcripts are now mandatory for all podcasts produced by Gallery teams. All podcasts and audio tours created so far in 2021 have been accompanied by transcripts. The top 25 of our existing library of podcasts have been transcribed and the transcripts will be available on the website shortly.
This is not an exhaustive list of improvements that will be made to the site.
Preparation of this accessibility statement 
We commissioned a third-party auditor to carry out an accessibility audit of www.nationalgallery.ie. This assessed the website's templates against each of the success criteria required under the Web Content Accessibility Guidelines (WCAG) 2.0 at Levels A and AA.
This accessibility statement was prepared and last updated on 1 July 2021.
Feedback and contact information
If you have any complaints about the accessibility of content on www.nationalgallery.ie you can contact [email protected].
Escalation of a complaint
If you are not happy with the Gallery's response you can make a complaint to the Ombudsman under the Disability Act.