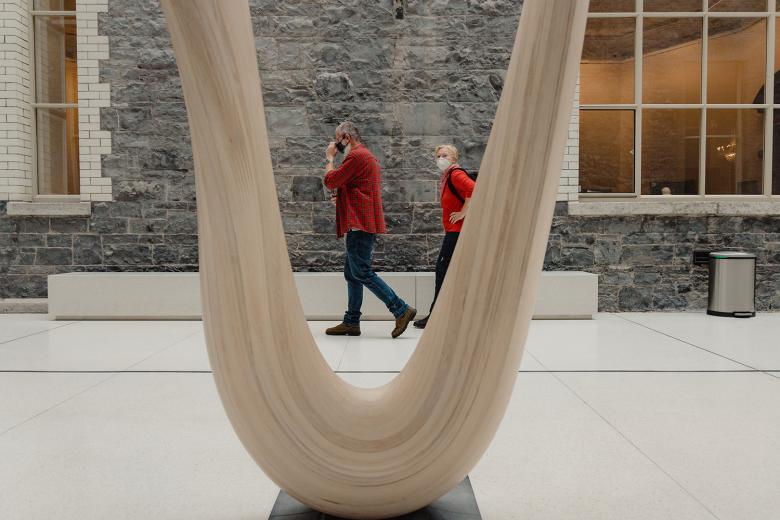 Photographer: Jack Caffrey, The Pimlico Project, 2021.
Credit
Plan your visit
Visit the Gallery for free!
Book tickets for Giacometti: From Life
You need to book a ticket to visit the exhibition Giacometti: From Life. 
There is an admission charge for this exhibition, but there are discounts and special offers available:
Staying safe
Group visits
Groups can visit the Gallery's permanent collection and free exhibitions for free, but must book a time slot for their visit.
Entrances to the Gallery
Accessibility
Carers can visit the exhibition Giacometti: From Life for free, but must book their free ticket in advance.

If you need accessibility assistance please contact

[email protected]

before your visit, or talk to any member of staff upon your arrival. The welfare of our visitors is paramount at the Gallery, and we will take every step to ensure that your visit to the Gallery is enjoyable and safe.
Visiting with kids and young people
During your visit
Cloakrooms
Our cloakrooms are currently closed.

You will not be able to enter the Gallery with a suitcase, and you may be asked to remove backpacks and carry them by your side to ensure the safety of other visitors.
Wheelchairs
Wheelchairs are available to borrow. Please ask a staff member at the information desk for assistance, or reserve one in advance by contacting

[email protected]

. 

All wheelchairs are cleaned thoroughly before and after each use.  
Toilets and Changing Places facility
There are toilets located on Level -1, accessed via the stairs/lifts near the Merrion Square entrance. Additional toilets are located on Level 1 and Level 0 of the Millennium Wing, near the Clare Street entrance. Download a Gallery map, or ask any staff member for directions.
The Changing Places facility is available to use. Please contact 087 117 0880 for the key and more information about this facility.
Family Packs and Drawing & Creative Writing Kits
Anyone can borrow these packs, free of charge, from the information desks.
Family Packs contain drawing materials for children to use during their visit.
Drawing & Creative Writing Kits are for adults and young people aged 16+. Each kit contains writing and drawing materials for when inspiration strikes during your visit.
Temporary room closures
Some rooms and galleries may be temporarily closed. Apologies in advance for any inconvenience caused.
On Friday 27 May 2022, the following will be closed from 12pm:

Merrion Square entrance - please use our Clare Street entrance instead that day
Dargan Wing - Irish art, portraits, Hughie O'Donoghue: Original Sins, 18th-century art
Milltown Wing - Irish art, 17th-century art
Gallery Café
The Gallery Café is located on Level 0 of the Millennium Wing, most easily accessed via the Gallery's Clare Street entrance. The Café is open at the following times:
Monday: 11am – 5pm
Tuesday and Wednesday: 9.30am – 5pm
Thursday: 9.30am – 8pm (The Café will close at 5pm on 17 March)
Friday and Saturday: 9.30am – 5pm
Sunday: 11am – 5pm
Gallery Shop
Listen, learn and explore
Free guided tours
We run a regular programme of free guided tours in the Gallery. Everyone is welcome - no booking required! Check the What's On calendar for upcoming tours.
Highlights Tours: Saturdays at 12.30pm and 2.30pm, Sundays at 1.30pm and 2.30pm
Themed Tours: Saturdays at 1.30pm
Family Tours: Sundays at 12.30pm
New Parents' Tours: the 2nd Monday of the month at 2.30pm
Tours for the hard of hearing: the 1st Thursday of every 2nd month at 5.30pm. Upcoming tour dates in 2022: 2 June, 4 August, 6 October, 1 December.
Or, you could follow one of our online self-guided tours on your visit. Choose from a wide range of themes including Irish art, family favourites, costume, and LGBTQIA+.
Audio guides
Use your own smartphone and headphones to listen to a small selection of audio descriptions of artworks.

You will see green and pink labels in the rooms: a 'headphones symbol' on these coloured labels indicates that an audio description is available.

Please note: audio-guide handsets are not currently available to borrow. You must use your own device.
Audio Tour for Kids & Families
Use your own smartphone and headphones to listen during your visit. Or, you can enjoy this audio adventure at home or in school.
Visiting with kids and young people