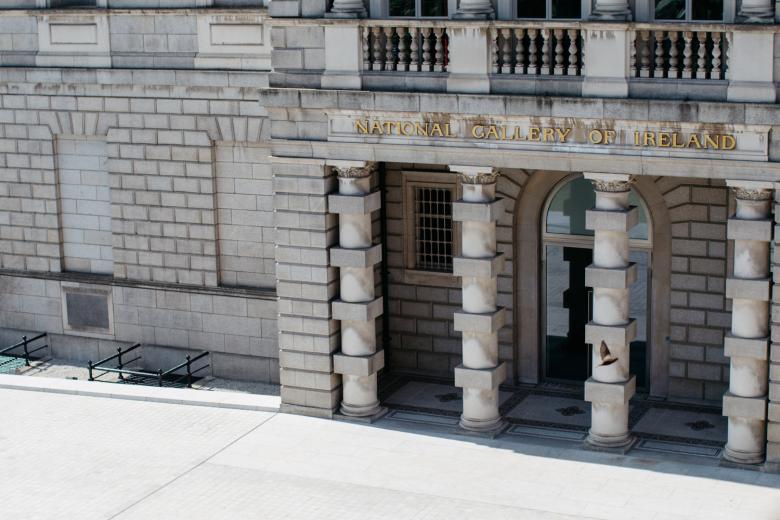 © National Gallery of Ireland. Photographer: Jack Caffrey, The Pimlico Project, 2017.
Credit
All visitors must book a ticket in advance.
Option 1: Free general admission ticket, to visit the permanent collection, free exhibitions, café and the Gallery Shop.
All visitors, including members (Friends and Patrons), children and carers, need to book a free general admission ticket online in advance. This will help us to manage the number of people in the building to ensure that you enjoy a safe and peaceful visit. Read our ticket FAQs.
Option 2: Tickets for new exhibition Jack B. Yeats: Painting & Memory.
If you plan to visit the exhibition Jack B. Yeats: Painting & Memory you must book your timed ticket in advance. Members, carers and children under 18 can visit the exhibition for free, but must book their free ticket in advance too. Healthcare workers can visit this exhibition for free by emailing [email protected].
You are welcome to explore the permanent collection, free exhibitions, Gallery Shop and café before and/or after your visit to the Yeats exhibition. You do not need to book a free general admission ticket for the same day. Read our ticket FAQs.
Please note: We have introduced timed ticketing for weekends, to reduce the need to queue. You are free to enter the Gallery at any time within your chosen time-slot (e.g. visitors who book a ticket for the 11am-1pm slot can arrive at any time within that two hour window). There is no limit to the amount of time that you can spend in the Gallery. There is an overall maximum capacity at the Gallery to ensure social distancing for all visitors, so there may still be times when the maximum capacity for the Gallery building has been reached, and you may therefore be asked to wait a short time until there is space inside for you to enter.
Important Information as Regards Contact Tracing and Personal Data
To help to ensure a safe controlled environment for our visitors, you must book a free admission ticket via Ticketsolve in order to gain entry to the National Gallery of Ireland (a "General Admission Ticket").  
During the registration process, you will also be asked for certain contact information, including name, phone number and email address, so that we can (i) send you your entry tickets and (ii) comply with Secure Customer Authentication legislation.
In the event of an outbreak of COVID-19 in the Gallery, the Gallery is obliged, under HSE guidelines, to share the following information with the HSE for contact tracing purposes:
your name
the number of guests (tickets) in your party
a telephone number
 the date of your visit
This information may be shared with the HSE for up to 30 days following your visit. Please note that no other information will be shared by the Gallery with the HSE.
If you book a General Admission Ticket only, the Gallery will automatically delete your Ticketsolve account, and all associated personal data, after 30 days. However, please note that if you:
have a pre-existing Ticketsolve account with us
or
purchase a ticket for any other event in the Gallery (including entry to a paid exhibition, Friends event, education event or any other Gallery event), purchase of a Friends membership, make a donation or opt into our newsletter at the same time as booking your General Admission Ticket, your Ticketsolve account and any associated personal data will be retained in accordance with data protection law.
Read our Privacy Notice for more information
Read our Online Bookings Terms & Conditions for further details
Read our FAQs for more information about general admission tickets and exhibition tickets