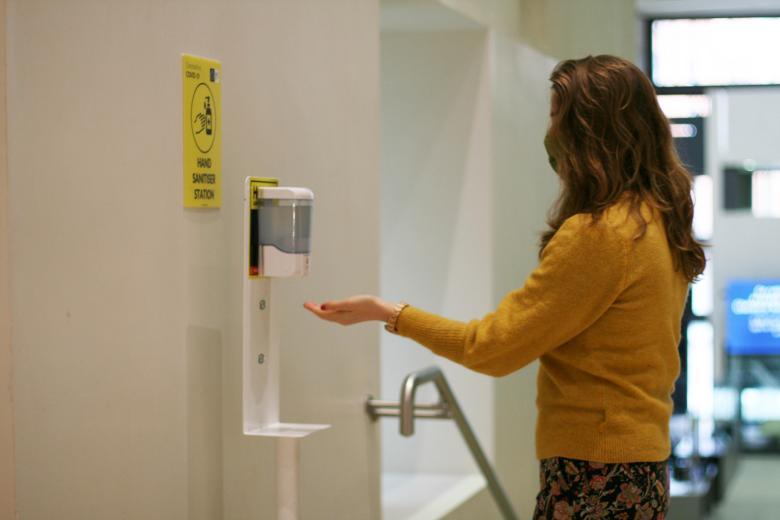 The Gallery is open again.
We can't wait to welcome you back! 
Here are some things for you to consider, before you visit, to ensure you have a safe and enjoyable experience in the Gallery.
The safety of our visitors and staff is our paramount concern. We have been working hard behind the scenes to put measures in place to ensure that you can enjoy your visit to the National Gallery of Ireland safely and peacefully.
Contact tracing
To help to ensure a safe controlled environment for our visitors, all visitors must book a free general admission ticket via Ticketsolve in order to gain entry to the National Gallery of Ireland (a "General Admission Ticket").  
During the registration process, you will also be asked for certain mandatory contact information, including your email address, so that we can send you your entry tickets. You may opt to fill in other information (such as your postal address) but this is entirely at your own discretion.   
In the event of an outbreak of COVID-19 in the Gallery, the Gallery is obliged, under HSE guidelines, to share the following information with the HSE for contact tracing purposes:
your name
the number of guests (tickets) in your party
a telephone number
 the date of your visit
This information may be shared with the HSE for up to 30 days following your visit. Please note that no other information will be shared by the Gallery with the HSE.
If you book a General Admission Ticket only, the Gallery will automatically delete your Ticketsolve account, and all associated personal data, after 30 days. However, please note that if you:
have a pre-existing Ticketsolve account with us
or
purchase a ticket for any other event in the Gallery (including entry to a paid exhibition, Friends event, education event or any other Gallery event), purchase of a Friends membership, make a donation or opt into our newsletter at the same time as booking your General Admission Ticket, your Ticketsolve account and any associated personal data will be retained in accordance with data protection law. Further information about how we use your personal data is available in the online ticketing Terms and Conditions and our Privacy Notice.
Download the HSE COVID Tracker app
Before you visit, we suggest that you download the HSE COVID Tracker app.
Please do not visit the Gallery if any of the following apply to you:
If you are feeling unwell or are experiencing any symptoms of COVID-19
If you are awaiting the results of a COVID-19 test
If you are self-isolating or restricting your movements
If you have been diagnosed with confirmed COVID-19 infection in the last 10 days
If you are a close contact of a person who is a confirmed case COVID-19 in the past 14 days (i.e. less than 2m for more than 15 minutes), or of someone who is awaiting a test result
If a doctor has advised you to isolate or cocoon
If you have returned from international travel and are not in compliance with government guidance
Group size
Up to six individuals from the same household, or the same support bubble, can visit the Gallery together. If you're booking tickets on behalf of others, you can book up to six tickets online. Larger groups and guided school groups cannot be accommodated at the moment. Find out about self-guided school visits.
One-way system
We are operating a one-way system - you must enter the Gallery via our Merrion Square entrance and exit via Clare Street. 
There is a one-way system through the building. Please follow the yellow arrows on the floor which will guide you on your visit.
If you feel ill while in the Gallery
Please ensure that you are wearing your mask, and notify a Museum Security Officer (MSO) while keeping a 2-metre distance from other visitors and staff. The MSO will contact a Gallery First Aid Responder who will bring you to an isolation room for assessment.
Thank you for wearing a face covering
Face coverings are mandatory in a number of indoor spaces around Ireland, including galleries. Please refer to the government guidelines for more information.
Hand sanitiser
Please use the hand sanitiser which is available at the entrance and exit, and throughout the Gallery.
Social distancing
Please follow the directions of our staff, observe social distancing guidelines, and respect any maximum capacity signage that you see.
We can't wait to welcome you back
Video: Quick guide to visiting the Gallery
Play