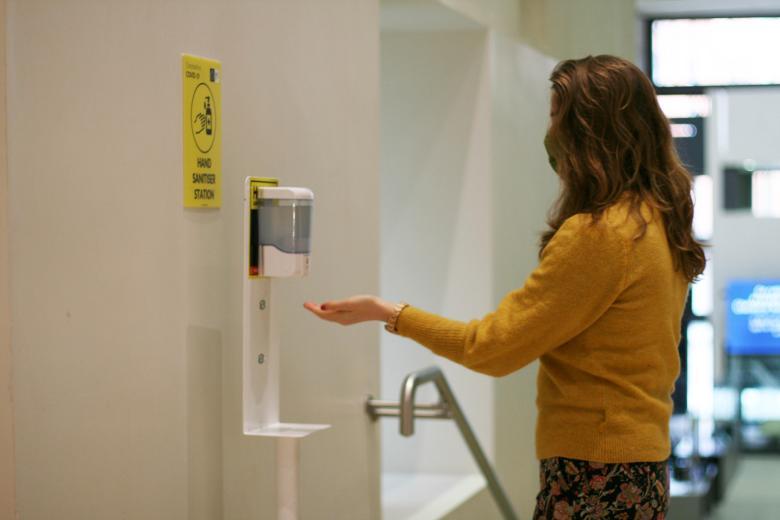 Visitor notice: Following Government advice, the Gallery will be closed from 24 December 2020 until further notice.
Here are some things for you to consider, before you visit, to ensure you have a safe and enjoyable experience in the Gallery.
The safety of our visitors and staff is our paramount concern. We have been working hard behind the scenes to put measures in place to ensure that you can enjoy your visit to the National Gallery of Ireland safely and peacefully.
Download the HSE COVID Tracker app
Before you visit, we suggest that you download the HSE COVID Tracker app.
Please do not visit the Gallery if any of the following apply to you:
If you are feeling unwell or are experiencing any symptoms of COVID-19
If you are awaiting the results of a COVID-19 test
If you are self-isolating or restricting your movements
If you have been diagnosed with confirmed COVID-19 infection in the last 10 days
If you are a close contact of a person who is a confirmed case COVID-19 in the past 14 days (i.e. less than 2m for more than 15 minutes), or of someone who is awaiting a test result
If a doctor has advised you to isolate or cocoon
If you have returned from international travel and are not in compliance with government guidance
Group size
Up to six individuals from the same household, or the same support bubble, can visit the Gallery together. Larger groups will not be admitted to the Gallery. We cannot accommodate school group visits at the moment. Please refer to Government guidelines for more details.
If you feel ill while in the Gallery
Please ensure that you are wearing your mask, and notify a Museum Security Officer (MSO) while keeping a 2-metre distance from other visitors and staff. The MSO will contact a Gallery First Aid Responder who will bring you to an isolation room for assessment.
Thank you for wearing a face covering
Face coverings are mandatory in a number of indoor spaces around Ireland, including galleries. Please refer to the government guidelines for more information.
Hand sanitiser
Please use the hand sanitiser which is available at the entrance and exit, and throughout the Gallery.
Social distancing
Please follow the directions of our staff, observe social distancing guidelines, and respect any maximum capacity signage that you see.
Contact tracing

Visitors to our café will be asked for a contact name and telephone number (one lead contact for groups of up to 6 maximum) by a member of staff on arrival. This information may be shared with the HSE for contact tracing purposes where necessary, in the interests of public health. It will be stored securely for 28 days, in line with guidance issued by the Data Protection Commission, before being destroyed. For more information on how we use your personal data, please see our Privacy Notice.