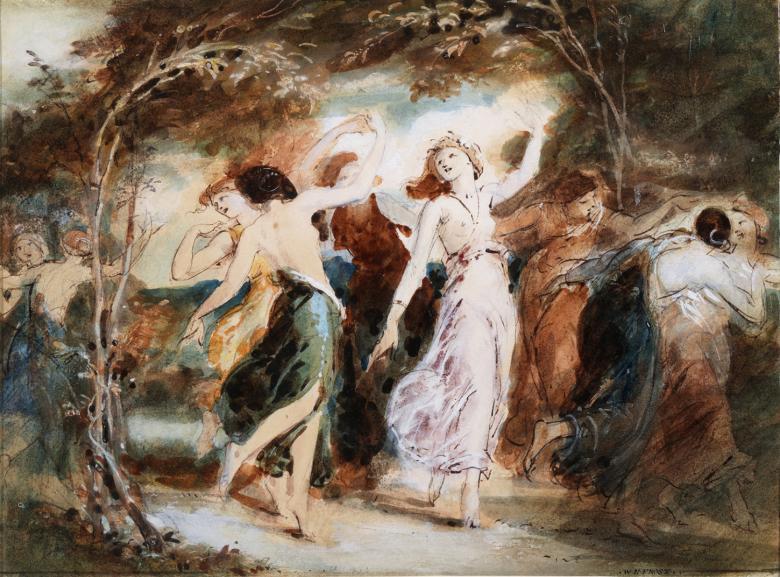 William Edward Frost (1810-1877), Dancing Nymphs.
Credit
Online self-guided tour
This selection of artworks explores parts of the national collection through a Lesbian, Gay, Bisexual, Transgender, Queer, Intersex and Asexual (LGBTQIA+) lens to bring untold stories to light. This collection of works hopes to create a more welcoming space for LGBTQIA+ visitors in the Gallery by highlighting their community's history.
Finding your way around 
If you are doing this tour onsite at the Gallery, taking in all the works will take approximately 60 minutes. 
Feel free to skip a few or spend longer at others.
When in the Gallery, please be aware that you will be moving across various levels, which may require access to lifts. You can ask any member of staff to direct you to the closest lift.
They will also be able to direct you to any other facilities you may require including a Changing Places facility located at the Merrion Square entrance.
Some things to consider:
Historical resources
When trying to find LGBTQIA+ stories within a historical collection there are several issues that keep coming up. There are huge gaps in LGBTQIA+ historical resources, as in the past anonymity was a form of protection. The resources that do exist often come with their own prejudices against the LGBTQIA+ community, and they are more commonly focused on cisgender homosexual men, as they were the most openly policed during different periods in history. 
Questioning
Sometimes the research brings up more questions than answers. In these cases, we can at least question the heteronormative dialogue of history. Merely questioning the assumption that a person was straight and cisgender can be enough when faced with a lack of empirical evidence.
Terminology
The final challenge to LGBTQIA+ history is the use of modern terminology in a historical context. Many words that we use today have only come into existence, with their current definitions, in the last few decades. The words used here to describe people's sexual or gender identities are applied cautiously and with a full awareness that they themselves may not have used them. If you are unsure of certain definitions, please visit our glossary page.
With all of this in mind, this selection of artworks is designed to offer a different perspective of the national collection, to inspire you to look more closely at art, and to question the seemingly heteronormative histories that go with it.
This is part of the Gallery's wider LGBTQIA+ programming, including tours (public and private), talks and the OUTing the Past: LGBT History Festival. If you have any further questions or would like to know more about the Gallery's LGBTQIA+ programming please contact Kate Drinane at [email protected] | (01)6633510.
Enjoy!
Start the tour
Room 15
Gerard Dillon (1916–1971), The Little Green Fields, c.1946–1950
Gerard Dillon was born in Belfast to a strong Catholic and nationalistic family. Despite his lack of formal training, he is praised today as one of Ireland's best modernist painters. It was not until Dillon's premature death at age 40 that his family discovered through reading his diary that he was gay, a fact which he had kept hidden from most people throughout his life. Do you think it is right that this is now public knowledge or should it have stayed a secret?
Some friends of Dillon recount that he was open about his sexuality in certain circles, but still kept his romantic relationships private. During World War II, Dillon moved to Dublin where The White Stag group, a collective of artists, had recently formed. The group was founded by Basil Rákóczi and Kenneth Hall, a gay couple, who were quite public about their relationship even in the conservative Dublin.
Even though he never exhibited with the White Stag group, Dillon socialised in their circle and was good friends with Rákóczi. Dillon once sent a small sketch to Rákóczi depicting two nude men affectionately embracing one another, attached was a note saying, "do burn it after you've looked and laughed at it. I was amusing myself and my thoughts ran in this direction. I thought of freedom – and Curfew – the result."
Although Dillon was clearly fearful of the sketch being discovered, Rákóczi kept it safe. What might Rákóczi and Dillon have been discussing that brought this image to mind in the context of curfew and freedom? 
Explore further:
Room 21 
James Barry (1741–1806), Self-Portrait as Timanthes, c.1780–1803
There are figures in history who are hard to describe using contemporary gender terminology. Dr James Miranda Barry (c.1795–1865) is one of those people, whose uncle was the artist James Barry. As James Miranda Barry was born female but lived almost their entire life as a man, it is difficult to assign not only gender, but also pronouns. In this context we will use gender-neutral pronouns, they/them.
Barry was born in Cork around 1790. Their mother, Mary Ann Bulkley, left Cork with Barry and moved to London when the family fell on hard times. They asked Mary Ann's brother, James, the artist whose self-portrait you see here, for help. He died in 1806 and part of his estate went to Mary-Ann. It was during this time that several patrons encouraged Barry to pursue a career in medicine. This was not an option open to women in the 18th century. To achieve their goal Barry had to live their life as a man.
They entered Edinburgh University in 1809, graduating in 1812. Barry joined the medical corps of the British Army and was promoted to Colonel in 1822. They travelled widely for work, and while in Cape Town, South Africa, Barry became one of the first people to successfully perform a Caesarean section. In 1858, they were appointed Inspector General of Hospitals, retiring in 1859 due to ill health. 
After Barry's death in London in 1865, an autopsy was performed which revealed that they were assigned female at birth. There are many figures in history who were forced to dress as men to achieve their career goals. However, there are also transgender men who did the same to accurately express their gender identity. As the language we use today was not available, it is very difficult to put any historical figures into transgender or non-transgender categories. For this reason, it is so important to be sensitive to modern and historical ideas of identity when discussing these historical figures. What do you think of this nuanced discussion?
Explore further:
Shaw Room 
Kasimir Dunin Markievicz (1874–1932), The Artist's Wife, Constance, Comtesse de Markievicz (1868–1927), Irish Painter and Revolutionary, 1899
Constance Markievicz (née Gore-Booth) was the oldest sister of Eva Gore-Booth. The two sisters grew up in Sligo, in Lissadell House, with their three siblings. Markievicz left Lissadell House in 1893.Gore-Booth stayed in Sligo, travelling widely in the following years. She fell ill with a respiratory disorder in 1896 while in Italy and was sent to Casa Correggio to recover. It was there that she met the love of her life, Esther Roper, who was also recovering from an illness. 
Roper was a highly educated woman from a working-class background in Manchester. The two women spent a month together in Italy and by 1897 Gore-Booth went to live with Roper in Manchester. The two women lived together as a lesbian couple for the rest of their lives. They fought for Women's Suffrage, and the rights of working-class, underrepresented women in Manchester and across England. Markievicz, Gore-Booth and Roper remained very close. When Markievicz was arrested for her involvement in the Easter Rising in 1916, Gore-Booth and Roper managed to gain access to Dublin city and visited her in prison. 
In the 1920s, Gore-Booth fell ill with colon cancer. Roper and her brother cared for Gore-Booth until the day she died in 1926. Markievicz wrote of Roper, shortly after Gore-Booth's death, '[she] is wonderful, and the more one knows her, the more one loves her, and I feel so glad Eva and she were together and so thankful that her love was with Eva to the end.' Roper died in 1938 and was buried with Gore-Booth in St. John-at-Hampstead, London.
Explore further:
Room 39 
Rembrandt van Rijn (1606–1669), Studio of  Rembrandt van Rijn (1606–1669), Portrait of a Lady Holding a Glove, 1632–1633
Bequeathed, Sir Hugh Lane, 1918
As a child growing up in Cork, Hugh Lane (1865–1915) was fond of art and music. During his lifetime, Lane assembled a huge collection of art, with a view to establishing the Municipal Gallery in Dublin (now Dublin City Gallery, the Hugh Lane). He also donated works to the National Gallery of Ireland and bequeathed many more, including this work by Rembrandt.
He became Director of the National Gallery of Ireland in February 1914, promising that he '…would make it my adopted child.' Unfortunately, Lane died on his way back from America when a German submarine sank the Lusitania on 7 May 1915 off the coast of Cork.
Throughout Lane's life there were hints that he may not have been heterosexual, and possibly that he was asexual. He ran in various artistic and literary circles including those that overlapped with Oscar Wilde and one of Wilde's male lovers, Robert Ross. He also had close friendships with women and took great pleasure in having his own collection of women's jewellery. After Lane's death, Sarah Cecilia Harrison claimed to be the love of his life. However, there is little evidence to support this in any of his letters or belongings. There is more evidence to support that his great passion in life was actually art.
While Lane was very clearly not what would have been considered a typical gentleman for his time, it can be very difficult to label a historical figure as asexual. A lack of evidence for sexual attraction in someone's life does not mean that they did not experience it. It could mean that they led a very secret sexual life or that some sources are missing from the historical record, such as lost or burned love letters. In the case of Hugh Lane, there are no such sources for either argument so we can only speculate.
Room 41
Luca Giordano (1634–1705), Saint Sebastian Tended by Saint Irene, 1650/1652
Saint Sebastian was an officer of the Praetorian Guard, an elite unit of the Imperial Roman army who served as bodyguards to the Roman Emperor, Diocletian (244–311). Saint Sebastian was a practicing Catholic who kept his faith a secret. When two of his friends were imprisoned for their beliefs, he attempted to help them and their families. Diocletian discovered his plans and sentenced him to death. Although he was shot with arrows multiple times, he survived, nursed back to health by Saint Irene.
He continued to practice Catholicism and publicly criticised Diocletian for his treatment of Catholics. When Saint Sebastian and Diocletian came face to face again, Diocletian had Sebastian clubbed to death. His body was then dumped in one of the major Roman sewers. Saint Lucina found his remains. She buried them in the catacombs, but they were moved and were used as relics.
Saint Sebastian became the third patron saint of Rome, the patron saint of soldiers and a popular saint to pray to during outbreaks of the plague. However, he has also become an unlikely gay icon. Between the 15th and 17th centuries, he was painted multiple times by several artists who may have been gay, for example Il Sodoma (1477–1549) or Guido Reni (1575–1642), or for wealthy patrons who were part of a gay community. More recently, historical and modern depictions of Saint Sebastian have become icons of the LGBTQIA+ community, as in the case of Derek Jarman's film Sebastiane (1976).
Is it purely his pleasing aesthetic that lends him particularly to the gay male community? Or is it that Saint Sebastian faced persecution and survived? Is this something the LGBTQIA+ community has related to throughout the centuries? Or is it Saint Sebastian's ability to continue thriving and surviving against the hatred and fear that surrounded him? 
Explore further:
Room 25
Michelangelo Merisi da Caravaggio (1571–1610), The Taking of Christ, 1602
When the religious theme of this painting is removed, what is left? From either a religious or a non-religious perspective, it is a work of defiance. If viewed through a secular lens, it is two men expressing their affection for one another, with a kiss, in the presence of hatred and fear as the men in armour grab them. As the religious work it actually is, we see Jesus, in blue and red, accepting his fate while also defying religious convention. Dressed in orange, Judas kisses Jesus, signalling to the guards behind him that this is Jesus, the man they want to arrest.
Caravaggio places himself in the painting. He holds a lantern in the far right corner. Conflicting rumours were spread about Caravaggio's romantic and sexual life while he lived in Rome. Keep in mind, during this time sodomy was punishable by beheading. He was accused of frequenting multiple brothels and having sex with a long list of women. However, it was also implied that he was having a sexual relationship with his male assistant Cecco del Caravaggio. Caravaggio painted several erotic depictions of Cecco early in his career, which led people to believe that they had a sexual relationship. 
Both sets of rumours could be disregarded as slanderous hearsay. Alternatively, as several art historians have done in the past, we could favour one set of rumours over the other. The fairest option is to accept both as possible fact. Sexuality is a spectrum and it is likely that Caravaggio was somewhere on the bisexual or pansexual part of that spectrum. Do any of these perspectives take away from or add to his work? What makes you say that?
Explore further:
Room 3 
Rosa Bonheur (1822–1899), A Stag, 1893
Rosa Bonheur was born in Bordeaux in 1822. Her father, the artist Raymond Bonheur, realised that she was an extremely talented artist at a young age. In 1841, at only 18 years old, Bonheur exhibited her first work, 'Goats and Sheep' in the Salon, the official annual exhibition of the Académie des Beaux-Arts in Paris. 
Bonheur was a gifted painter of animals, and in order to visit horse fairs and abattoirs; she obtained a special license from the French police to wear men's clothing. From 7 November 1800, women were forbidden to wear trousers unless they obtained a 'cross-dressing permit'. From her early thirties onwards, Rosa Bonheur dressed almost exclusively in men's clothing. It is difficult to say whether this choice was based on a need to express her gender identity or whether the clothes were a reflection of the life that Bonheur led. On the grounds of her château, she had a large collection of livestock, from cows to tigers. In her studio, she also had a collection of objects designed to inspire her: paintings, sketches, old armour, fishing-nets, clothing, animal bones, antlers and horns, shields, busts and casts. In this self-expressive environment, were her clothes an element of that expression or simply for the sake of practicality?
At the age of 38, Bonheur retired to her home, Château de By, near Fontainebleau, feeling that some criticisms of her work were due to her relationship with Natalie Micas (1824–1889), which lasted forty years.The work above was painted a few years after Micas' death, which had left Bonheur broken-hearted, saying "what would my life have been without her love and devotion". Later Bonheur met an American artist, Anna Klumpke (1856–1942), who painted her portrait. She subsequently referred to Klumpke as 'my wife' in personal letters and left her all her assets in her will. The three women are buried together in Paris. 
Explore further:
NOT CURRENTLY ON DISPLAY
Joshua Reynolds (1723–1792), Portrait of Charles Coote, 1st Earl of Bellamont (1738–1800), in Robes of the Order of the Bath, 1773–1774
What words would you use to describe this man? What do you think of his clothing, particularly compared to other portraits in the Gallery? What does this portrait say about him? 
When people first see this painting, they assume that Charles Coote would fit in seamlessly at any contemporary Pride Parade. Coote was a man who had a 'noble independent spirit'. Does this account of his personality come across in this portrait by Joshua Reynolds? This was painted in 1773–74 to celebrate his acceptance into the Order of the Bath, a British order of knights, in 1764. When viewed through a modern lens, Coote presents as a flamboyant gay man. However, in reality he was definitely not gay. He was an infamous womaniser; he had six children with four different women in his lifetime, none of whom were his wife, Lady Emily Fitzgerald (1731–1814).
In other Order of the Bath portraits, the headpiece was traditionally placed on the sitter's knee or on a side table. The pink robes were originally red. There are three red pigments in the painting, vermillion for his face, carmine for the cloak and curtains, and red lead for the hands. It is the second red, carmine, that has faded over time. This painting challenges assumptions about a person's identity. Coote's nonchalant stance and flamboyant robes present him, in a modern context, as a stereotypical camp gay man. In reality the changing colour of the robes and shifting perceptions about what it means to present as gay have altered our view of this painting.
Explore further:
NOT CURRENTLY ON DISPLAY
William Edward Frost (1810–1877), Dancing Nymphs
Intersex representation in history has several issues. The main one is the problem of language. The word hermaphrodite was used in the past to describe people born with variations in their sexual anatomy or their hormonal patterns. This word is now derogatory and has been replaced with the word intersex.
The second issue is impartiality. Any literature and mythology comes with problematic issues from a modern perspective, while non-fictional Intersex people in history are often connected to dehumanising legal trials. In some way, the most positive intersex stories are those that are never told, as they were people who managed to live private lives out of the spotlight. The lack of representation is problematic, especially when intersex people represent 1.75% of the world's population, the same global percentage as redheaded people. We have included this work here to highlight this lack of representation, however as it is a delicate work on paper it is not currently on display. 
Hermaphroditus from Greek and Roman mythology is one of the oldest representations of intersex people. He was born the son of Hermes (messenger of the Gods) and Aphrodite (God of Love), which is the origin of his name. As a young man he came across a lake where Salmacis (one of the nymphs of Diana, goddess of hunting) lived. Diana's nymphs, similar to the ones depicted in this painting, would hunt with her and spend time in secluded parts of forests and pools. Salmacis attempted to seduce Hermaphroditus without success. She wrapped herself around his body and prayed to the Gods that they would never part. The Gods granted her wish and their bodies were fused together forever, '…neither male nor female, but a single body with female breasts and proportions, and both male and female genitals.'
There are different versions of Hermaphroditus' story that imply that they were born intersex, as opposed to becoming a mix of two people. In these versions, Hermaphroditus represents a perfect union of both male and female attributes.