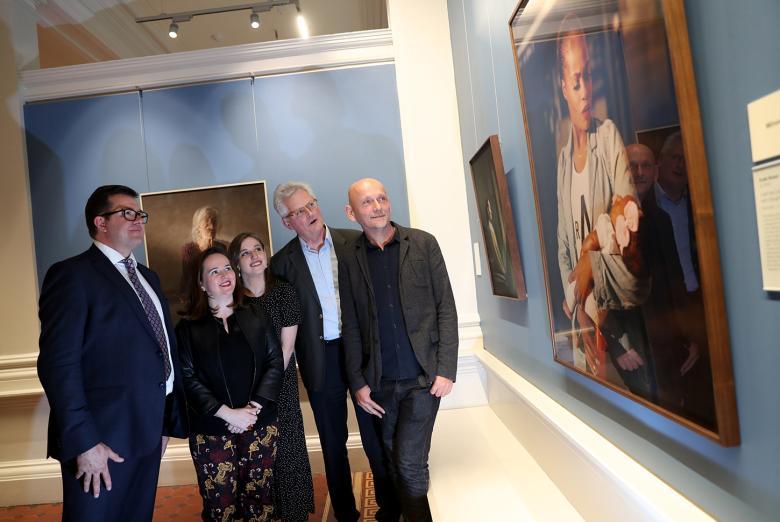 Photo © Maxwell Photography
Credit
Mabel Forsyth and Mary O'Carroll selected as winners of first 

Zurich Young Portrait Prize
A photograph portraying the emotional connection between a new parent and her baby has been revealed as the winner of the National Gallery of Ireland's Zurich Portrait Prize. Cybil McCaddy with Daughter Lulu by Enda Bowe was announced as the winning portrait this evening at the Gallery. As well as a cash prize of €15,000, the artist will receive a commission worth €5,000 to produce a new work for the National Portrait Collection.
Joe Dunne and Salvatore of Lucan received highly commended prizes to the sum of €1,500 for their respective portraits, And Their World of Far and Near Things and Lucy with 3 Hands and Me Holding onto her Leg.
Enda Bowe's work has been exhibited nationally and internationally, including at The Douglas Hyde Gallery, Dublin, the Victoria & Albert Museum, London and the Red Hook Gallery, New York. His work is concerned with storytelling and the search for light and beauty in the ordinary.
In his artist's statement about the portrait, Enda Bowe said, "This portrait traces the emotional connection between a new parent and her baby, evoking traditional compositions of mother and child. Further scrutiny reveals details including Cybil's piercings, tattoos and adorned nails which, with the urban setting, give a contemporary update to this classical theme. The portrait of Cybil with her daughter Lulu was made on a housing estate in East London."
Judges for this year's Zurich Portrait Prize were Mike Fitzpatrick, Fiona Kearney and Mick O'Dea. Commenting on their selection, Mike Fitzpatrick said, "The Zurich Portrait Prize is very valuable for artists in terms of the attention it brings to their respective practices. The winning piece by Enda Bowe has a human and social context that we should be conscious of. As for the two highly commended works; one has a clear art historical reference, while the other underlines art's ability to present a dream-like narrative of human engagement and relationships."
Earlier this afternoon at the Gallery, the winners were also announced for the inaugural Zurich Young Portrait Prize. Judges Hetty Lawlor, Perry Ogden and Brendan Rooney selected a winner from each age category (ages 6 and under, ages 7-11, ages 12-15, ages 16-18), in addition to an overall winner.
The new age by Mabel Forsyth and Mary O'Carroll (both aged 12) was selected as the overall winner of the Zurich Young Portrait Prize. As well as a personalised wooden box of high quality art materials, the prize includes a €500 cash prize. In their artists' statement, Mabel and Mary said, "This photo, which was a joint effort, is meant to show that most people have both good qualities and bad qualities."
Callie LePage, aged 6, won the youngest category with Sarah C, a portrait of her teacher. In the second category, 8-year old Jiaming Zheng, won with self-portrait The GAP Boy. Brennagh, a portrait of the artist's sister, by 15-year old Erin Welch, was the winner of the category for ages 12-15. Cara Pilbeam, aged 17, won the final category with Eire: Study of a Young Woman, a self-portrait. Each category winner is awarded a personalised box of art materials alongside a cash prize of €250.
Sean Rainbird, Director of the National Gallery of Ireland, said, "We are thrilled to have received over 600 entries across our two prizes this year, and would like to thank all of the artists who participated, as well as our terrific judges and sponsor Zurich. We look forward to our visitors exploring new portraiture at the Gallery at these two free exhibitions."
Neil Freshwater, CEO of Zurich Insurance plc, said, "Zurich is proud to partner with the Gallery once again to celebrate portraiture. It's been wonderful to introduce a second prize this year and showcase work by artists of all ages. We congratulate winners Enda Bowe and Mabel Forsyth and Mary O'Carroll on their terrific achievements."
The Zurich Portrait Prize exhibition, featuring the winning portrait alongside 25 other shortlisted works, is now open at the National Gallery of Ireland. It will run until 12 January 2020, as will the Zurich Young Portrait Prize display of 20 shortlisted portraits. Both exhibitions travel to Crawford Art Gallery in Cork in January 2020. For further details, see nationalgallery.ie.
About the Zurich Portrait Prize:
The Portrait Prize, open to artists aged 19 over, runs for the sixth time in 2019 with Zurich as sponsor for the second year. The aim of the Zurich Portrait Prize is to showcase and encourage interest in contemporary portraiture, support Irish talent and to raise the profile of the long-standing and constantly evolving National Portrait Collection at the National Gallery of Ireland.
About the Zurich Young Portrait Prize:
Following the outstanding success of the Zurich Portrait Prize, the National Gallery of Ireland introduced the Zurich Young Portrait Prize in 2019. This inclusive art competition is open to children and young people of all abilities, up to the age of 18, from across the island of Ireland.
About Zurich:
Ireland is Zurich's location of choice for its pan-European company Zurich Insurance plc (ZIP). Since 2009, ZIP has been headquartered in Dublin and is the main risk carrier for Zurich's general insurance business in the EU. Neil Freshwater is the CEO of Zurich Insurance plc. In terms of domestic business, Zurich focuses on two key business areas in Ireland – General Insurance and Life. In Ireland, Zurich employs approximately 1,100 people.