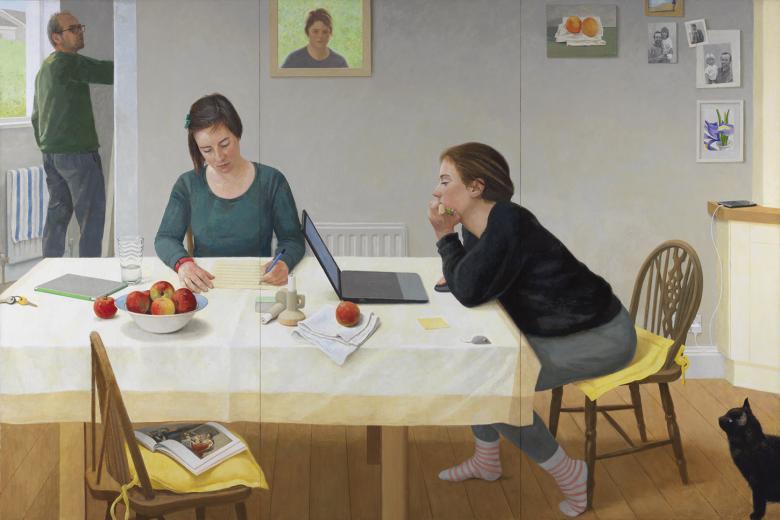 Joe Dunne (b.1957), And Their World of Far and Near Things, 2019. © Joe Dunne. Photo © National Gallery of Ireland, Photographer: Roy Hewson.
Credit
Joe Dunne: Highly Commended
And Their World of Far and Near Things, 2019
Egg/oil tempera on canvas, 160 x 240 cm
'This painting portrays the artist and his immediate family. Although the work contains references to Diego Velázquez's Las Meninas, the initial stimulus was a response to the exhibition Vermeer and the Masters of Genre Painting at the National Gallery of Ireland in 2017. What initially began as a contemporary painting of a young woman reading developed into a larger work. This led to a complex composition exploring themes of time, space, transience, portraiture, art and social media, within a familiar everyday setting.'
Joe Dunne was born in Dublin and studied design at the National College of Art and Design. He works within the traditional genres of portraiture, landscape and still life, with occasional forays into more abstract pieces. Egg tempera is a favoured medium, while watercolour and oils also feature in many works. His portraits have received a number of awards including the Keating McLaughlin Medal, 2006, for a group portrait at the RHA, and first prize in the inaugural Davy Portrait Awards in 2008. Portrait commissions by the OPW include former Taoiseach Éamon de Valera and former President Mary McAleese.
Go back to the shortlisted works