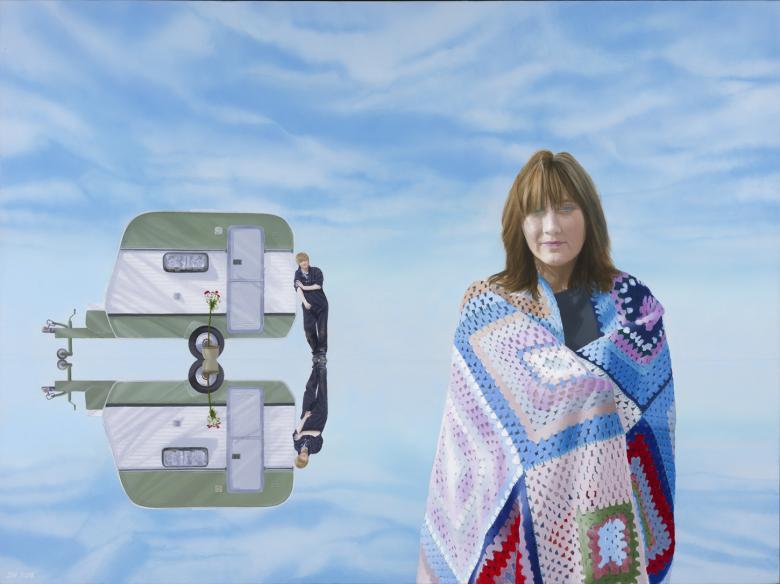 David Hamilton (b.1956), Karen and Alan McStraw II, 2018. © David Hamilton. Photo © National Gallery of Ireland, Photographer: Roy Hewson.
Credit
David Hamilton
Karen and Alan McStraw II, 2018
Acrylic on canvas, 76 x 102 cm
'A portrait of Asperger's.
'People with Asperger's syndrome see, hear and feel differently to other people. Some may experience over or under sensitivity to touch, light, smells, colours, temperatures or pain.
Some experience meltdowns and their personality can flip when triggered with a sensory overload. Raising a child with Asperger's takes both patience and structure, changing what it means to be a parent. They must prepare their child for a world which may not always understand them.'
David Hamilton lives in Co. Armagh. He studied at the University of Ulster. For many years he served as art director for an international company that produces themed sets for the entertainment industry. However, an illness in 2008 acted as the catalyst for him to start producing his own work. Since 2010, he has been frequently selected for the RUA Annual Exhibition. In addition, he was selected for the RA Summer Exhibition, London, 2016; has been shortlisted twice for the BP Portrait Award at the National Portrait Gallery, London; was highly commended for the Hennessy Portrait Prize at the National Gallery of Ireland in 2017; and has won the 'BBC NI at 70' art competition (2009-2010), which celebrated BBC's seventy-year anniversary at Broadcasting House in Belfast.
Go back to the shortlisted works