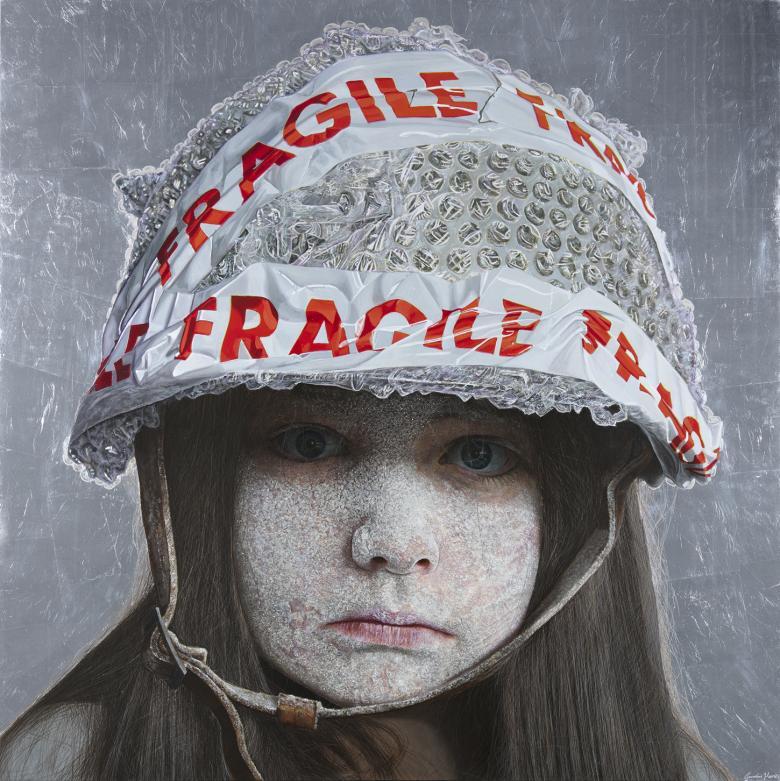 Gordon Harris (b.1977), Fragile, 2019. © Gordon Harris. Photo © National Gallery of Ireland, Photographer: Roy Hewson.
Credit
Gordon Harris
Fragile, 2019
Oil and silver leaf on board

, 122 x 122  cm
'Fragile is a painting of my daughter. I use the helmet and bubble wrap to depict protection from the impact of external forces, either mental or physical, on the fragility of life. One is simply drawn to look under the shadow of the helmet to see the innocent emotion of her eyes.
Children are highly intuitive and can often sense energy. My aim is to protect and give inner strength to my children. The children of today can be tomorrow's leaders.'
Gordon Harris is recognised for his highly realistic figurative work. He primarily uses the medium of oil on board with gold and silver leaf. Harris's approach to detail is meticulous, and he seeks harmony between the natural and conceptual to create works that are provocative and dramatic. Harris's works are held in collections in Ireland, the United Kingdom, Japan, USA, London and Monaco.
Go back to the shortlisted works