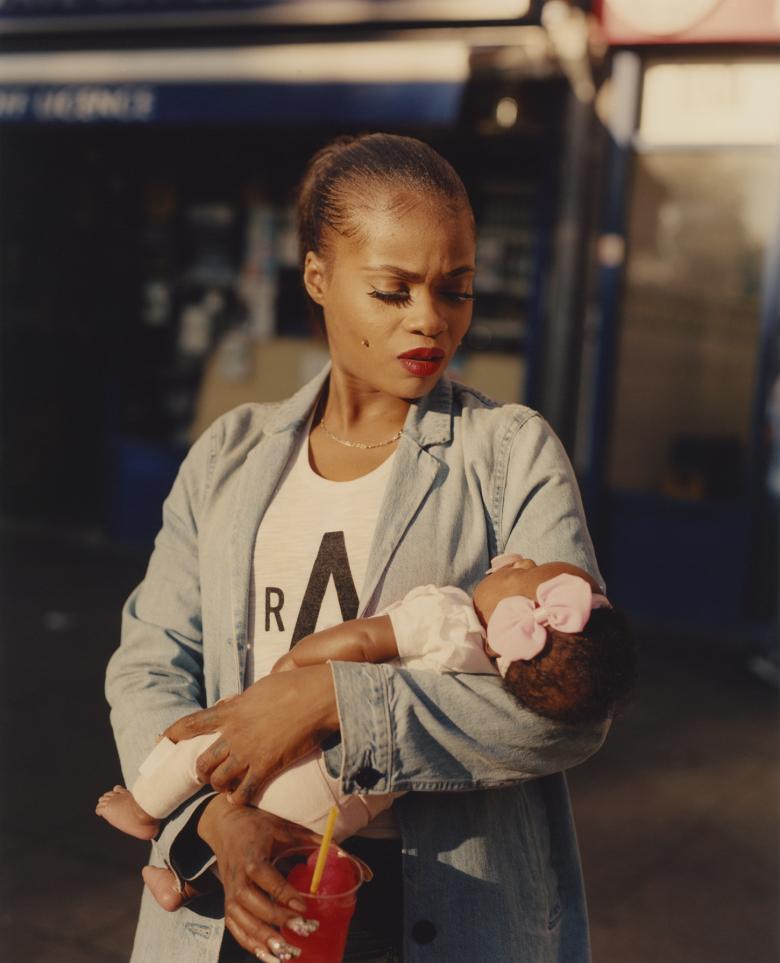 Enda Bowe (b.1975), Cybil McCaddy with Daughter Lulu, 2018. © Enda Bowe.
Credit
Enda Bowe: Winner of the Zurich Portrait Prize 2019
Cybil McCaddy with Daughter Lulu, 2018
Photograph – C-Type print, 127 x 101.6 cm
'This portrait traces the emotional connection between a new parent and her baby, evoking traditional compositions of a mother and child. Further scrutiny reveals details including Cybil's piercings, tattoos and adorned nails which, with the urban setting, give a contemporary update to this classical theme. The portrait of Cybil with her daughter Lulu was made on a housing estate in east London and is part of Enda Bowe's ongoing project titled Clapton Blossom. The series forms a celebration of humanity and social diversity at a time when walls are being built between nations and politics encourages us to mistrust each other.'
Enda Bowe's work is concerned with storytelling and the search for light and beauty in the ordinary. Writers Carson McCullers and John McGahern, and film directors Lynne Ramsey, Eve Arnold and Lenny Abrahamson influence his work. He has exhibited at the Douglas Hyde Gallery, Dublin; the Victoria & Albert Museum, London; and Red Hook Gallery, New York, among others. Bowe's four published books include Coast, Kilburn Cherry, At Mirrored River, and This Thing I Want, I Know Not What. He is shortlisted for the Taylor Wessing Photographic Portrait Prize 2019 (National Portrait Gallery, London).
Go back to the shortlisted works