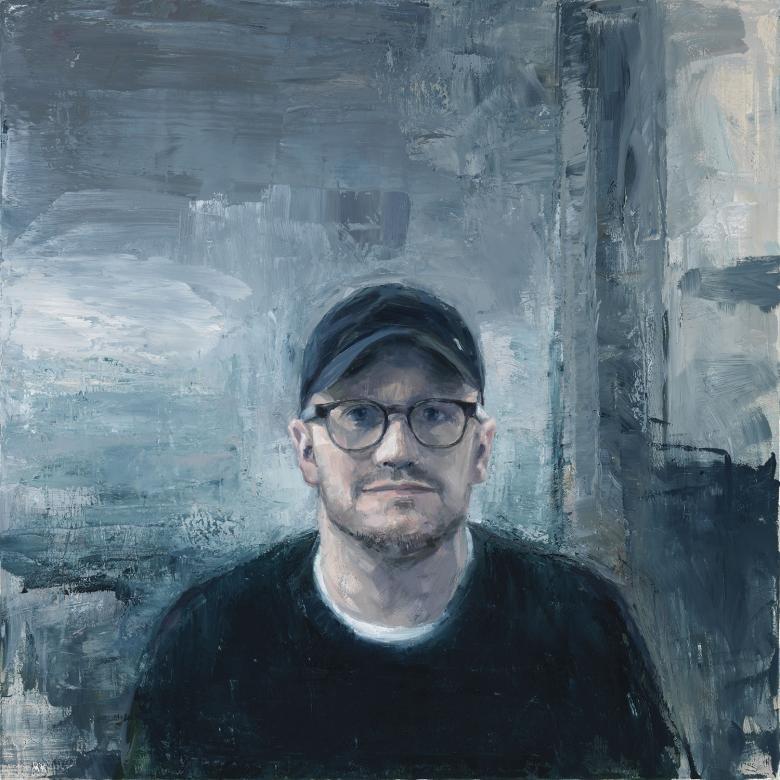 Donald Teskey (b.1956), Lenny Abrahamson (b.1966), filmmaker. 2018. Photo © National Gallery of Ireland. Commissioned by the National Gallery of Ireland, 2018.


Credit
This is a portrait of Lenny Abrahamson, an Irish film director and screenwriter.
Find out more about this portrait:
Who is the artist?
Donald Teskey
Where is the artist from?
He was born in Ireland.
When was the artist born?
He was born in 1956.
When was this portrait made?
2018
What is the portrait made of?
Oil on canvas
What size is it?
80 x 80cm 
How was the portrait made? 
This painting was made with oil paints on canvas. The artist applied thick, loose brushstrokes of paint to build up the image. It is likely that he used wide brushes to achieve the layers of paint. For this painting he used whites, blacks and greys instead of bright colours. He also used layers of white to give an impression of light bouncing off the back wall. It is possible that there are other layers of colours hiding behind the whites and greys to give depth to the painting. 
Why did the artist make this portrait?
Donald Teskey was awarded a commission to make a portrait of Lenny Abrahamson in 2018. Funded by a private benefactor, this commission was part of a series of commissions to showcase contemporary art practice and, in keeping with the nineteenth-century origins of the National Portrait Collection, to acknowledge individuals who have made major contributions to Irish life.
Look closely
Take a look at this list of words:
baseball cap         
glasses        
window
shadows
smile        
beard    
grey walls             
black jumper             
young man     
Now look at the portrait. Can you see these parts of the picture? Can you see anything else? 
Look again!
Take a look at this list of words:
reflective
relaxed
enlightened
unique        
content        
lonely
focused 
Now look at the picture again. Do any of these words describe the sitter? How would you describe him? Take out a notepad and jot down in your own words how you make this portrait.
Get creative!
Now think of other ways the artist could have made this portrait. 
Could it be a sculpture? A sound work? A drawing?
Could this be a full body portrait of Lenny Abrahamson instead of his head and shoulders?
Could he be in a different location?
Could objects be included in this portrait? What do you think they would be?
Try sketching another version of this portrait in a notebook or a spare sheet of paper.