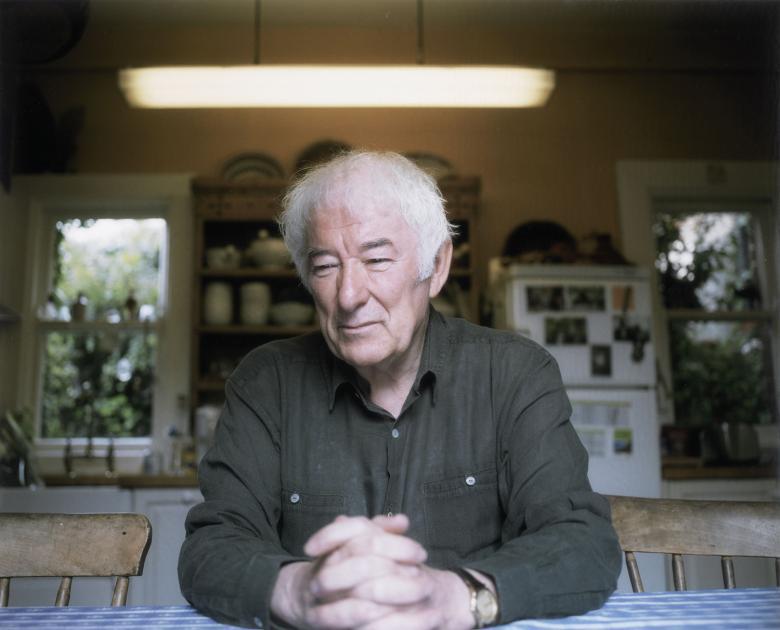 © National Gallery of Ireland.
Credit
This is a portrait of Seamus Heaney, an Irish poet, playwright and translator. He was born in 1939 and died in 2013.
Find out more about this portrait:
Who is the artist?
Jackie Nickerson    
Where is the artist from?
She is American.
When was the artist born?
She was born in 1960.
When was this portrait made?
2007
What is the portrait made of?
Digital C-print
What size is it?
52 x 63 cm 
How was the portrait made?
This was made with a digital camera. The artist took the picture using a particular setting on her camera to achieve the lighting and colours she wanted for the image. 
Why did the artist make this portrait?
In 2007, Nickerson was commissioned by a British newspaper to take a photographic portrait of the poet for an article. After the formal sitting in his Dublin home, Heaney invited her into the kitchen for a cup of tea. Nickerson realised that she had an opportunity to take a striking, informal picture and asked permission to take another photograph, which resulted in this image.
Look closely
Take a look at this list of words:
fridge
table cloth 
watch 
hair
light
window 
trees
plates
sink 
Now look at the portrait. Can you see these parts of the picture? Can you see anything else?
Look again!
Take a look at this list of words: 
happy 
calm 
shy
thoughtful 
friendly 
warm
intellegent 
creative 
Now look at the picture again. Do any of these words describe the sitter? How would you describe him? Take out a notepad and jot down in your own words how you make this portrait.
Get creative!
Now think of other ways the artist could have made this portrait. 
Could it be a sculpture? A collage? An oil painting?
Could he be standing instead of sitting? Could he be outdoors instead of indoors? 
Could other objects be included in this portrait? What do you think they would be?
Try sketching another version of this portrait in a notebook or a spare sheet of paper.