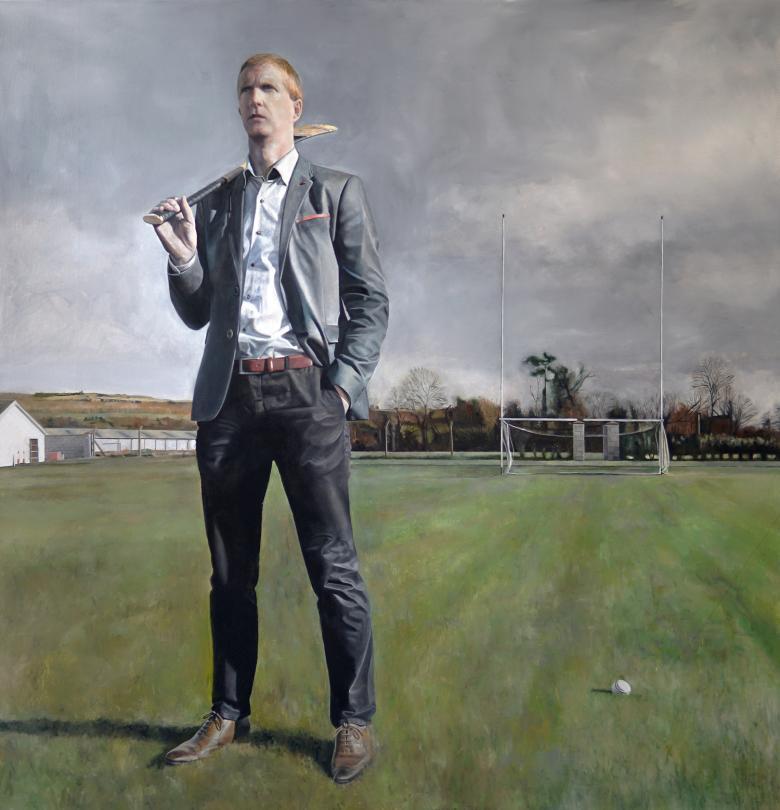 Gerry Davis (b.1985), 'Portrait of Henry Shefflin', 2017. © Gerry Davis. Photo © National Gallery of Ireland
Credit
This portrait is of Henry Shefflin, an Irish hurler born in 1979. Over a sixteen-year career he played centre forward for Kilkenny, and won a record ten All-Ireland medals, thirteen Leinster championship medals and six National Hurling League titles.
Find out more about the portrait:
Who is the artist?
Gerry Davis
Where is the artist from?
He is from Cahir, Co. Tipperary.
When was the artist born?
He was born in 1985.
When was the portrait made?
2017
What is the portrait made of?
Oil on canvas
What size is it?
117 x 122 cm
How was it made?
This painting was made using oil paints. This is a realist painting which almost looks like a photograph. The artist took his time to accurately reproduce the detail and colours. The sky and grass are richly coloured. To achieve this the artist painted many layers on top of one another until they became deep and realistic colours. This portrait is painted on canvas which is a great surface for oil paints. It is often primed (prepared) with a white material, such as gesso, which gives the surface a lovely paper-like quality. Artists sometimes make their own canvases. First they make a simple wooden frame, then they stretch a piece of canvas material over the frame, securing it with nails or a staple gun.
Why did the artist make this portrait?
Gerry Davis won the Hennessy Portrait Prize in 2016. As part of the prize, he was commissioned by the National Gallery of Ireland to make this portrait. Henry Shefflin retired from inter-county hurling in March 2015. This portrait is a wonderful celebration of his career and achievements.
Look closely
Take a look at this list of words:
grey sky
pitch
hurler
tall man
trees
suit
sliotar 
goals
Now look at the portrait. Can you see these parts of the picture? Can you see anything else? 
Look again!
Take a look at this list of words:
proud
talented
shy        
important
relaxed
confident
serious
focused
Now look at the picture again. Do any of these words describe the subject? How would you describe him? Take out a notepad and jot down in your own words how you would make this portrait. 
Get creative!
Now think of other ways the artist could have made this portrait. 
Could it be a video piece? A sculpture? A photograph? 
Could he be sitting instead of standing? Could he be indoors instead of outdoors? 
Could other objects be included in this portrait? What do you think they would be?
Try sketching another version of this portrait in a notebook or a spare sheet of paper.