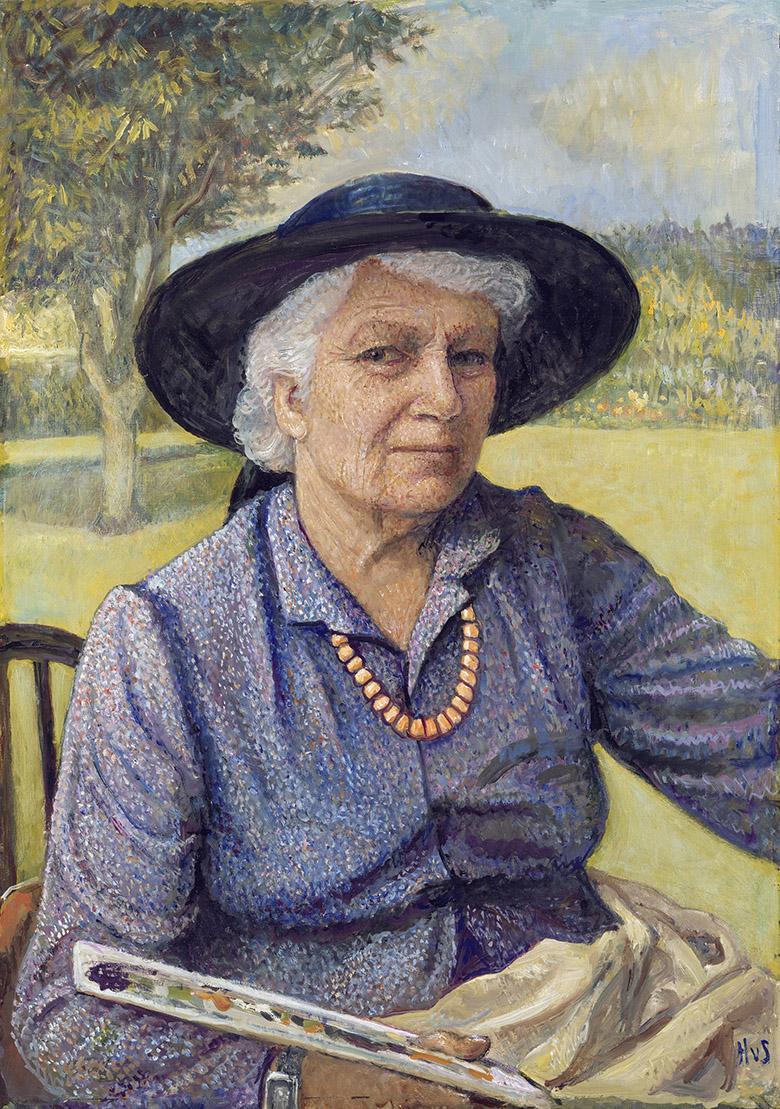 Hilda Geralda van Stockum (1908-2006), Self-Portrait in a Black Hat, 1988. © Courtesy of the Estate of Hilda van Stockum Marlin. Photo © National Gallery of Ireland
Credit
This is a self-portrait so the sitter is the same person as the artist! Hilda Gerarda van Stockum made this self-portrait when she was 80 years old. She was a Dutch-born painter, writer and illustrator who came to Ireland in her teens to study at the Dublin Metropolitan School of Art.
Find out more about this portrait:
Who is the artist?
Hilda Geralda van Stockum
Where is the artist from?
She was born in The Netherlands. 
When was the artist alive?
She was born in 1908 and died in 2006.
When was this portrait made?
1988 
What is the portrait made of?
Oil on board    
What size is the portrait?
73.7 x 52.7 cm
How was the portrait made? 
This painting is made from oil paints. The technique the artist used is called pointillism. The artist applied small, distinct dots of paint in patterns to form an image. It is likely that she propped a mirror up beside her easel so that she could see her own reflection and her surroundings.  
Why did the artist make this portrait? 
Self-portraits are made for many reasons. In this portrait Hilda van Stockum shows herself as an artist. She is at a later stage in her life and she is still working and creating art. Perhaps she wanted to capture and celebrate this specific time and place in her life.
Look closely
Take a look at this list of words:
trees
palette  
woman
black hat
necklace         
grey hair
clouds        
cloth        
chair
grass                           
blue sky
Now look at the portrait. Can you see these parts of the picture? Can you see anything else?
Look again!
Take a look at this list of words:
creative
thoughtful
happy        
curious
proud                     
prominent
mature             
melancholy                     
complex
Now look at the picture again. Do any of these words describe the sitter? How would you describe her? Take out a notepad and jot down in your own words how you make this portrait.
Get creative!
Now think of other ways the artist could have made this self-portrait.
Could it be a sculpture? A collage? A photograph?
Could she be standing instead of sitting? Could she be indoors instead of outdoors? 
Could other objects be included in this portrait? What do you think they would be? 
Try sketching another version of this portrait in a notebook or a spare sheet of paper.