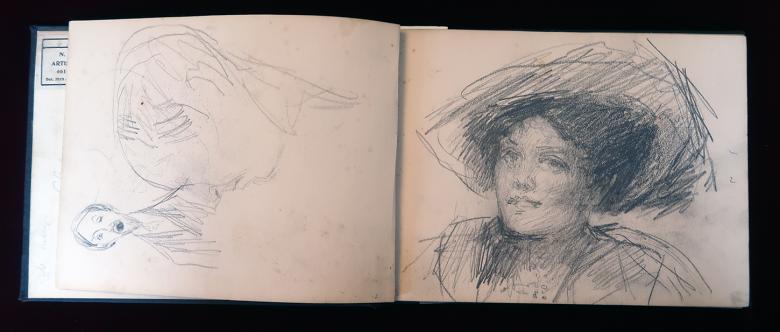 A page from one of John Butler Yeats' New York sketchbooks
Credit
A sketchbook is much more than a place for keeping drawings safe. It can be used to experiment with different mediums, colours, and ideas, and for storing the material that inspires you. It can be a place to work out thoughts and feelings, and it can remain as a snapshot of a moment in your life, or of a particular place and time. 
We are lucky to have hundreds of sketchbooks here at the National Gallery of Ireland. Each one is unique; a reflection of the artist who kept it and the time in which they lived. This post explores some of the sketchbooks in our Archives and Prints & Drawings collections. As well as exploring the lives of the artists who created the sketchbooks, we will also consider the different approaches each artist had, and what they can tell us about their lives, interests, and the world around them.  
A closer look at two artists' sketchbooks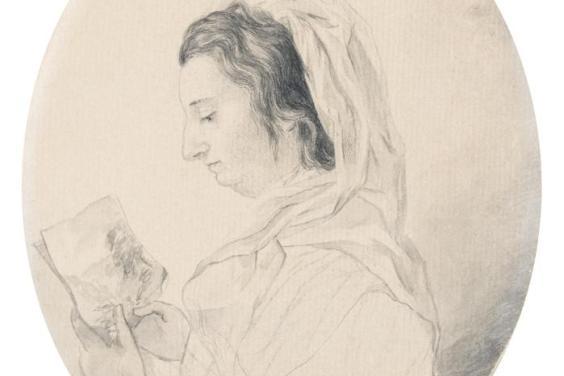 Maria Spilsbury Taylor Self-portrait holding drawing, c.1815.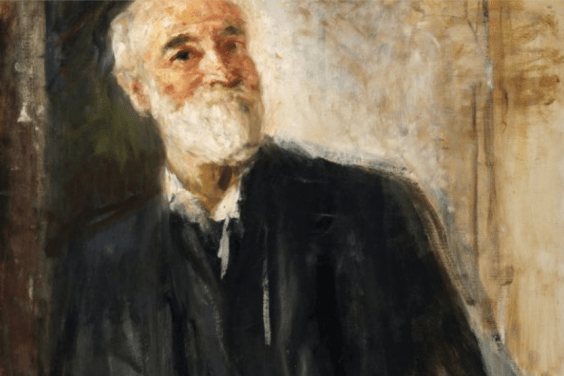 John Butler Yeats Self Portrait, c.1921
Maria Spilsbury Taylor (1776–1820)
Maria Spilsbury Taylor lived much of her life between London, Dublin and Wicklow. She was born to a financially comfortable family, and her parents, Rebecca and Jonathan Spilsbury encouraged her creativity from a young age. Although she never received any formal art education, Maria's father Jonathan was an artist, and she trained in his engraving studio, and managed to make a name for herself in a profession which was often difficult for women to break into. She first exhibited her artwork at the age of fifteen, and her popularity grew rapidly - contemporary reports reference long queues of up to twenty carriages often seen outside of her London studio!
In his Dictionary of Irish Artists (1913), Walter Strickland notes that Maria's artwork was admired by critics, described as exhibiting 'a taste and delicacy of execution rarely to be met with.' Maria had a strong faith, and her artwork was influenced by this. She often painted portraits of the people she knew, mainly the Protestant gentry, as well as scenes from the world around her. 
Her painting Patron's Day at the Seven Churches, Glendalough, completed circa1816, is part of our collection. In this work, Maria has paid a lot of attention to detail, a talent which may have been nurtured during her time training in her father's engraving studio - note details below like the full picnic basket in the foreground, and the facial expressions of the people who populate the painting.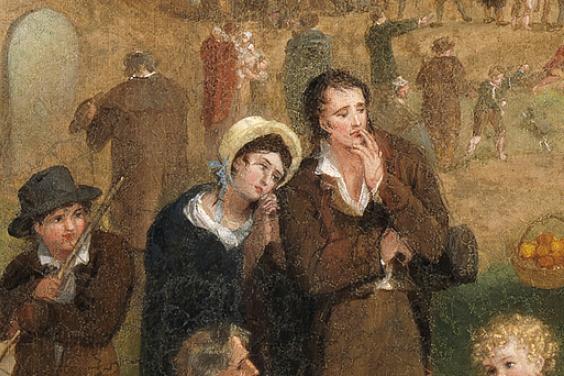 This attention to detail is also evident in Maria's sketchbooks, which are kept in the Prints and Drawings collection at the National Gallery of Ireland. Maria liked to draw landscapes and people in her sketchbooks, using ink and sharp graphite to create fine lines and balanced compositions. Like many artists, she used sketchbooks to develop her ideas for final paintings. We can see this in sketches like the one highlighted below, which appears to be a study of castle ruins similar to those seen in the background of Patron's Day at the Seven Churches, Glendalough. 
Although she was a successful portrait painter, Maria also enjoyed genre painting, a style that was very popular in Europe during the 19th century. Artists who worked in this manner aimed to realistically depict people of all social classes going about their everyday life. We can find many examples of this in her sketchbooks, where she captures many different characters, from farm workers to members of the aristocracy, in equally loving detail.
Maria's love for exploring her surroundings in both her sketchbooks and her paintings means that they are valuable resources for researchers: they allow us a greater understanding of her personal interests and her creative process as an artist, and are also a fascinating insight into what life might have been like in Ireland over 200 years ago.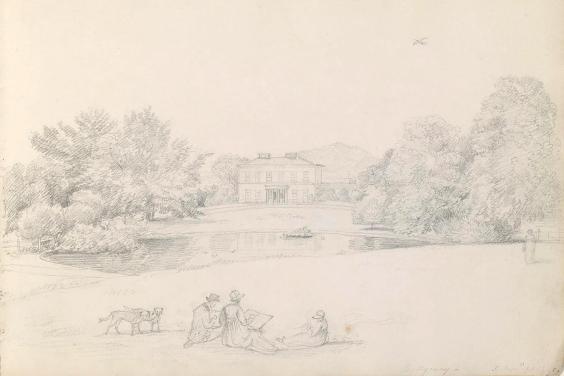 Maria Spilsbury Taylor Figures Sketching in the Grounds of Ballycurry House, Wicklow, 1814.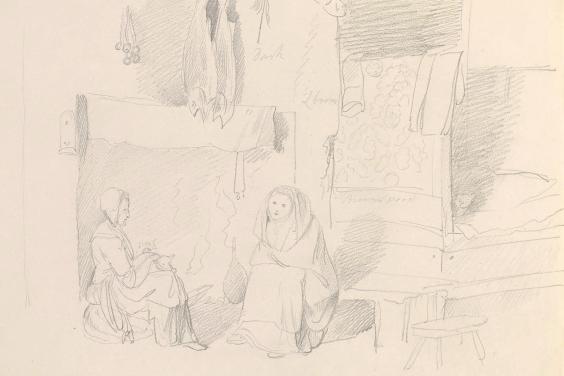 Maria Spilsbury Taylor Kitchen with Box Bed, Red House, Woodstock,Inistoige
John Butler Yeats (1839–1922)
John Butler Yeats was the eldest of nine children, born in Tullylish, Co. Down. He originally studied law in Trinity College Dublin, but soon after decided that he would pursue a career as an artist. He was a friendly and social person who had a special interest in painting portraits, using quick brushstrokes, intimate lighting, and soft, expressive colours to capture the mood and personality of his sitters. John quickly grew in popularity as a professional portrait painter, painting prominent social figures from Ireland, Britain and America. 
In 1893, John married Susan Pollexfen, and the couple had six children: William Butler Yeats; Susan Mary Yeats; Elizabeth Corbett Yeats; Robert Corbet Yeats; Jack Butler Yeats; and Jane Grace Yeats. He encouraged his children to be creative and to follow their passions, and William went on to become a celebrated writer, while Susan, Elizabeth, and Jack became successful artists. 
Despite his popularity as a portraitist, John often struggled financially. He was a perfectionist and often either overworked or abandoned his paintings if he did not like how they were turning out, losing valuable income.
When he was 68 years old, John travelled to New York with his daughter Susan. He found the city inspiring, and decided to stay on. While there, he became more expressionistic in his style of drawing and painting, often experimenting with brighter and more vibrant colours in his finished work. He painted several portraits of prominent Irish-Americans and kept sketchbooks documenting his time there, some of which are contained within our Yeats Archive.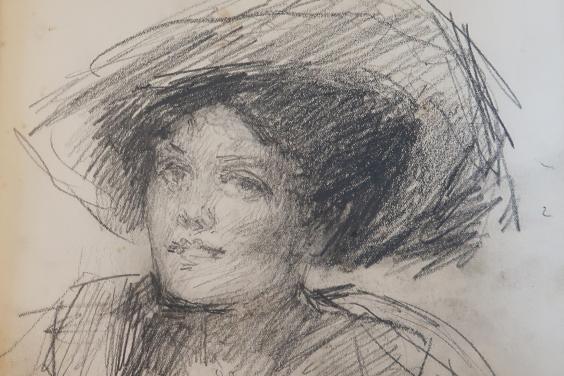 John Butler Yeats From his New York sketchbooks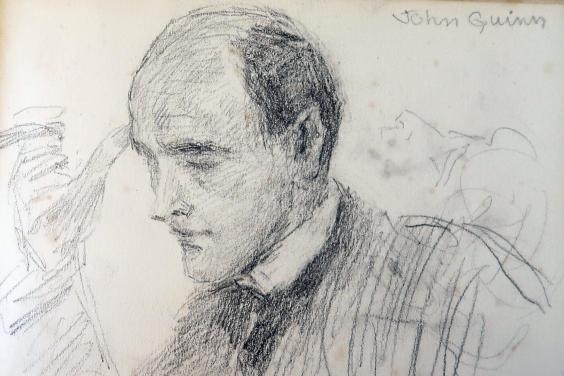 John Butler Yeats From his New York sketchbooks
The Irish poet Padraic Colum (1881–1972) recounted how John used his sketchbook to actively document and respond to his environment. He described how he would often bring his sketchbook to the dining room of the boarding house in which he lived, sketching while engaging in discussions about art and literature with his fellow lodgers and visitors. The sketchbooks that remain from his time in New York contain several character studies of the people he met while in America, capturing elements of the Irish-American community at the time.
For an artist like John Butler Yeats, who was known to be a perfectionist, sketchbooks allowed him a place to be more carefree and loose with his drawing, displaying his evolving style as an artist and his move towards being more expressionistic in his line-work. The sketchbooks capture John's impressions of New York, as well as his excitement to be there, and are a valuable resource for anyone looking to gain insight into the final few years of the artist's life and the community with whom he shared those years.
Explore more
There are some fantastic international online resources for exploring sketchbooks as a medium, such as the

Brooklyn Art Library

, which has over twenty-thousand sketchbooks sent in by people all over the world available to view on their website. 

You can also start creating your own sketchbooks. Even if you're feeling stressed or lack inspiration, just randomly doodling in the sketchbook can help to calm the mind, and can result in some new great ideas. There are no rules about what to put in a sketchbook - just pick up a pen or a pencil and get sketching!
Written by: Donna Rose and Grace O'Boyle, ESB CSIA Research Fellows