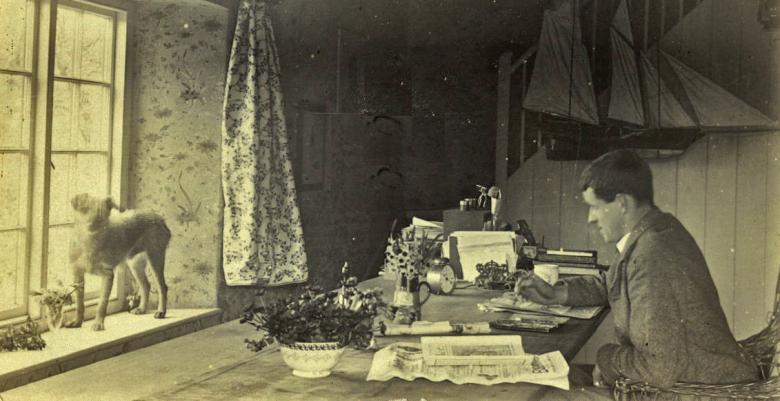 Photograph of Jack B Yeats and his dog Hooligan in Devon, from the National Gallery of Ireland's Yeats Archives
Credit
Jack B. Yeats (1871–1957)
Jack B. Yeats, painter, was born at 23 Fitzroy Road, London, youngest child of the artist John Butler Yeats and Susan Yeats (née Pollexfen). He spent his early years moving with his family between London, Dublin, and Sligo as his father struggled to establish himself as an artist. From 1879 to 1887, he lived in Sligo with his maternal grandparents. He rejoined his family in London, in 1887, in order to begin his art training at the South Kensington School of Art, and then at the Chiswick School of Art. It was at the latter that Jack met his future wife, fellow student, Mary Cottenham White; they married in Surrey in 1894 and, in 1897, they settled in the coastal village of Strete, Devon.
Jack began his artistic career, in the 1890s, as a black and white journalistic illustrator for various publications, alongside carrying out design work for Allen and Sons in Manchester. Following his move to Devon with Cottie in 1897, however, Jack decided to focus on working in watercolour, holding his first exhibition of watercolours, of Devon life, at the Clifford Gallery, London in 1897. Jack and Cottie moved to Ireland in 1910, settling at Greystones, Co. Wicklow until 1917, followed by 61 Marlborough Road, Donnybrook, Dublin and finally, in 1929, to 18 Fitzwilliam Square, Dublin where they remained for the rest of their lives.
Following the move to Ireland, Jack began to work in oil paint. His early paintings share the realist approach of his graphic work and concentrate on scenes of rural and urban life. Yeats's painting style changed radically in the later 1920s. As time went on he experimented more with colour and used larger canvases. The subject matter of his later paintings is more obscure, although the work remains figurative. Alongside his painting, Jack continued to produce a considerable amount of work for publication, including illustrations for J.M. Synge's book The Aran Islands (1907). In addition, Yeats published a number of plays for miniature theatre, a collection of short stories for children, and several plays and novels published throughout the 1930s and 1940s.
Yeats's personal archive is located in the National Gallery of Ireland, and includes the artist's sketchbooks which document over fifty years of his career. Additional material documents Mary Cottenham Yeats's artistic contribution to the Cuala Industries established by Susan Mary and Elizabeth Corbet Yeats in 1908.