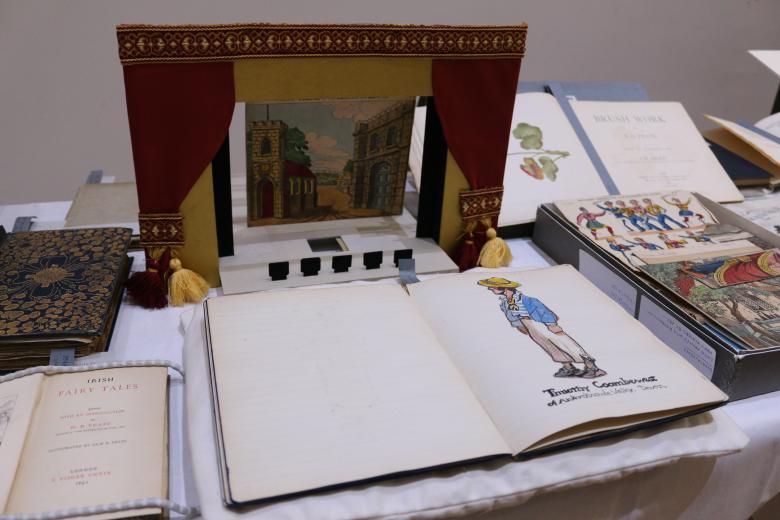 The Yeats archive consists of a prestigious collection of material donated to the Gallery by Anne Yeats in 1996 and several additional collections acquired since.
These collections relate to Jack B. Yeats and members of his extended family and include highlights such as the artist's sketchbooks which cover over fifty years of his career, books from Yeats's own library, a collection of journals, theatre programmes, original manuscripts, photographs, postcards and letters, as well as general memorabilia such as the artist's easel and smock. This collection also includes material relating to Mary Cottenham Yeats and an extensive collection of old ballads, ballad books and maps. In addition, the archive holds material pertaining to other members of the Yeats family including W.B. Yeats, John Butler Yeats, his sisters Susan Mary ('Lily') and Elizabeth ('Lolly'), niece Anne Yeats and cousin Ruth Pollexfen. The Cuala and Dun Emer Presses are also well represented.
Full descriptive lists of collections can be downloaded by clicking the links below. 
Anne Yeats gift [PDF 1.5MB]
Eleanor de Bretteville Reid collection   [PDF 135KB] 
Anna Russell collection   [PDF 247KB]
Ruth Lane Poole collection  [PDF 177KB]
Graham collection  [PDF 124KB]
Lillias Mitchell collection  [PDF 125KB]
Roberts Richmond Figgis collection  [PDF 108KB]
Jack B. Yeats: miscellaneous letters [PDF 109KB]
Anne Yeats collection [PDF 372KB]
J.C. Miles collection [PDF 151KB]
Material relating to W.B. Yeats [PDF 92KB]
Explore the research collections
Art library

Ireland's leading research centre for the study of art and art

Gallery archive

Holds the official records of the National Gallery of Ireland