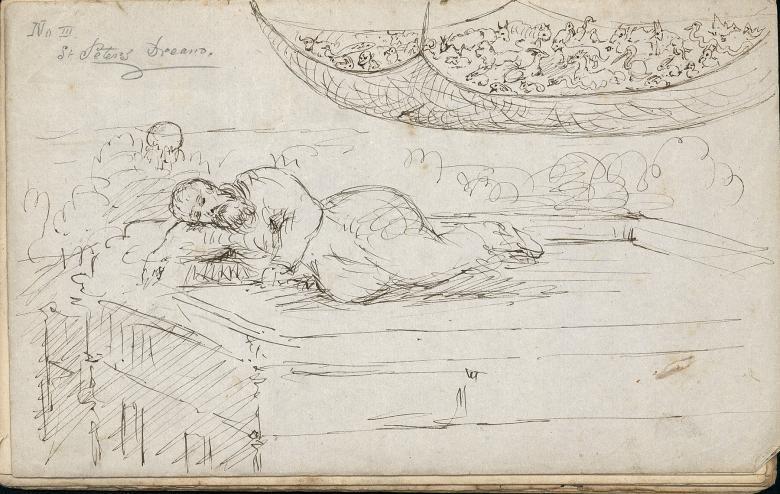 Walter Osborne, 'Sketchbook no. 3', CSIA collection. Photo © National Gallery of Ireland.
Credit
A sketchbook is much more than a place for keeping drawings safe. It can be used to experiment with different mediums, colours, and ideas, and for storing the material that inspires you. It can be a place to work out thoughts and feelings, and it can remain as a snapshot of a moment in your life, or of a particular place and time. 
We are lucky to have hundreds of sketchbooks here at the National Gallery of Ireland. Each one is unique; a reflection of the artist who kept it and the time in which they lived. This post is the second in a three-part series which will explore some of the sketchbooks in our Archives and Prints & Drawings collections. As well as exploring the lives of the artists who created the sketchbooks, we will also consider the different approaches each artist had, and what they can tell us about their lives, interests, and the world around them.  
Let's take a look at the sketchbooks of two artists, Walter Osborne and Frederic William Burton.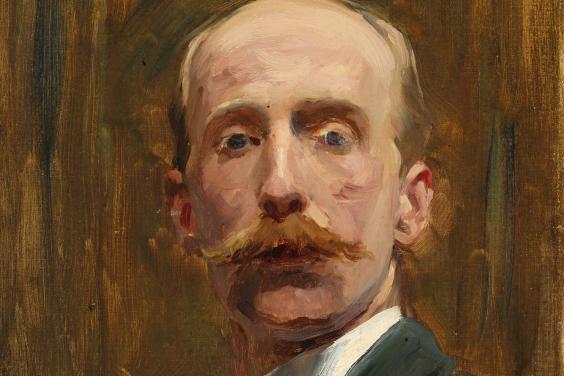 Walter Frederick Osborne (1859-1903) Self-portrait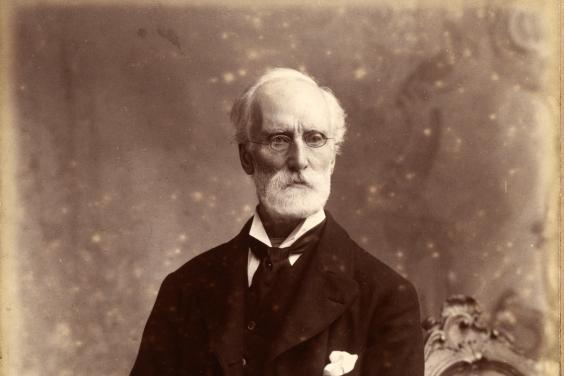 Frederic William Burton
Walter Frederick Osborne (1859-1903)
Walter Frederick Osborne was born in Rathmines in June 1859, the second of three children born to artist William Osborne and Anne Jane Woods.
He entered the Royal Hibernian Academy in 1876 to study art and went on to win several awards including a silver medal in 1877, and the Albert Prize in 1880 with his painting Glade in the Phoenix Park. 
Osborne travelled to Antwerp, France and Spain to study, and became influenced by movements such as Realism and Impressionism. He was fascinated by the effects of light and shadows as they moved in open air, and he often depicted scenes of everyday life in a naturalistic style.
He spent a lot of time in Dublin with his parents during the winter months and in the summer he travelled to rural England, to areas including Sussex, Berkshire and Norfolk. While there, he would paint rural genre scenes of village life and landscapes of the surrounding scenery using oils and watercolours. Osborne would also frequent English museums and galleries at this time, presumably to gather inspiration.
Career 
From 1890, family life compelled Osborne to settle in Dublin, and  he set up a studio at 7 St Stephen's Green. Focusing his attention on everyday city life, he painted pictures of Dublin street scenes which reveal the influence of the French Realist and Impressionist styles he had encountered during his travels. However, it was portraiture that would dominate the remainder of his career, as it was more popular in the Dublin art market of the time and he needed to provide financially for his family. The last ten years of Osborne's life saw him paint numerous portraits including Lady Armstrong, Gerald Fitzgibbon, Lord Justice of Appeal, Sir Thomas Drew, and Sir Walter Armstrong. In 1900 he was offered knighthood by the Lord Lieutenant, Earl Cadogan, in recognition for his services to art and his distinction as a painter, but he declined the honour. Osborne died in 1903 aged 47, having contracted pneumonia. 
Sketchbooks
Below, you'll find a selection of sketches from Osborne's sketchbooks that can be found in the ESB Centre For the Study of Irish Art (CSIA) collection here at the National Gallery of Ireland. Perhaps they were preliminary sketches for a final piece, or a study from his time at art school:  it is interesting to think about  the many different contexts in which sketches are created, whether for work, study or simply enjoyment. 
We know for certain that the first two sketches below present religious scenes because Osborne has titled each of the pages. The first reads "Appearing of the angels to the wise men" and the second "St. Peter's dreams". When turning the pages of Osborne's sketchbooks we begin to understand his interests and the manner in which he recorded his thoughts.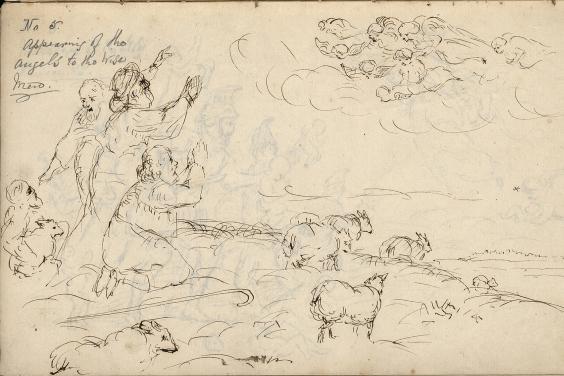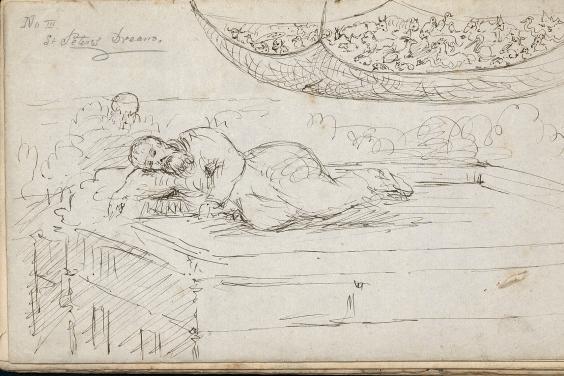 According to the Acts of the Apostles, Saint Peter had a vision of a vessel that was full of animals and descending upon him. There are many interpretations of this narrative throughout history, and in Osborne's sketched interpretation he has depicted Saint Peter curled up in a sleeping pose with his characteristic beard still visible. The vessel appears to be a sheet or canopy that is lifted at each corner to contain the array of bustling animals inside as it moves towards Saint Peter. Osborne has considered the scale and composition of this sketch carefully to ensure the proportions of the approaching vessel are accurate in relation to Saint Peter's resting body. 
The next set of sketches (below) by Osborne are much less structured, and are more impulsive, displaying a type of sketching that is familiar to most of us. In these sketches, Osborne does not seem to be telling a story, nor is he concerned with the composition, as each sketch is random and independent of the other. Instead we can see that Osborne has simply sketched objects that have captured his attention, such as a sailing boat with its sails stretching in the wind, a baby in a cradle, an attentive dog, and a skull and crossbones. Like many artists, he used his sketchbooks as places for experimentation and for expressing details pulled from his imagination.
Osborne also used photographs to inform his work, many of which can be found in our ESB CSIA collection. Like sketching, photography is the process of recording an image. When photography emerged during the industrial revolution, it was adopted by artists as a way of capturing modern life, allowing them to work from the photographs they captured. Osborne embraced this new technology, and was one of the first artists in Ireland to work this way.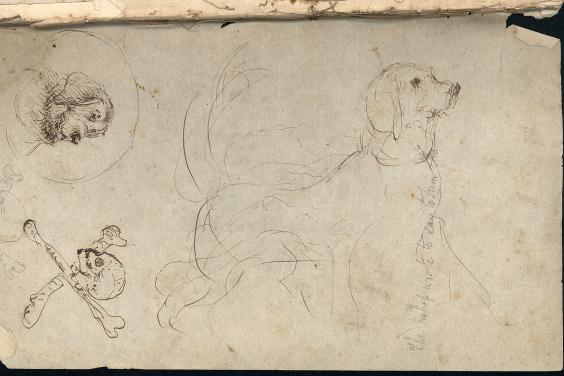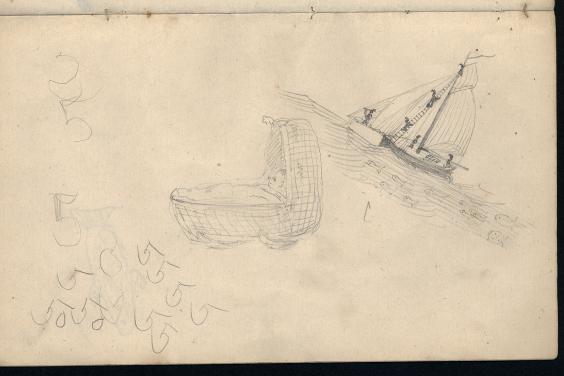 Frederic William Burton (1816-1900)
Frederic William Burton was born in Wicklow in 1816 to Hanna Mallett and  Samuel Frederick Burton, an amateur painter who encouraged his son to also pursue this passion. Burton was a precocious talent - at the age of ten, he attended the Dublin Society Schools to train as a painter. He quickly became an accomplished watercolourist and miniature artist, and exhibited his first painting in the Royal Hibernian Academy at just sixteen years of age. 
Training and career 
The artist and antiquarian George Petrie was both a mentor and friend to Burton, and in 1838 he brought him to the West of Ireland to survey and sketch historical monuments and ruins. It was here that Burton's interest in Irish heritage and folk life was fostered, an interest which would continue to influence and inform many of his future works, including two paintings now in our collection: The Aran Fisherman's Drowned Child and The Altar of the Church of the Four Beautiful Saints, Inishmore, Aran Islands.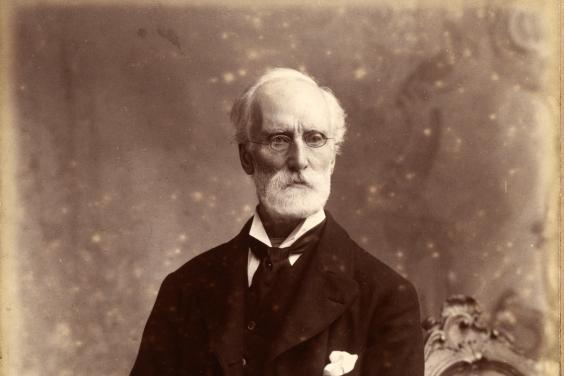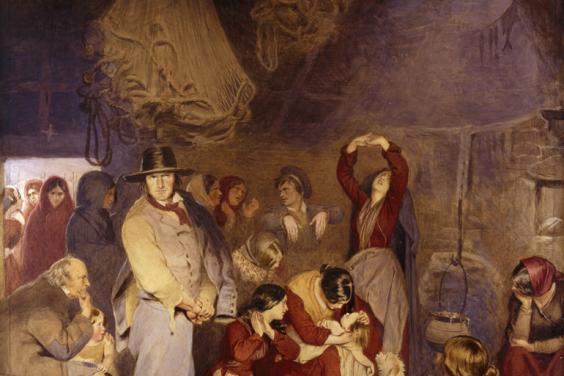 Burton's experience as a painter and his vast knowledge of art history made him an ideal candidate for the directorship of the National Gallery, London in 1874, succeeding Sir William Boxall RA to become the institution's third Director.
During his twenty year tenure as Director he made a significant contribution to one of the greatest collections in the world. His knowledge of art history and critical judgement ensured that the National Gallery made some very important acquisitions during this time, including Leonardo da Vinci's The Virgin of the Rocks and The Ambassadors by Hans Holbein the Younger. 
Burton worked almost exclusively in watercolour, although the fine detailing and strong colours of his paintings might at first glance lead the viewer to believe that they were looking at an oil painting. He understood the possibilities of watercolours and used them to create vibrant and highly pigmented portraits and genre scenes.
The Meeting on the Turret Stairs
The subject of The Meeting on the Turret Stairs comes from a medieval Danish ballad which tells the story of Hellelil, a princess who falls in love with her personal guard, Hildebrand, prince of Engelland. When Hellelil's father learns of their love he orders his seven sons to kill the young prince. The poem itself describes a violent and gruesome sword fight, unlike the scene that Burton depicted: he chose instead to imagine an intimate and gentle moment between the two lovers before the terrible end.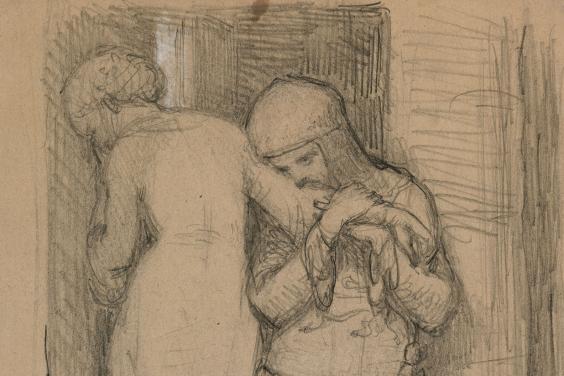 Burton created several preparatory drawings and watercolours for his famous watercolour, which can be found in our Prints and Drawings collection. In the preliminary sketch above we can see how Burton has laid out the composition of the final painting - he even highlights a light source in his sketch, which is where he places the turret window in the final watercolour. Artists often use sketches to map out their composition before moving on to the final piece. This practice allows the artist to resolve any issues that may arise well in advance and allows them to work out the details of the composition, its scale and figure proportions. 
Drapery study 
Burton was particularly interested in capturing the soft and flowing nature of draping material, as illustrated in the sketches below. There are a large number of sketched studies of drapery in our Prints and Drawings collection which indicate his interest in recording texture accurately and his desire to master this skill.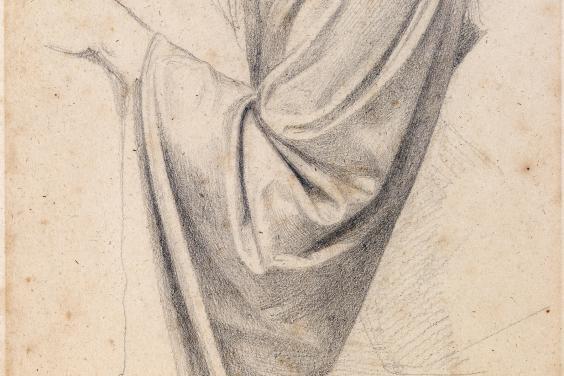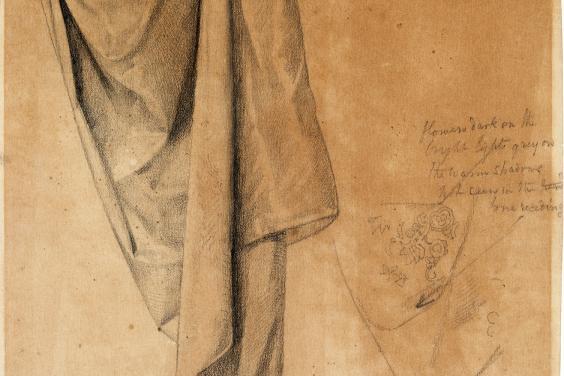 Burton, like so many artists, used sketching as a tool to inform and prepare for the final work. We can learn about his approach to painting by analysing his sketches and his attention to detail. When we consider Burton's interest in portraying the softness of drapery, can you think of any textures, shapes or forms that attract you? Perhaps you could also do a study! 
Both Burton and Osborne used sketching in a way that suited their individual interests, employing it as a form of 'visual thinking', and ultimately highlighting that the process and journey is as important as the final outcome.
Written by: Donna Rose and Grace O'Boyle, ESB CSIA Research Fellows