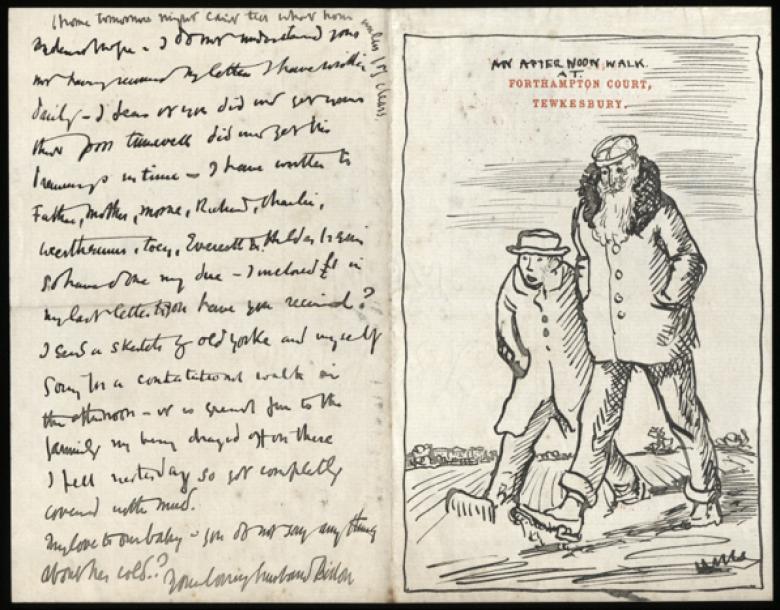 Illustrated letter from William Orpen to Grace Orpen featuring two sketches of the artist in conversation with an older man [c.1905] NGI/IA/ORP1/5/1/1/7/3/5
Credit
Source provides online access to the National Gallery of Ireland's collections of archives and ephemera associated with the history of art in Ireland. Through Source we provide an online space for people to discover, connect and engage with our growing collection of art archives. There are currently over 16,000 records on Source and 6,000 associated digital images. These are available for re-use and can be downloaded for research and educational purposes.
Collections:
Irish Art Archive
The Irish Art Archive, held in the Centre for the Study of Irish Art, is searchable for the first time through Source. This collection holds an important and rich body of material documenting the history of Irish art. Celebrated artists such as Daniel Maclise, Frederick William Burton, Sarah Purser, Roderic O'Conor and William Orpen, to name only a few, are all represented in the collection.
Yeats Archive
The catalogue of the Yeats Archive is searchable through Source featuring over 13,0000 records. The Archive holds material relating to Jack B. Yeats and members of his extended family, including and the artist's sketchbooks, his library, original manuscripts and photographs, as well as publications from the Cuala and Dun Emer Presses.
Source Stories
Source Stories is a collection of curated stories, written by people with different interests in the field of art history. The stories offer new and unique insight into items from the collections, highlighting interesting events and relationships in the lives of those who have contributed to the development of art in Ireland.