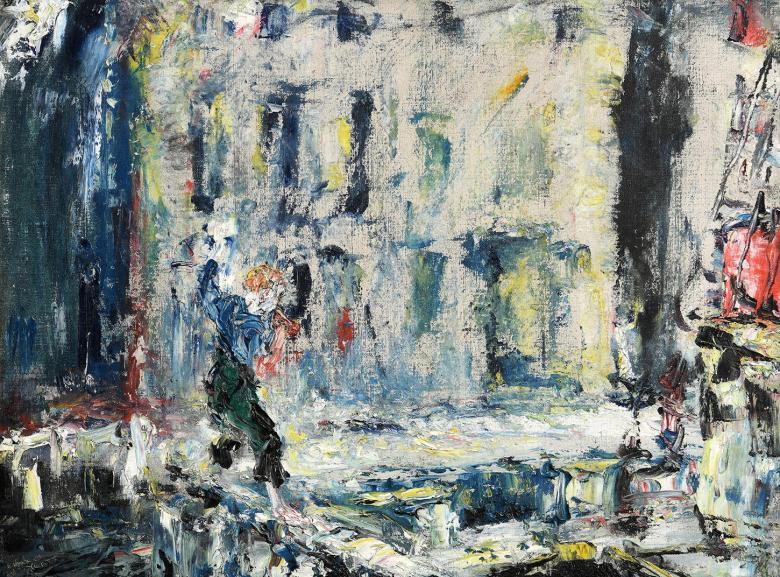 Jack B. Yeats, The Derelict Ship, 1946.
A Limerick GAA Supporter. © Estate of Jack B. Yeats, DACS London, IVARO Dublin, 2021

Credit
To celebrate the exhibition Jack B. Yeats: Painting & Memory, the National Gallery of Ireland is delighted to announce an art competition for primary and post-primary schools on the island of Ireland, happily supported by Key Capital.
About the competition
We wish to offer schools the opportunity to engage more deeply with the themes of place and memory in Yeats's work, in a unique competition celebrating the diverse communities of Ireland. Eight winning schools will each receive an exciting prize package worth €1000.
Working as a team, each school will create an artwork inspired by the memories of people in their local area. Schools can choose to create their artwork in any form. The finished artwork must be photographed and submitted digitally to the Gallery for judging.
Educational resources to support schools entering the competition
Each school participating in the competition will receive educational resources to explore the exhibition from their classroom. These will include:
Webinars
A webinar session, broadcast live to the classroom exploring paintings from the exhibition Jack B. Yeats: Painting & Memory and the importance of place and memory in Yeats's work as an artist. The webinar will also be recorded and can be accessed by participating schools after the session.
Primary School Webinar
Date: Thursday 4 November 2021
Time: 11am
Duration: 40 minutes
Post-Primary School Webinar
Date: Friday 5 November 2021
Time: 11am 
Duration: 40 minutes
School resource pack
A primary and post-primary resource pack will be provided to support a class-based investigation and creative response to the theme 'Memories of our Local Area'.
Shortlisted and winning schools
Shortlisted schools will have their artworks showcased on the Gallery's website and social media, and a winning primary and post-primary school from each province will receive:
Voucher for transport costs to visit the Gallery, with activity included. Or an artist-led workshop in your school.
Art materials.
Framed reproduction of a work by Jack B. Yeats to hang in your classroom.
Total value of prize: €1000 per school.
How to enter
Register your interest by signing up to a webinar via BookingLive (please note that webinars will be recorded, so don't worry if you can't make the dates listed).
Collaborate on your project, and create a group artwork in November–December 2021.
Submit pictures of your finished artwork by 17 December 2021.
Full details of how to enter, including an entry form, will be made available here on our website in the coming weeks.