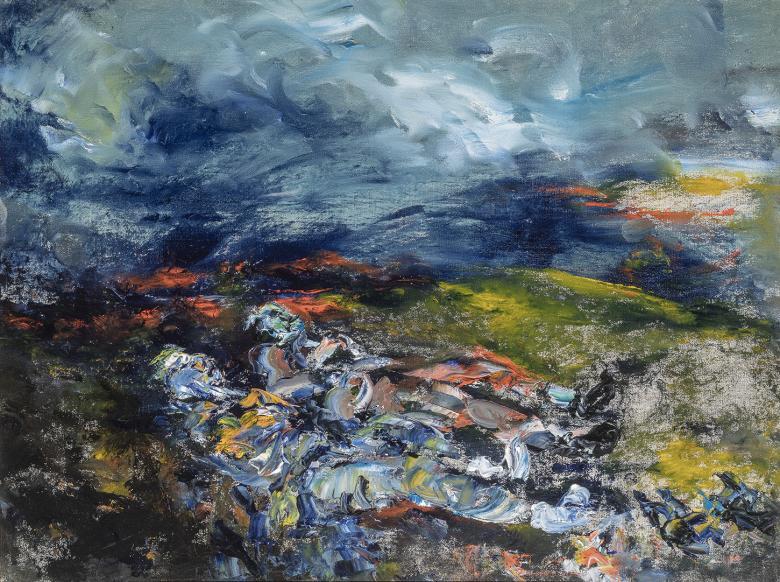 Jack B. Yeats, Sleep Sound, 1955.
Private Collection.
© Estate of Jack B. Yeats, DACS London, IVARO Dublin, 2021.

Credit
Explore the primary schools shortlisted for our Jack B. Yeats: Painting & Memory Schools Competition!
As part of this island-wide competition, happily supported by Key Capital, schools were invited to engage with the work of Jack B. Yeats and create collaborative artworks inspired by the memories of people in their local area.
There are four winning schools in the primary-school category – one from each province – and two highly commended schools. The four winning schools will each receive an exciting prize package worth €1000.
The competition judges were Brian Ranalow, artist; Catherine O'Donnell, Education Officer, National Gallery of Ireland, and Brendan Rooney, Head Curator, National Gallery of Ireland.
Explore the winners and highly commended primary schools below! You can see the post-primary schools here.
Winners
SN Éadan Fhionnfhraoich / Edeninfagh NS, Glenties, Co. Donegal
Doors – Portals of Transportation, Memories and Time
The students' teacher wrote:
"A door or doorway symbolises the transition and passageway from one place to another. Our pupils could see similar elements of this in Jack B. Yeats's work. We are situated in one of the most scenic parts of the world. Unfortunately, the population has declined over recent years and the only lasting memories are the abandoned houses. At first glance, a door is just a piece of wood, glass or metal, but in the hands of an artist, a door/doorway represents a world of possibility or an abundance of history. Who was the first person to walk through that door? Who was the last? If a door could tell stories, what would they be?"
Scoil Eoin, Tralee, Co. Kerry
Our Community Remembers the Rose of Tralee
The students wrote:
"We decided to focus on our own local community and the biggest gathering we could think of was the Rose of Tralee. We used our iPads to interview family members about their experiences at the Rose of Tralee Festival. Jack B. Yeats often gave detail of clothing in his paintings. He also focused on events where people came together. The questions we used in our interviews were inspired by those aspects of his artwork. The Rose of Tralee is a Kerry tradition, dating back to 1959 and it's something we all look forward to celebrating once things go back to normal."
Ballinlig NS, Beltra, Co. Sligo
Our Magical Memories of Beautiful Beltra
The students' teacher wrote:
"Our students worked together to create our artwork inspired by the most important and beautiful places in our local area. We have included beaches, churches, historical landmarks, our local shop, pubs, our old school, our current school, our community centre, and many more. The twenty-two photographs represent each child in our small rural school. We have tried to include many different artistic styles including pointillism, sketching, pastels, painting, oil painting. We have used memories of family members including the children in our school to create the border around our painting. These memories of our local area represent all that is unique and wonderful about where we live."
St Fintan's NS, Lismacaffrey, Co. Westmeath
Shining Light on our Memories of our Locality and its People
The students' teacher wrote: 
"The idea of the sculpture of the telescope is influenced by William E. Wilson (1851-1908). Wilson lived locally, in a house called Daramona, where he built an observatory which held a telescope now housed in Liverpool Museum. The children felt that what made Wilson so special to them, as well as all that he had achieved, was the fact he always shared his knowledge and experience with the local community. The students' artwork embraces that sentiment as the children undertook to create a slideshow using a projector placed inside their telescope sculpture, projecting images of the collaborative artwork they had created in response to the memories of other local people and places, thus sharing knowledge through a light show like Wilson had done."
Highly commended
Scoil Maelruain Senior, Tallaght, Dublin 24
Memories in the Landscape
The students' teacher wrote:
"For our artwork we decided to travel our locality exploring sites and learning about the history and stories attached. The class used county council resources, caretakers' stories and local and family legends to capture five locations that span 500+ years of Tallaght's history. The project was aimed at instilling a sense of pride in the children for the place they live in and its history. They gained a wealth of skills throughout the project from researching, creating and presenting to the school."
Killurney NS, Clonmel, Co. Tipperary
The Flowers of Killurney
The students' teacher wrote:
"We were inspired by the artistic lives and works of each of the members of the Yeats family. We worked together, as a school, to create a multi-media installation piece that evokes the special memories of our small townland in South Tipperary. The children decided that as we live in an area of natural beauty we would draw on flowers in the locality and how these flowers awaken thought-provoking memories in people both through scent and sight. Each child spoke to family members about the special flowers which evoke memories for them. The children captured these memories and used them as inspiration to write verses for their poem and also to create flower embroidery pieces."
Happily supported by Key Capital