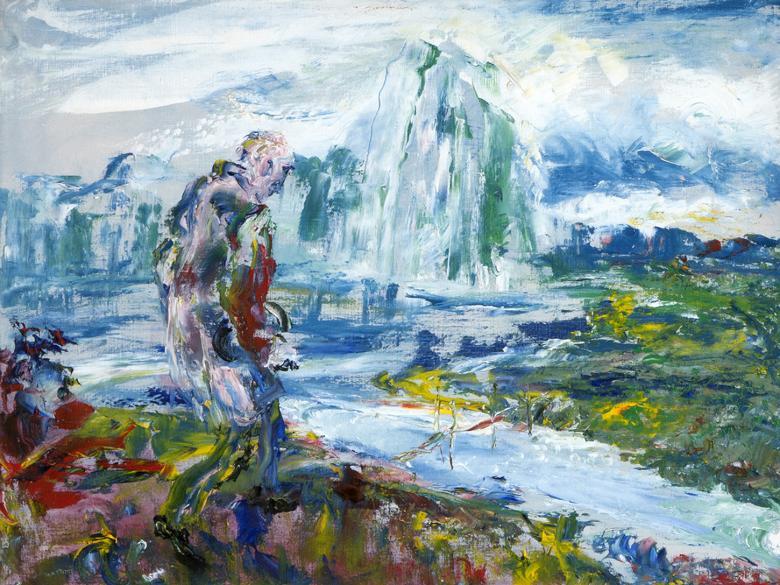 Jack B. Yeats, On Through the Silent Lands, 1951.
Collection Ulster Museum.
© Estate of Jack B. Yeats, DACS London, IVARO Dublin, 2021.

Credit
Explore the post-primary schools shortlisted for our Jack B. Yeats: Painting & Memory Schools Competition!
As part of this island-wide competition, happily supported by Key Capital, schools were invited to engage with the work of Jack B. Yeats and create collaborative artworks inspired by the memories of people in their local area.
There are four winning schools in the post-primary category – one from each province – and two highly commended schools. The four winning schools will each receive an exciting prize package worth €1000.
The competition judges were Brian Ranalow, artist; Catherine O'Donnell, Education Officer, National Gallery of Ireland, and Brendan Rooney, Head Curator, National Gallery of Ireland.
Explore the winners and highly commended post-primary schools below. You can see the primary schools here.
Winners
St Louise's Comprehensive College, Belfast
Local Beauty
The students wrote:
"We decided that each of us would try and capture a view of local beauty in the form of a nature-filled landscape. We all have different memories and are attached to different places so all of our artworks are a little different. We designed our artwork to be a jigsaw that could be assembled when all of the painting was done, creating a large mural, with all of our different memories and visions of beauty merging together. It was amazing to see how each of our pieces fitted harmoniously into the puzzle with everyone else's artwork after we had finished painting. When assembled it beautifully reflects both our individuality, and our sense of community, celebrating the beauty of our shared land."
St Joseph's Secondary School, Rush, Co. Dublin
Community and Identity in Rush
The students' teacher wrote:
"Our inspiration was sparked by looking at our community and identity as a school. The students filtered through old photos and selected images that represented the community ethos in our school. The three buildings in the background are local monuments: our current school building, Kenure House, and the Anchor. This artwork memorialises our current school as our new school is being built. Kenure House was demolished in 1978, due to disrepair, and the strange sight of an enormous portico puzzles many people, standing alone against the sky. Local people often talk of their disappointment that the building wasn't saved. The Anchor is a monument in Rush which represents a local tragedy – a shipwreck off the coast in 1854. The shipwreck was rediscovered in 1959 and the anchor is now displayed on the Square.
The students discussed each of these stories and chose these particular monuments as they feel local people are connected to them and the history they bring to the area. We chose the medium of cardboard as we felt it was a natural and delicate medium which erodes with time. We felt working with the layers of cardboard, peeling them away and manipulating them, took the concept of 'memory' to the next level."
John the Baptist Community School, Hospital, Co. Limerick
Illuminated Memory Bubbles
The students wrote:
"We decided to base our project around the myths and legends of our area. In Jack B. Yeats's paintings, he represents magical elements through colour and light. We decided to capture the magical essence of the myths through stained-glass pieces. When the light shines through the painted-perspex memory bubbles, a mesmerising fantasy effect is created.
After considering the legends of areas such as Lough Gur, we picked out key symbols to display on the perspex. Lough Gur is centred around mythological underpinnings of culture and identity and tales of Geraoid Iarla who rode around the lake in silver boots on his mystical horse. As well as taking inspiration from Yeats's work, we studied stained-glass artists such as Harry Clarke."
Coláiste Muire, Ballymote, Co. Sligo
Ballymote Treasures
The students wrote:
"We reflected on our primary school days and our progression into 1st year. We included places where we hang out after school. The gazebo where we put on many a performance. The Brother Walfrid sculpture that we see every time we walk in our park. The Ballymote fire station is a place that we see every time we come home from school and go to the shops. The Castle is another special memory as we all carried out an animation project on it as we finished 6th class. The old mill, the bridge that runs over the beautiful river in the park create everlasting memories for us. We cannot forget Cryan's, our beloved local shop, where we go to buy sweets and drinks after school. We remember all these scenes in our daily lives and memories of our beloved Ballymote."
Highly commended
St Benildus College, Stillorgan, Co. Dublin
Journeying
The students' teacher wrote:
"For this project students asked parents and grandparents to produce a sketch map of an area in Dublin or Ireland from their memory. Students brought these maps into class and used them to design and develop their own maps in preparation for a clay relief sculpture based on the theme of Memory and Place. We looked at the work of Jack B. Yeats and how this theme is central to his work. We also examined work of other artists on the theme of maps, journeys and memory including Val Britton and Brad J. Goldberg. From this, the students selected compositions of interest from their various research and development drawings. We created clay roundel relief pieces inspired by the metalwork of Ireland's ancient past in the National Museum, again linking with the theme of Memory and Place. Students worked collaboratively on each aspect of research, design and clay making."
De La Salle College, Waterford
'We live protected under each other's shadow' ode to Joe Caslin…'Rylan'…Waterford's very own 'Christ the Redeemer'
The students' teacher wrote:
"Fifth years, interrogated their city and county's surroundings and referenced Jack B. Yeats and his West of Ireland character paintings. This mixed media piece features the Viking coast and seawaters which dominate; seafood from our waters; Reginald's Tower; the 'Strongbow & Aoife Sculpture' from Merchant's Quay; the quay lit banners; Waterford Crystal and its global icon of the seahorse; Bishop's Palace; the viaduct; the greenway; 33 The Mall, where the first tricolour was raised by Thomas Meagher on 7 March 1848; and the repurposed Ard Rí Hotel which assisted with the title of  the artwork.
Joe Caslin has an ever presence in our city. Joe's mammoth artwork 'Ar scáth a chéile a Mhaireann  daoine', which translates to 'We live protected under each other's shadow', embraces the city and secretly whispers this sentiment. It can be viewed across the Suir River from our art department in De La Salle College. We almost bow our heads daily to this artwork as it is referenced consciously and subconsciously by us!
This vibrant piece started as a painting, but ended up as a mixed media piece. Strengths found in individual students, through working together, jigsaw-pieced this artwork together… Now every time it is viewed something new comes out of the shadows and exists by being referenced, named and maybe worshipped?"
Happily supported by Key Capital