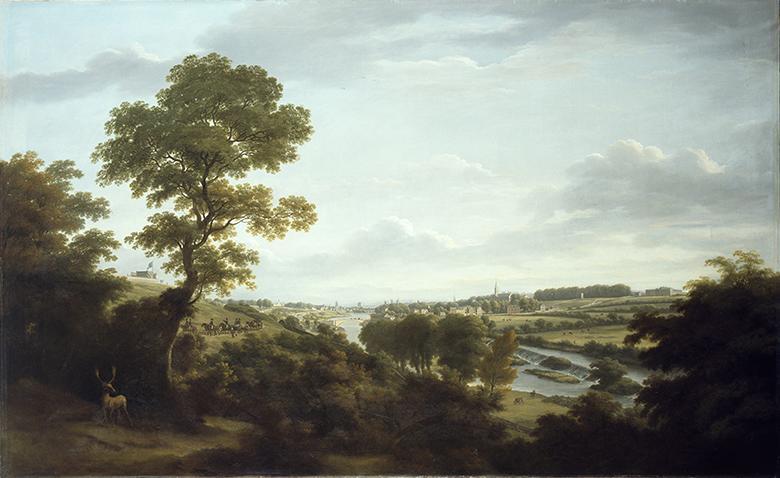 William Ashford (1746-1824), A View of Dublin from Chapelizod, 1795-1798. Photo © National Gallery of Ireland
Credit
Podcasts: The Island, A Prospect
Available online soon
A series of five podcasts to accompany the exhibition Shaping Ireland: Landscapes in Irish Art. In this series, artists and experts, in conversation with Mark Cantan, will talk you through an area of the country that has special relevance to their work and life.
The North Dublin Coastline, Co. Dublin 
with Paula Meehan, poet and former Ireland Professor of Poetry (2013-16)
Paula Meehan is an Irish poet and playwright. Born in Dublin, Meehan studied at Trinity College Dublin and at Eastern Washington University. She has received many awards, including the Marten Toonder Award for Literature and The Butler Literary Award for Poetry. In September 2013, Meehan was awarded the Ireland Chair of Poetry, Professor of Poetry, by President Michael D. Higgins.
Powerscourt Estate, Co. Wicklow 
with Alex Slazenger, Head Gardener, Powerscourt Estate
Alex Slazenger is head gardener of Powerscourt Estate, Co. Wicklow. Slazenger has over 10 years of experience in the horticultural industry, ranging from landscaping to estate garden maintenance. Before assuming his role as head gardener, he completed a B.Sc. in horticulture at the Botanic Gardens in Glasnevin, specialising in the tree collection at Powerscourt Gardens.
Killykeegan Nature Reserve, Co. Fermanagh
with Dara McAnulty, blogger at youngfermanaghnaturalist.wordpress.com
Dara McAnulty is a naturalist blogger based in Co. Fermanagh. His blog won the youth category for The Wildlife Trusts 30 Days Wild 2017 campaign and best blog of 2016, organised by A Focus on Nature. Dara volunteers with his local red squirrel group and monitors hen harriers with Northern Ireland Raptor Study Group. He also organises wildlife awareness displays for schools and organisations.
The Burren, Co. Clare 
with Dr Brendan Dunford, founder of Burrenbeo Teo
Dr Brendan Dunford is the founder of Burrenbeo Teo. From a farming background in Co. Waterford, Brendan has spent the past 20 years living and working in the Burren region. In 2001, he completed his doctorate on the impact of farming on the heritage of the Burren, later published by Teagasc as 'Farming and the Burren'. He led the award-winning BurrenLIFE Project (2005-2010); its successor, the pioneering Burren Farming for Conservation Programme (2010-2015); and currently manages the new Burren Programme. Brendan is also secretary of the Burrenbeo Trust, Ireland's only landscape-based charity.
Zechstein Sea - from Ireland to Russia 
with Ruth Lyons, artist
Ruth E. Lyons is an Irish artist based in the rural boglands of Co. Offaly. Her work is concerned with landscape and deep time. Often working in large scale sculpture, Lyons has exhibited work in Project Arts Centre, Dublin; Irish Museum of Modern Art, Dublin; Talbot Rice Gallery, Edinburgh; and Grazer, Kunstverein, Austria.