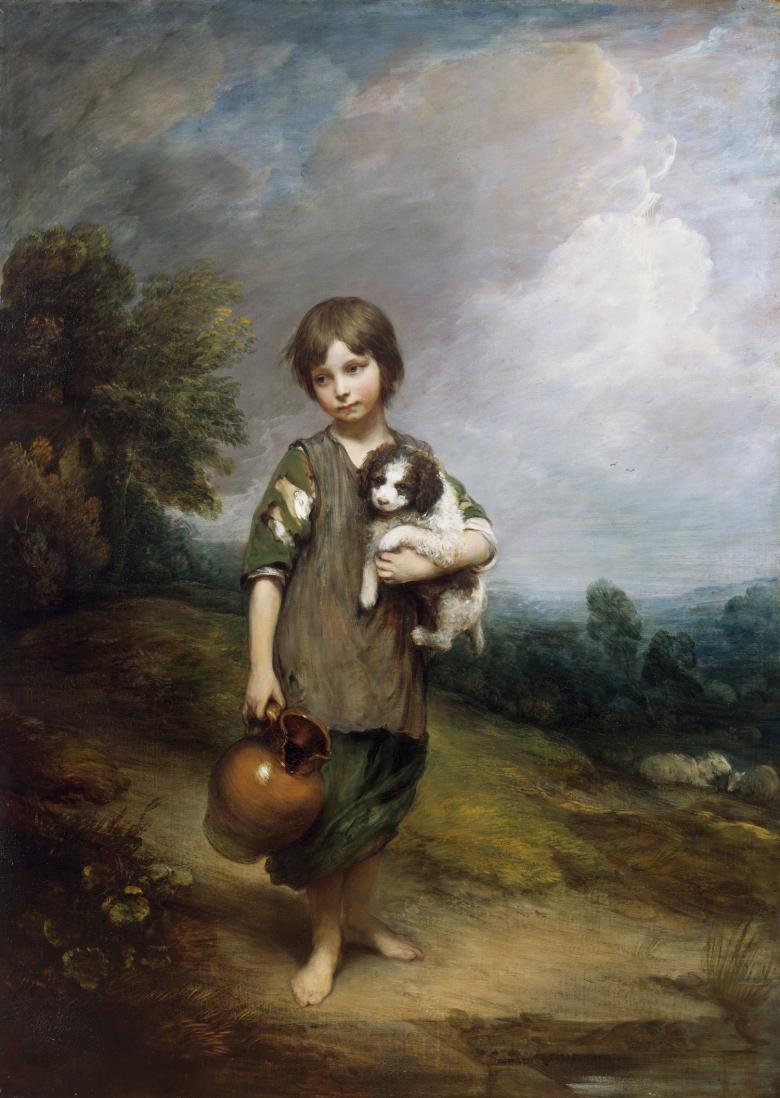 Thomas Gainsborough (1727-1788), The Cottage Girl, 1785. Photo © National Gallery of Ireland
Credit
Thomas Gainsborough (1727-1788), The Cottage Girl, 1785
Transcript
Eoin: 
This girl looks sad. I wonder why. Maybe it's because she hasn't got shoes – her feet must be cold – or because her clothes are old and worn.
[Wind blowing in the trees; sound of stream]
Girl: 
That's not why I'm sad. I'm sad because I've walked all the way from that cottage in the woods to fill this big heavy jug with water...
Eoin:
I can see the cottage, on the left, and the stream, in the corner on the right. 
Girl:
And when I got here, I dropped the jug and broke it. I'm going to be in trouble... 
Eoin:
But only the top is broken. You can still fill it with water.
[small bark]
Girl:
Hm, maybe. At least I've got my puppy with me to cheer me up.
Ide:
Ah Eoin, you've found the little cottage girl.
Eoin:
We were just chatti… Oh she's gone quiet now that you're here.
Ide:
This is a picture by an artist called Thomas Gainsborough, who was very famous for painting landscapes.
Eoin:
Pictures of nature you mean?
Ide:
Yes, but Gainsborough didn't paint them outside. He'd make small models in his studio: he'd use broccoli for trees and mirrors for water and copy them in his pictures. 
Eoin:
Broccoli for trees?? [laughing] And who's the little girl? 
Ide:
She's someone the artist imagined: he didn't tell us her story but gave us a few clues to help us guess.
Eoin:
Like the ragged clothes and bare feet? 
Ide:
And her sad face too. Maybe the artist wanted us to feel sorry for her and make us feel lucky about our own lives. 
Eoin:
Hm, but I am jealous of her puppy!
Ide:
Can you see that the artist painted the dog to look like the little girl? Small, sweet and a little bit sad? In pictures, pets are often painted to look a bit like their owners.
[sweet dog noise]
If you had to choose an animal to represent you [OR an animal that's a bit like you], what would it be? Tell whoever you're with.