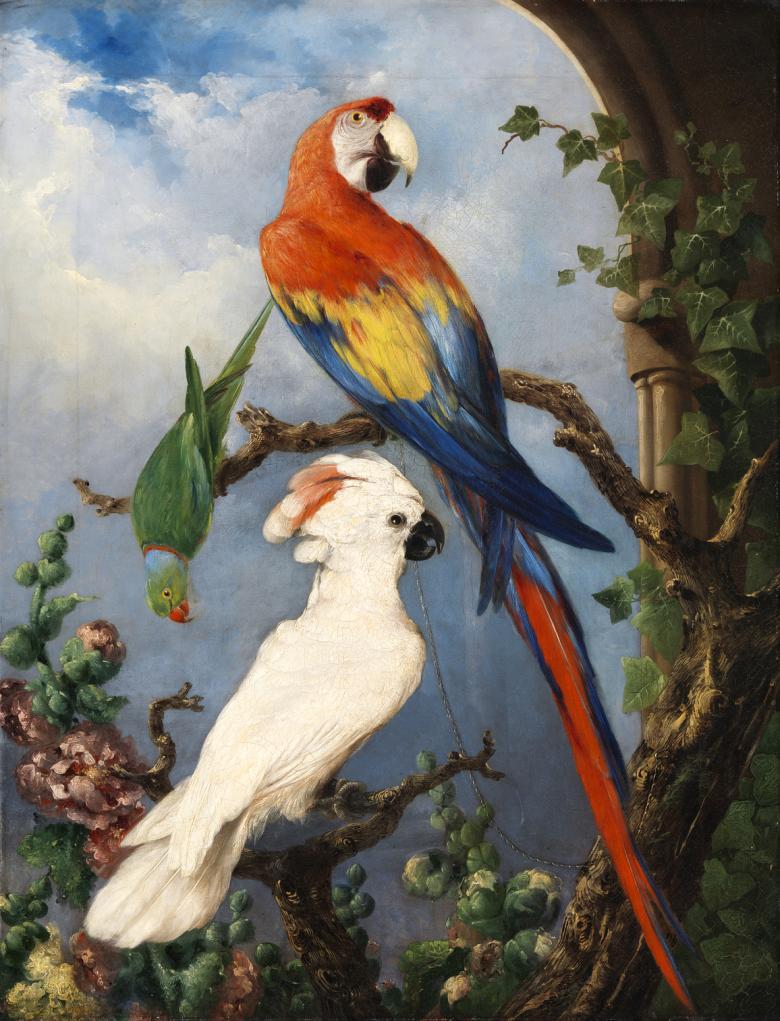 Edward Henry Murphy (c.1796-1841), Paroquets, c.1830. Photo © National Gallery of Ireland.
Credit
Follow along with this easy video to create your own colourful bird!
Our Education team are bringing some of their family workshops to you online so that you can get creative at home! Follow the steps in the video below, made by Brina from our Education team and her sons Aedh and Nevan. They were inspired by Edward Murphy's painting Paroquets which features a scarlet macaw, a white Moluccan cockatoo and, in the background, a green ring-necked parakeet.
You can share your creations with us on our online channels using #NationalGalleryIRLAtHome, or email them to us at [email protected] - we'd love to see how you get on.
To watch the video: Due to new e-privacy measures on our site, you'll need to click on the cookie symbol in the bottom-left corner of this page and tick the boxes to accept statistics and marketing cookies in order to watch the video embedded on this page. Alternatively, you can watch it on YouTube.
National Gallery of Ireland at Home
Create your own birds of a feather!
Play
What you will need
Materials:
Some card
Coloured paper
A pencil
Colouring materials, such as crayons, markers, colouring pencils etc.)
Scissors
Glue stick
A stick or twig
Some ribbon or twine
Instructions:
Begin by looking looking closely at Edward Murphy's painting Paroquets, above. Notice the different colours of feathers, the various body shapes, and how some birds have large crests on their heads, while others have long tails. You can also look up different species of birds in books or online.
Sketch the outline shapes of the birds on your card and cut them out.
Use your crayons or markers to colour in your birds.
Use your coloured paper to create dramatic tail feathers or crests to decorate your birds.
Glue these feathers and crests to your bird.
Attach ribbon to your birds and then hang them on the twig.
Credits:
Thanks to Aedh and Nevan Casey-McCoy.
This activity, which would normally have taken place in the Maples Group Creative Space, is now brought to you online.