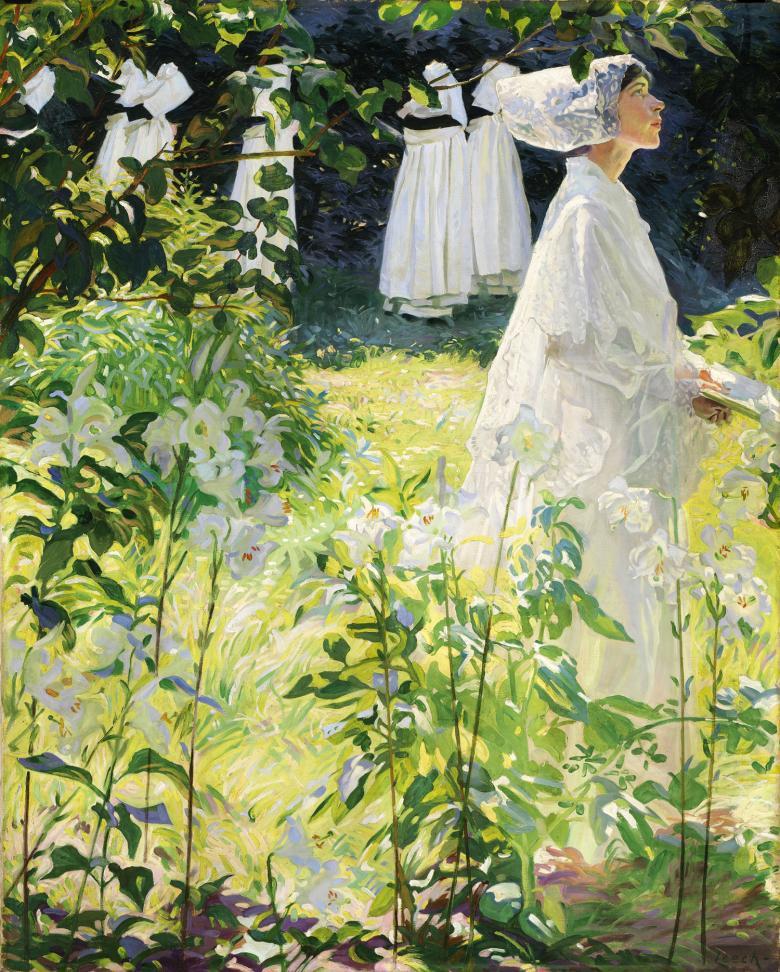 William John Leech (1881-1968), 'A Convent Garden, Brittany', c.1913. © National Gallery of Ireland.
Credit
William John Leech (1881-1968), A Convent Garden, Brittany, c.1913
Transcript
Ide:
Some paintings transport you to another world – and this one of them. When I look at this picture, it's like I'm stepping into a beautiful sunny garden.
It's like I can hear the birds and rustling leaves. Paintings are about looking but they also appeal to our other senses – hearing, smell, taste and touch.
Eoin:
Yeah, it feels really warm, with all that sunshine!
Ide:
This artist loved painting sunlight. He was an Irish artist called William Leech but lived for a while in France, in Brittany, where he painted this picture. 
Eoin:
And who are the women in the garden, wearing white?
Ide:
They're nuns – we're in the garden of a convent. These nuns ran a hospital, where the artist stayed when he got ill, but thanks to the nuns' care and this garden he got better.
Eoin:
Maybe that's why he painted this picture – as a thank you.
Ide:
Yes, or maybe it was just a way to remember this lovely place. 
Eoin:
And why does one nun look different from the others? The one in front. We can see her face, and her dress is frillier, like it's made from lace.
Ide:
That's because she's a novice, which means that she's still learning to be a nun - she's got a book in her hand, like she's studying.
Eoin:
Was she ill too? Her face is green!
Ide:
[laughing] That's a trick for painting sunlight. When light falls onto something, it bounces back – or reflects – so the green light on her face has reflected off the green leaves around her. 
Eoin:
I love the green grass and the white lilies in the front – it's like you can smell them – like that fresh smell you get after cutting the lawn.
And you, choose one of your five senses – sight, smell, hearing, touch and taste – and think what you could draw to show it in a picture?