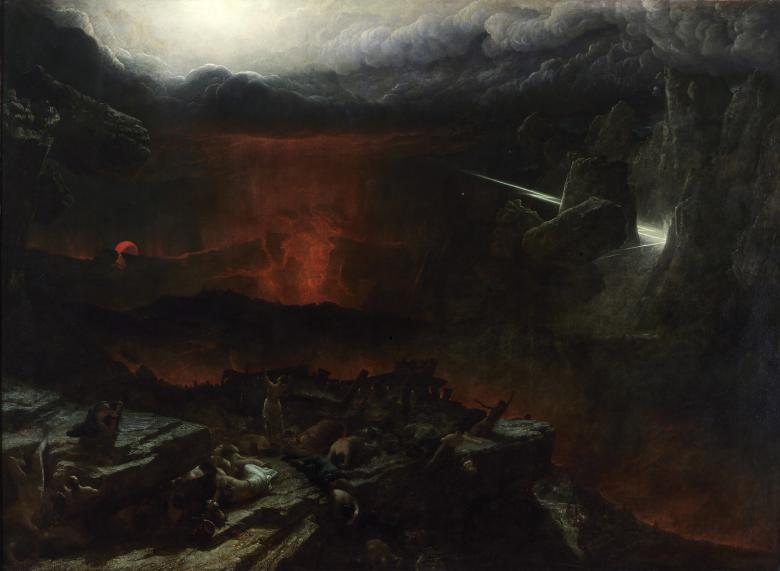 Francis Danby (1793-1861), The Opening of the Sixth Seal, 1828. Photo © National Gallery of Ireland
Credit
Francis Danby (1793-1861), The Opening of the Sixth Seal, 1828
Transcript
Ide: 
Watch yourself Eoin! There's a b-i-g drama going on in this painting. Like the worst thunderstorm you've ever experienced, but a hundred times worse!
Eoin:
Ugh, that is bad! 
Ide:
This picture gets your heartbeat going, like the best dramas. It's a story from the Bible, the End of the World. The earth has been torn apart, the sun has turned black, the town has crumbled, and the people have all fallen to the ground.
Eoin:
Complete mayhem then!
Ide: 
This artist, Francis Danby, loved painting drama. But can you see how he made this picture so dramatic? 
Eoin:
Well, it's enormous for starters: a huge picture for a huge drama. 
Ide:
True.
Eoin:
And he's used lots of black paint – that makes everything look scary, like when you're lying in bed in the dark and hear a noise. All those little people add drama too –  like actors in a play on a stage.
Ida:
Look closely at those people: can you spot one that stands out? He's standing on his feet in the middle, with his arms up in the air.
Eoin:
Found him! Who is he?
Ida:
He's a slave. For many centuries, people like him were forced from their homes in Africa, and forced to work with no pay, under terrible conditions. But, by the time this picture was painted, two hundred years ago, lots of people thought this was a terrible thing and had to stop. The artist who painted this picture, Francis Danby, was one of them, and he painted this slave shaking off his chains to show that he was against slavery.
Eoin:
So he painted two dramas in one picture: the story of the End of the World, from the Bible, and the story of slavery, from his own time. Clever! Now I need to think up a drama for my masterpiece! 
Ida:
And you, if you had to paint a picture of a drama, what would it be? Tell whoever you're with.