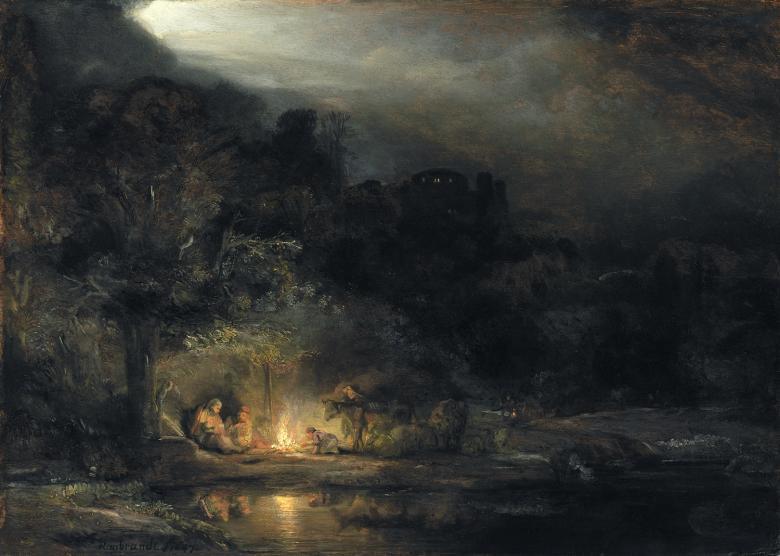 Rembrandt van Rijn (1606-1669), 'Landscape with the Rest on the Flight into Egypt', 1647. Photo © National Gallery of Ireland
Credit
Tírdhreach agus an sos le linn an aistir chun na hÉigipte le Rembrandt van Rijn
| | |
| --- | --- |
| Year | 1647 |
| Size | 34 x 48 cm |
| Medium | Ola ar phainéal adhmaid |
| Provenance | Ceannaithe, 1883 |
| Number | NGI.215 |
Luann an Bíobla an dóigh ar ordaigh Rí Héaród márú na leanaí fireannacha go léir faoi dhá bhliain d'aois i mBeithil, ar chloisteáil dó gur rugadh 'Rí na nGiúdach' nua. D'fhonn an Leanbh Críost a shábháil, tháinig aingeal chuig Iósaf i mbrionglóid agus d'inis dó rith lena theaghlach chun na hÉigipte (Matthew 2:13-14).
Níl ach áit bheag i saothar Rembrandt ag an ábhar corraitheach seo, atá coitianta sna healaíona ó na Meánaoiseanna. Leag an t-ealaíontóir níos mó béime ar an atmaisféar mealltach de thírdhreach cnocach san oíche, soilsithe ag ilfhoinse solais. Dá bhrí sin, rangaítear an pictiúr de ghnáth i measc naoi gcinn de thírdhreacha péinteáilte ag Rembrand. Sa ghrúpa beag seo, is é The Rest on the Flight into Egypt an t-aon oíchedhreach amháin ag Rembrandt.
Meastar gurbh é Rembrandt an t-ealaíontóir Dúitseach ab fhearr. Bhí sé freisin ar na healaíontóirí is ilchumasaí, mar bhain sé barr feabhais amach sa phéinteoireacht, sa líníocht agus in ealaín na heitseála. Léirigh sé ábhair go príomha ón mBíobla agus ó mhiotaseolaíocht chlasaiceach, chomh maith le mórán burgairí as Amstardam.