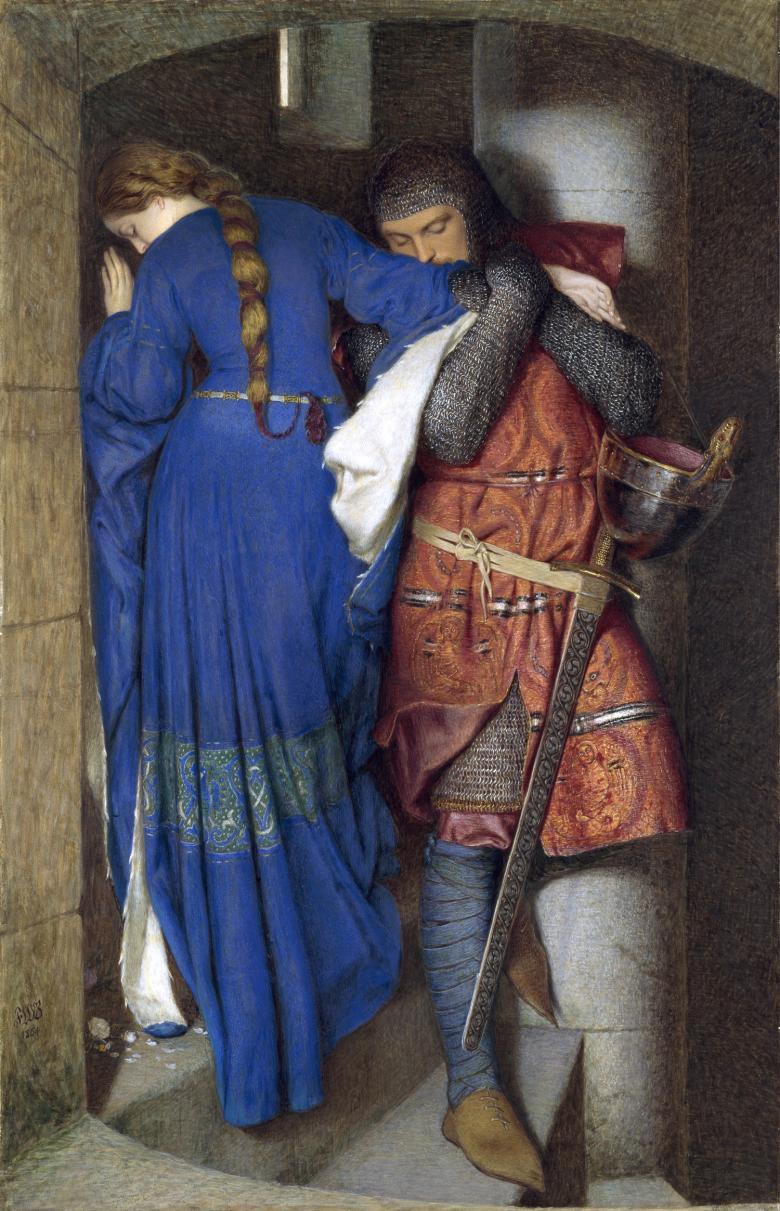 Frederic William Burton (1816-1900), 'Hellelil and Hildebrand, the Meeting on the Turret Stairs', 1864. © National Gallery of Ireland.
Credit
Hellelil agus Hildebrand, faoi dhéin a chéile ar staighre an túirín, le Frederic William Burton
| | |
| --- | --- |
| Year | 1864 |
| Size | 95.5 x 60.8 cm |
| Medium | Uiscedhath agus gouache ar pháipéa |
| Provenance | Uachtaithe, Margaret Stokes Uasal, 1900 |
| Number | NGI.2358 |
Bailéad Danmhargach de chuid na Meánaoiseanna, Hellelil agus Hildebrand, a spreag an t-uiscedhath seo. Whitley Stokes, cara le Burton, a rinne an chéad aistriúchán Béarla in 1855. Scéal é faoin ngrá a thug Hellelil dá garda, Hildebrand. Chuir sin fearg ar a hathair, a d'ordaigh Hildebrand a dhúnmharú. Ní foréigean a roghnaigh Burton mar ábhar, ach radharc coscrach ar na leannáin mhí-ámharacha i ndáil a chéile. Bhí ardmheas ag Burton ar na réamh-rafaeilítigh, agus tá a rian sin i ndoimhneacht na ndathanna agus sa chóiriú rómánsúil a rinneadh ar ábhar an phictiúir. Uiscedhathadóir an-cháiréiseach ba ea Burton agus dhéanadh sé a lán réamhstaidéar. Láimhseáladh sé an scuab go han-fhíneálta, ar nós péintéir miondealbh.