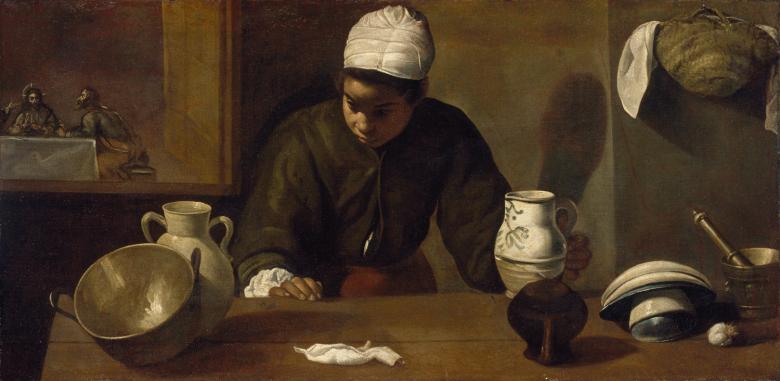 Diego Velázquez (1599-1660), 'Kitchen Maid with the Supper at Emmaus', c.1617-1618. © National Gallery of Ireland.
Credit
Cailín Tí le Suipéar ag Emmaus le Diego Velázquez
| | |
| --- | --- |
| Year | c.1617-1618 |
| Size | 55 x 118 cm |
| Medium | Ola ar chanbhás |
| Provenance | Bronnta, Sir Alfred agus Lady Beit, 1987 (Bailiúchán Beit) |
| Number | NGI.4538 |
Níl dabht ar bith ach go raibh Velázquez mar an t-ealaíontóir Spáinneach is mó dá linn. Creidtear go leathan gur í an phéinteáil a fheiceann tú anseo a phictiúr aitheanta is luaithe. Ar chéad fhéachaint, ní thaispeánann sé aon rud níos suntasaí ná radharc laethúil de shearbhónta Múrach i gcistin shimplí. Mar sin féin, is féidir éachtaint a fháil sa chúlra d'eachtra mhíorúilteach: an Suipéar ag Eamáús. Sa Bhíobla, insíonn Naomh Lúcás den tslí gur chuaigh beirt de na deisceabail, ar lá an Aiséirí, go baile Eamáús. Ar an tslí, casadh Íosa orthu, ach níor aithin siad é. Nuair a shroich siad Eamáús bhí suipéar acu le chéile. Dé réir an Deisceabal Lúcás:
"When he was at table with them, he took the bread and blessed, and broke it, and gave it to them. And their eyes were opened and they recognised him; and he vanished out of their sight."
I bpéinteáil Velázquez ta sé dealraitheach go stadann an maighdean óg dá cuid oibre, ar nós go bhfuil sí feasach ar na heachtraí atá ag titim amach laistiar di.
Bhí an feiste de phictiúr-laistigh-de-phictiúr comónta le linn an séú agus seachtú haois déag. Freisin bhí Velázquez ag obair laistigh de thraidisiún an bodegón – sé sin, péintéireachtaí a chomhcheangail ábhar neamhbheo agus eilimintí seánra laistigh de shuíomh cistine nó tábhairne. Trí radharc reiligiúnach a áireamh, ardaíonn an t-ealaíontóir an saolta chuig an diaga.
Tá scéal ann gur díchreidiúnadh Velázquez tráth, go luath ina ghairm, toisc nár ionadaigh sé a théamaí le níos mó áilleachta agus leochaileacht trí Raphael, mar shampla, a aithris. Is cosúil gur fhreagair sé gur bhfearr leis a bheith "sa chéad áit sa chineál seo de ghairbhe ná sa dara áit i leochaileacht."