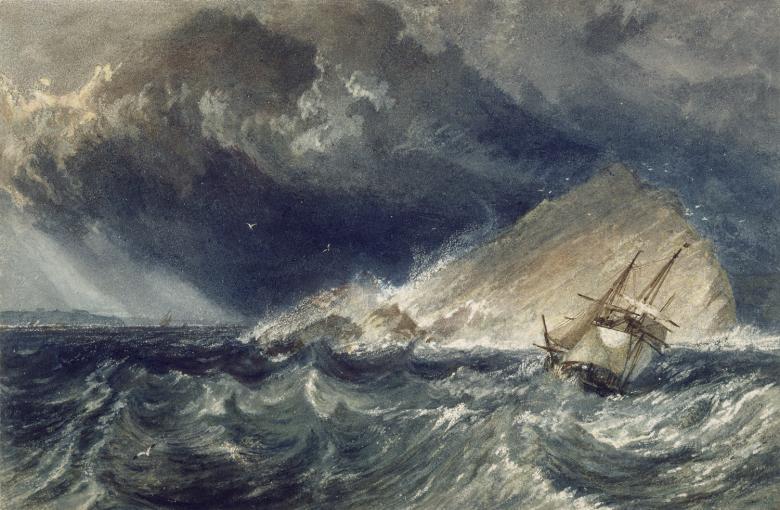 Joseph Mallord William Turner (1775-1851), 'A Ship against the Mewstone, at the Entrance to Plymouth Sound', c.1814. © National Gallery of Ireland.
Credit
Long amach ón mew stone, i mbéal chaolas Plymouth le J.M.W. Turner
| | |
| --- | --- |
| Year | c.1814 |
| Size | 15.6 x 23.7 cm |
| Medium | Uiscedhath le gealáin agus scríobadh ar pháipéar |
| Provenance | Arna thiomnú ag Henry Vaughan, 1900 |
| Number | NGI.2413 |
Tá sé de chlú ar Joseph Mallord William turner go raibh sé ina cheannródaí i measc ealaíontóirí tírdhreacha na Breataine sa naoú haois déag. Idir 1811 agus 1815 chuir sé sraith de radhairc uiscedhatha ar fáil le haghaidh Picturesque Views of the Southern Coast of England, sraith priontaí a d'fhoilsigh William Cooke (1775–1858). Is mar phrionta dubh agus bán, i gcuid a sé den tsraith, a foilsíodh an radharc seo sa bhliain 1815. Is dócha gur árthach de chuid Chabhlach ríoga na Breataine atá sa long, a bhfuil cuma beag bídeach uirthi taobh leis an Mewstone, creig mhillteach atá i gCaolas Plymouth, amach ó Bhá Wembury. Le linn shamhradh 1813 chaith turner seal ag taisteal an chósta ag déanamh staidéar le haghaidh na sraithe seo.