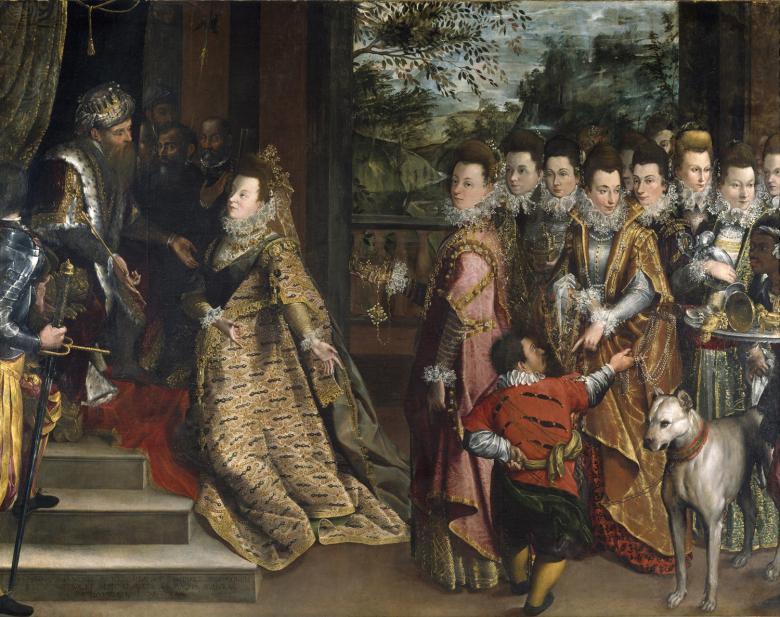 Lavinia Fontana (1552-1614), 'The Visit of the Queen of Sheba to King Solomon', c.1600. © National Gallery of Ireland.
Credit
Cuairt Bhanríon Shéaba ar Sholamh Rí le Lavinia Fontana
| | |
| --- | --- |
| Year | c.1600 |
| Size | 256 x 325 cm |
| Medium | Ola ar chanbhás |
| Provenance | Arna cheannach, 1872 |
| Number | NGI.76 |
Bhí dúil mhór ag uaisle na hIodáile i saothar Lavinia Fontana. Tá sé seo ar cheann de na portráidí is uaillmhianaí dá ndearna sí. Feicimid Vincenzo I gonzaga agus a bhean chéile eleonora de' Medici faoi ghné sholaimh rí agus Bhanríon shéaba. Roghnaíodh an scéal sean-tiomna seo toisc go maíodh teaghlach gonzaga de Mantua go raibh gaol i bhfad siar acu le Banríon Shéaba. Is cosúil go bhfuil an pictiúr seo bunaithe ar eachtra a thit amach in 1600, tráth a thaistil Diúic Mantua trí Bologna ar a mbealach go dtí bainis i bhFlórans, áit a raibh a mbean ghaoil Maria de' Medici le pósadh ar anraí IV na Fraince.