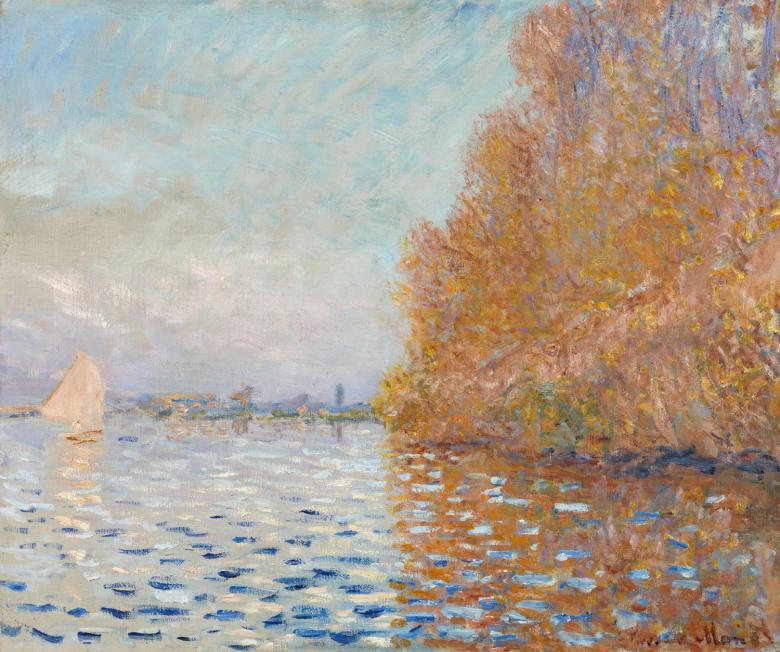 Claude Monet (1840-1926), Argenteuil Basin with a Single Sailboat, 1874. © National Gallery of Ireland.
Credit
Abhantrach Argenteuil le bád seoil aonair le Claude Monet
| | |
| --- | --- |
| Year | 1874 |
| Size | 55 x 65 cm |
| Medium | Ola ar chanbhás |
| Provenance | Uachtaithe, Edward Martyn |
| Number | NGI.852 |
Nuair a bhí an Cogadh Franc-Phrúiseach ar siúl, bhí Monet i Londain, agus ar fhilleadh dó i 1871 d'aistrigh se lena theaghlach go Argenteuil. Ní raibh Argenteuil, baile mór pictiúrtha stairiúil agus fo-bhaile ag fás, ach 15 nóméad ó Pháras ar an traein, agus sa dara leath den naoú céad déag bhí an-éileamh ar an áit le haghaidh turas Domhnaigh agus bádóireacht phléisiúir. Sna blianta ina dhiaidh sin, tháinig Sisley, Renoir, agus Pissarro chuig Monet le péinteáil i réigiún Argenteuil agus sna sráidbhailte thart timpeall air. De réir mar a d'éirigh limistéir thuaithe bheith níos inrochtana leis an traein, d'éirigh siad bheith ina gcinn sprice deireadh seachtaine ag mhuintir Pháras. Bhí na healaíontóirí óga seo tarraingthe ag an meascán de thírdhreach traidisiúnta agus nua-aimsearthacht, agus iad tiomanta do shaol buirgéiseach uirbeach comhaimseartha a phéinteáil.
Fuair Monet bád, a ndearna sé stiúideo snámha de, agus d'éirigh an Abhainn Seine agus a báid seoltóireachta bheith mar phríomhthéama a chuid pictiúr. Sa phictiúr seo, ní féidir ach spléacadh ar bhaile mór Argenteuil a fháil ar an léasline. Is é an solas agus an tionchar atá aige ar dhromchla an uisce – gafa ag buillí scuaibe sainiúla troma – fíorábhar an phictiúir.