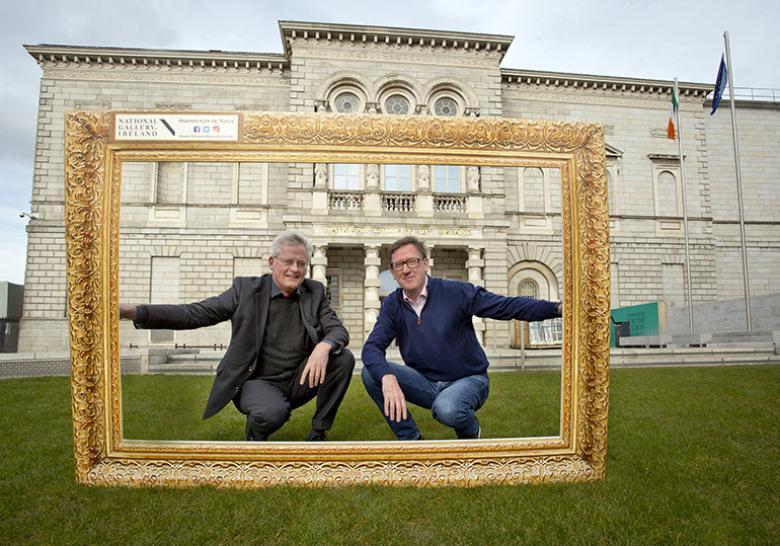 Patrick Manley, CEO of Zurich Insurance plc, and Sean Rainbird, Director, National Gallery of Ireland, pictured launching the Zurich Portrait Prize at the National Gallery of Ireland. Photo © Fennell Photography / Colm Mahady

Credit
Press release 27/03/2018
Zurich announced as new sponsor of annual Portrait Prize at National Gallery of Ireland
The National Gallery of Ireland is delighted to announce Zurich Insurance as the title sponsor of its annual Portrait Prize. The inaugural Zurich Portrait Prize opens for entries today (27 March 2018). Launched at the Gallery by Patrick Manley, CEO of Zurich Insurance plc, and Sean Rainbird, Director, National Gallery of Ireland, the Zurich Portrait Prize invites applications from artists living in Ireland, and from Irish artists based abroad. Deadline for submissions is 22 June 2018. The shortlisted artists' works will be exhibited in the Gallery from 6 October 2018-13 January 2019. Admission will be free. 
Zurich have signed up for a three year partnership with the National Gallery of Ireland (2018-2020). This follows on the successful sponsorship by Zurich of last year's international exhibition Vermeer and the Masters of Genre Painting: Inspiration and Rivalry. Launching the competition today, Patrick Manley, CEO of Zurich's pan-European business – Zurich Insurance plc - said "We are really pleased to be able to partner with the National Gallery for the Zurich Portrait Prize. Within a relatively short time the Portrait Prize has grown to become an important, competitive and highly prestigious competition and one with which we are proud to be associated."
The competition is open to artists working in all media. The winner will receive a cash prize of €15,000, and a commission worth €5,000, to create a work for inclusion in the National Portrait Collection. There will also be two awards of €1,500 for highly commended works. The aim of the Zurich Portrait Prize is to showcase and encourage interest in contemporary portraiture, and to raise the profile of the long-standing and constantly evolving National Portrait Collection at the National Gallery of Ireland. Competition details are available here.
Last year's Portrait Prize winner was Jack Hickey, with commendations awarded to Myra Jago and David Hamilton. Previous winners are Vera Klute; Gerry Davis and Nick Miller. This year, the Gallery plans to extend the reach of the competition and engage a wide range of audiences around the country through a supporting education programme. There will be local talks by shortlisted artists, tours and workshops on portraiture.
Previous judges have included art critics Cristín Leach and Aidan Dunne, artists Colin Davidson RUA and Jackie Nickerson, and Dr Yvonne Scott (Director TRIARC, Trinity College Dublin). The Zurich Portrait Prize 2018 judging panel will be announced by the Gallery in the coming weeks. 
 
Curator: Dr Brendan Rooney, Head Curator, National Gallery of Ireland.
Media contact: Emma Pearson, Press & Communications Office, National Gallery of Ireland. Tel + 353 (0) 1 663 3519 /661 5133 / + 353 (0)87 918 7941 Email [email protected]
Supplementary information
Zurich Portrait Prize 
6 October 2018 – 13 January 2019
Portrait Gallery (Room 23)
Free admission
Notes to Editors:
Selected images are available from the Gallery's Press Office, email

[email protected]

 

For interview requests

,

email

[email protected]

For more information on the application process and competition rules, see

nationalgallery.ie/art-and-artists/zurich-portrait-prize
About Zurich 
Ireland is Zurich's location of choice for its pan-European company Zurich Insurance plc (ZIP). Since the beginning of 2009, ZIP has been headquartered in Dublin and it is the main risk carrier for Zurich's general insurance business in the EU. Patrick Manley is the CEO of Zurich Insurance plc. In terms of domestic business, Zurich focuses on two key business areas in Ireland – General Insurance and Life. In Ireland, Zurich employs approximately 1,100 people.
The National Portrait Collection
Established in 1854 by an Act of Parliament, the National Gallery of Ireland houses the nation's collection of European and Irish fine art spanning the early Renaissance to the present day, with over 16,300 works of art. The Gallery is also home to the National Portrait Collection (established 1874). Over the years the collection has developed through the addition of paintings, drawings, watercolours and sculpture depicting eminent Irish individuals who have contributed to the civic, social, and cultural life of the nation. Since 1998 the National Portrait Collection has been enhanced by works which reflect both a more contemporary engagement with the affairs of the nation and a broader range of subjects. These include portraits of Mary and Nicholas Robinson by Mark Shields; Ronnie Delany by James Hanley; Bono by Louis le Brocquy; Maeve Binchy by Maeve McCarthy; Brian Friel by Mick O'Dea; Michael Longley by Colin Davidson; and Gay Byrne by John Kindness. More recently the Gallery acquired photographic portraits of Olwen Fouéré, Bob Geldof and Brian O'Driscoll by Kevin Abosch, and a photographic portrait of Seamus Heaney by Jackie Nickerson. Portraits commissioned to date (2014-2016) as part of the annual Portrait Prize include Nick Miller's Dónal Lunny Playing; Vera Klute's Garry Hynes, and Gerry Davis' Henry Shefflin, Hurler.