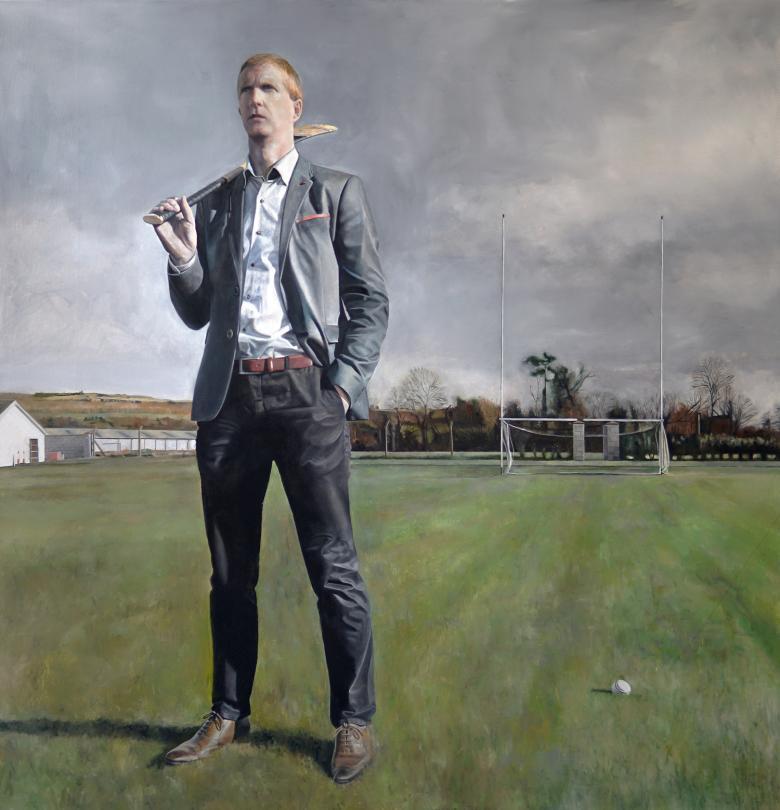 Gerry Davis (b.1985), 'Portrait of Henry Shefflin', 2017. © Gerry Davis. Photo © National Gallery of Ireland
Credit
Henry Shefflin portrait unveiled
A portrait of All-Ireland championship hurler, Henry Shefflin, was unveiled in the National Gallery of Ireland on Monday 12 June. The painting, by Tipperary born artist, Gerry Davis, was commissioned by the National Gallery of Ireland as part of the Hennessy Portrait Prize 2016. 
Davis' oil on canvas painting is the most recent addition to the National Portrait Collection and will be on display to the public from Thursday June 15th, when the Gallery reopens its refurbished historic wings on Merrion Square.
Sean Rainbird, Director of the National Gallery of Ireland said: "We are delighted to add this wonderful portrait of one of Ireland's greatest hurling legends to the National Portrait Collection which has its new home in the refurbished wings of the Gallery. Our thanks to Hennessy for their continued support of the Hennessy Portrait Prize portrait competition."
Now in its fourth year, the Hennessy Portrait Prize is awarded to an artist who is a resident of Ireland or an Irish citizen living abroad, chosen by a panel of judges. The aim of the competition is to showcase and encourage interest in contemporary portraiture. The winning artist receives a prize of €15,000 and a commission worth €5,000 to produce a portrait of an Irish sitter for inclusion in the National Portrait Collection. Closing date for this year's Hennessy Portrait Prize competition is July 14th. Find out more here.
Elaine Cullen, Market Development Manager, Edward Dillon & Co. Ltd said: "Through the Hennessy Portrait Prize we work to showcase and encourage interest in contemporary portraiture, and to raise the profile of the National Portrait Collection. This initiative continues our long tradition of supporting and nurturing Irish talent within arts and culture for over 45 years in Ireland. It is a privilege to see such incredible works being added to the national collection."
Henry Shefflin
Kilkenny born Henry Shefflin is the most decorated player in the history of hurling. Over a sixteen-year period playing for Kilkenny, he has won a record 10 All-Ireland medals, 13 Leinster championship medals and 6 National Hurling League titles. A winner of 11 All-Star awards, he is also top championship points-scorer of all time. He retired from inter-county hurling in 2015. His portrait by Gerry Davis, for the National Portrait Collection, was commissioned as part of the Hennessy Portrait Prize 2016.
Gerry Davis
Originally from Cahir, Co. Tipperary, Gerry Davis graduated from LSAD in 2009 with a degree in Fine Art (Painting) and he has been exhibiting regularly since. Exhibitions include What Has Been Shall Always Never Be Again at Ormston House, and a solo show, Burrow, in TACTIC. In 2016 he was awarded a merit prize at The Golden Fleece Award; showed work at the 186th Annual Exhibition at the RHA, and at a three man show, The Forest that Hears and the Field that Sees in Damer House, Roscrea; and had a solo show, Studio, in Pallas Projects, Dublin. According to Gerry Davis: " In painting portraits, I find a simplicity of approach which would otherwise be unattainable, as the subject matter is decided upon, and the only concern is the physical execution of the painting itself."
About Hennessy
Immersed in Irish heritage, Hennessy has evolved to become one of Ireland's most well-known and cherished brands. Founded in Cognac, France in 1765 by Corkonian Richard Hennessy, the brand's distinctly Irish heritage has stood the test of time and today draws upon some 200 years of knowledge, talent, expertise and passion. It is a brand that is intrinsically linked to the Irish way of life and is complemented by Hennessy's commitment to Ireland's unique sociability and skill in creating unforgettable experiences. 
Hennessy's heritage of supporting the arts and culture in Ireland is rich and varied, from new Irish writing to the best of contemporary art.  Other cultural initiatives include the coveted Hennessy Literary Awards which celebrates its 46th year this year, an evening of cutting edge music and art at #HennessyLostFridays in partnership with the Royal Hibernian Academy, Dublin and the Hennessy Art Fund for IMMA that helps purchase contemporary art for the National Collection of Modern & Contemporary Art.