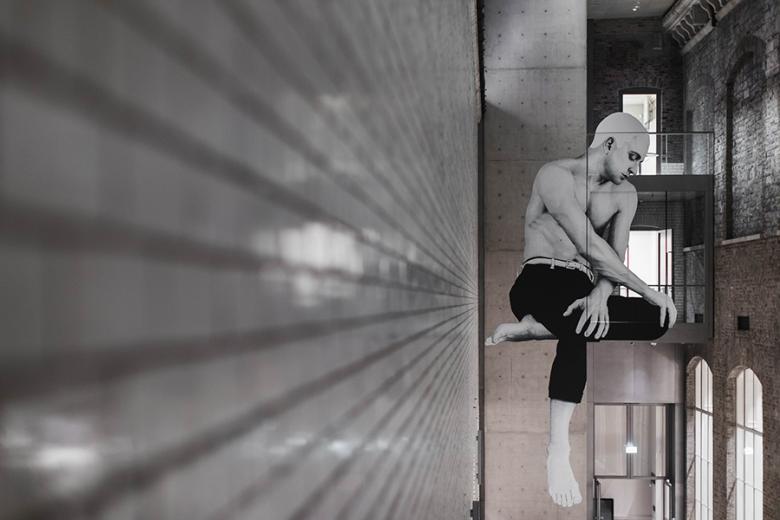 Joe Caslin, Finding Power, 2018. Photo courtesy of Gavin Leane.
Credit
Finding Power, by Joe Caslin
We're very pleased to announce the installation of Finding Power, a new work by artist Joe Caslin. The work can be seen in our Courtyard, in the historic wings of the Gallery.
Born in Roscommon, Joe Caslin is a street artist, illustrator, art teacher and activist. Best known for his beautifully rendered drawings which manifest as towering murals, his highly accessible work engages directly with the social issues of modern Ireland. Caslin's urban artwork during the 2015 marriage equality campaign directly referenced one of the National Gallery of Ireland's most celebrated works, Frederic William Burton's The Meeting on the Turret Stairs, and, for many, came to define the love and tenderness the political change sought to honour and protect. In October 2017, as part of the education programme supporting our major retrospective exhibition Frederic William Burton: For the Love of Art, curated by Dr Marie Bourke, Caslin was invited to participate in an exciting long term project.
Finding Power is the result of this project, and the culmination of Caslin's in-depth investigation of Burton's work and the role of the artist or public persona. During the project, Caslin looked closely at the power that comes with public platform, and the significance of having (or indeed losing) agency and control. In order to inform his practice fully and consider the topic in contemporary society, Caslin connected with both the Gallery team, and a panel of both public and private figures, namely:
Sinéad Burke - academic, writer and advocate
Alice Mary Higgins - Independent senator
Stephen Moloney - writer and activist
Davina Devine - drag artist
Alison Spittle - comedian
Chidi Muojeke - mother and asylum seeker who has lived in Ireland for the past 11 years
Jad Kesrin - Syrian refugee and student
As well as this large scale temporary installation, the completed artistic response as a whole comprises interviews, photographic portraits (see below), and drawings of the seven individuals, who in Caslin's own words; "Like each one of us, have lost and found their agency many times throughout their lives. The work wishes to highlight how gender, ethnicity, sexuality, disability and socio-economic status continue to be seen as legitimate reasons to take or withhold agency . . . ultimately we must find a way to create our own power".  
The impermanent nature of Caslin's works does not diminish their power. Delicate by design, they cling to the skins of the buildings he finds and wrap their message around each stone and slate.The Gallery Courtyard reflects the duality of his work through both its fabric and function, connecting historic institution with contemporary world, and acting as anchor and compass for visitors. For summer 2018, it will also house the final work in this project, offering opportunity for reflection, contemplation and perhaps even empowerment.
Finding Power
The Installation
Play
Finding Power \ The People
Caslin was fascinated by the circle of friends and sitters Frederic William Burton kept. Having established a panel of people he felt representative of various aspects of society today where power, or lack thereof, is an issue, he worked with photographer and artist Gavin Leane to create a unique portrait of each contributor. Each portrait works with a pedestal/plinth from the National Collection and considers the impact of connecting one of the individuals from the panel with this loaded symbolic object. Gold as a universal symbol of power is used to highlight key aspects of each individuals' relationship with power and agency. All portraits were taken on site at the National Gallery of Ireland.
In the links below, you'll see each portrait, along with a short description, and a direct quote from each of the sitters.