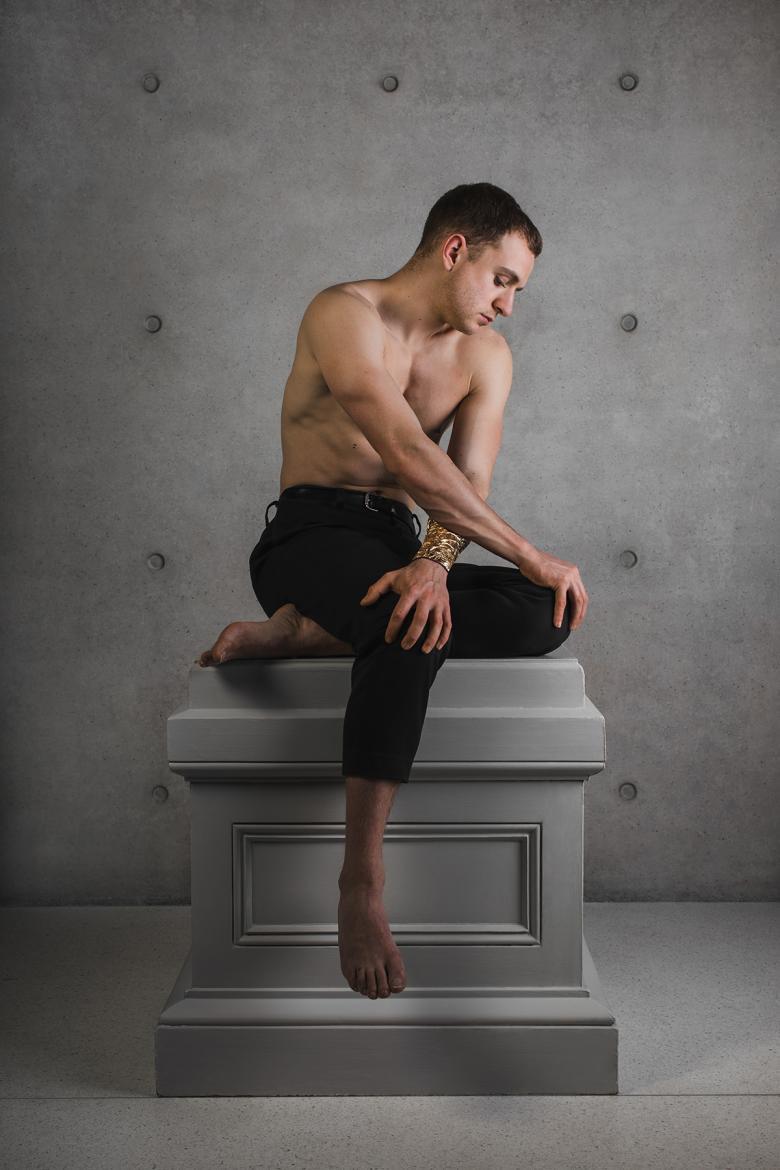 Stephen Moloney - writer and activist. Photographed by Gavin Leane.
Credit
Finding Power / Stephen Moloney
Writer and activist
Joe says: Stephen is sitting in a highly classical pose informed by pre-Raphaelites and Burton's studies, but also bringing to mind Rodin. His arms are crossed (and this is highlighted with gold) to show the difficulty he has experienced in social ideals and his reluctance to accept societal norms. He sits contemplatively, and is looking inward, finding power from within.
Stephen says: Power is is an acceptance of my insecurities, an acknowledgement of my flaws, an ownership of my vulnerabilities and a celebration of my sensitivity. Power is a public display of affection and love with my boyfriend. Power is dispensing with an unfortunately resilient conception of masculinity that considers itself incompatible with such ways of thinking and acting.
Power is a more complete sense of self-belief and self-worth. It is recognising how I deserve to be treated by others and by myself. It is being open to love from others and from myself. It is looking on myself with compassion and empathy rather than pity.
Power is my ongoing struggle with all of these things while knowing a struggle is better than conceding defeat.
Power is knowing that I was neither responsible for nor equipped for particular contexts, circumstances and situations – loss and trauma, identity and sexuality – that produced a certain inflection in my present self.
Power is learning to find a crack in the same wall I felt compelled to erect once upon a time and reminding myself that I am capable of tearing the whole thing down.