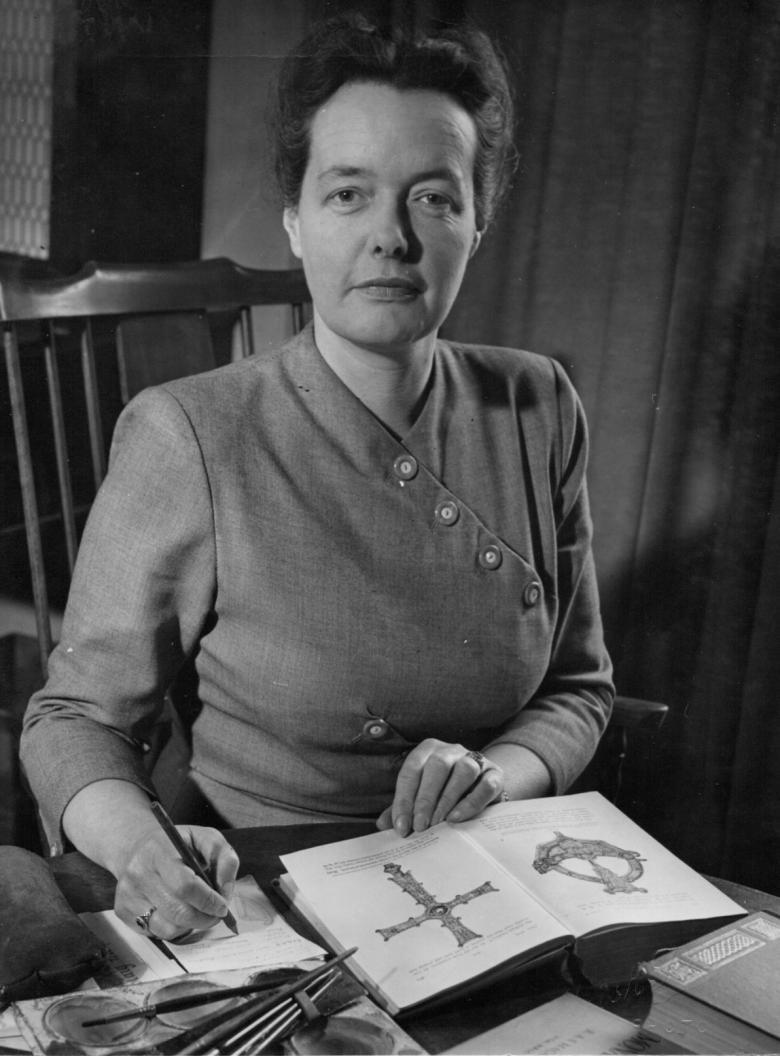 Photograph of Bea Orpen in 1954, kindly provided by the Trench family.
Credit
A sketchbook is much more than a place for keeping drawings safe. It can be used to experiment with different mediums, colours, and ideas, and for storing the material that inspires you. It can be a place to work out thoughts and feelings, and it can remain as a snapshot of a moment in your life, or of a particular place and time.
We're lucky to have hundreds of sketchbooks here at the National Gallery of Ireland. Each one is unique; a reflection of the artist who kept it and the time in which they lived. This post is the third in a three-part series focusing on the sketchbooks in our Archives and Prints & Drawings collections. As well as exploring the lives of the artists who created the sketchbooks, we will also consider the different approaches each artist had, and what they can tell us about their lives, interests, and the world around them.
Let's take a look at some of the sketchbooks of the Irish artist and educator Bea Orpen.
Early life
Beatrice Esther Orpen was born in Carrickmines, County Dublin, in 1913. She was the youngest of six children born to Cerise Maria Orpen (née Darley) and Charles St George Orpen, a solicitor. She was the niece of architect and painter Richard F. C. Orpen and the celebrated artist William Orpen. Her sister Kathleen Delap became a prominent political activist and feminist, and a founder of the National Women's Council of Ireland.
Like many girls of the time from wealthy families, Bea was educated at home by a governess until she was thirteen years old. From a young age, she was a gifted pianist and artist, studying the organ at the Royal Irish Academy of Music. She received private art classes from the artist Lilian Davidson, later enrolling in the Dublin Metropolitan School of Art (now NCAD) and the Royal Hibernian Academy (RHA) Schools. She was a student of the painter Seán O'Sullivan and won several awards, including the first prizes for drawing from life in 1933 and painting from life in 1934.
Orpen later trained in drawing, painting, textiles and commercial design in London, winning first prize in decorative composition in 1936 and earning her diploma in design in 1939. She returned to Ireland when she was 26 years old, shortly after her marriage to her husband Chalmers Edward FitzJohn ('Terry') Trench.
Life in Drogheda
Bea became an art teacher and taught at several schools in Drogheda, including St. Peter's National School, Drogheda Technical School, and Drogheda Grammar School. She also travelled the country and gave talks to children and adults about art and its appreciation, funded by the Charlotte Shaw Trust.
In 1946, she founded the Drogheda Municipal Art Collection (now part of the collection of the Highlanes Gallery) alongside her husband, and played an important role in establishing the Drogheda Municipal Gallery of Art. Bea was an active member of the National Institute for Higher Education and The National Trust for Ireland, An Taisce.
Throughout her life, Orpen was actively involved in the Irish Countrywomen's Association (ICA), an organisation that aims to provide women with educational opportunities and improve the standard of living in rural Ireland. Orpen served as its president from 1974 to 1976, focusing on environmental issues such as the adoption of recycling. She taught art classes at An Grianán, the ICA's college at Termonfeckin, and directed the annual Arts Council courses for primary school teachers at the college from 1959 to 1978.
Bea Orpen: the artist
Orpen was an accomplished painter, working primarily in quick-drying mediums such as gouache and watercolour. She exhibited her work frequently, showcasing several hundred of her paintings with the Watercolour Society of Ireland, the Irish Exhibition of Living Art, and the RHA Annual Exhibition. She was made an honorary member of the RHA in 1980.
Orpen enjoyed depicting landscapes and travelled around Ireland and Europe, painting the natural world. We can see this reflected in her sketchbooks, like the 1939 gouache painting of Ventry Bay, County Kerry (below). She has used a combination of bright blues with more muted greys and greens and employs the beige paper to represent the sand. The use of off-white or beige paper and muted grey tones combined with bright colours is a technique that Orpen returned to in her sketchbooks, as in the second example below, a painted sketch of a rustic home dated summer 1938, while she was travelling around rural Yorkshire.
The selection of sketchbooks in the Gallery's Archives and Prints & Drawings collection were created during Orpen's time as a student of art and design in the 1930s with two later sketchbooks dated 1969 and 1973. They include various methods, media and subjects and help us to understand how the artist used sketchbooks to experiment and work out her ideas.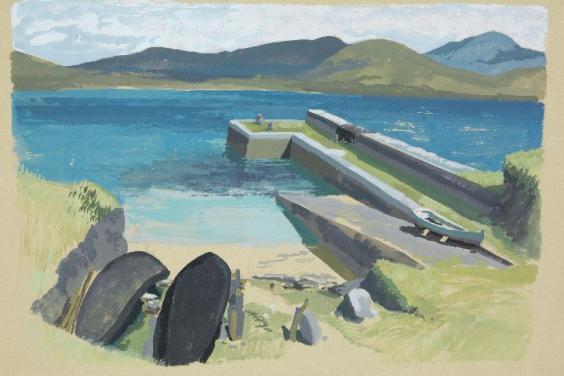 Bea Orpen Ventry Bay, Co. Kerry
Bea Orpen Yorkshire
Orpen also enjoyed drawing, particularly drawing from life. There are several examples of her life drawings in the Gallery's ESB Centre for the Study of Irish Art . She used sketchbooks to practice, as evidenced by the studies of hands that are found in the pages of the sketchbooks, an element of life drawing which are notoriously challenging to illustrate!
We can also see that Orpen's love of drawing from life extended to animals. There are several examples in her sketchbooks of studies of cats, both big and small. In one such sketch from 1932, she has named the sleepy house cat 'Punnie', and in another, from 1931, she has included several studies of lions at the zoo.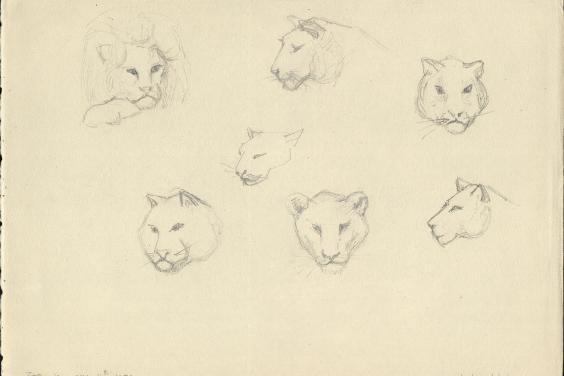 Bea Orpen Details of lions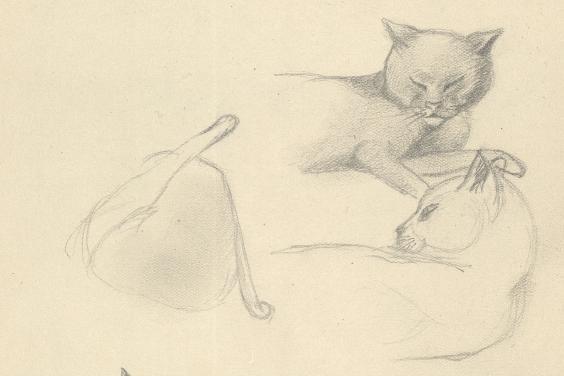 Bea Orpen Studies of a cat
Below you can see some details from a page from a 1932 sketchbook that demonstrate Orpen's skills in using linear composition, vibrant colours, and quick brushwork to create a visually appealing poster design. Orpen may have created these designs with the Empire Marketing Board (EMB) in mind, a British governmental organisation that encouraged the British public to buy goods from colonies and former colonies, such as the recently formed Irish Free State. The EMB had commissioned several similar posters from Irish artists such as Margaret Clarke and Seán Keating, and ultimately aimed to increase the reciprocal purchasing of British products in Ireland.
Also included in the Gallery's archives are examples of Orpen's commercial work in the 1960s, including designs for greeting cards, menu cards, bookplates and tokens, calendars, medals, whiskey labels, and tea towels.