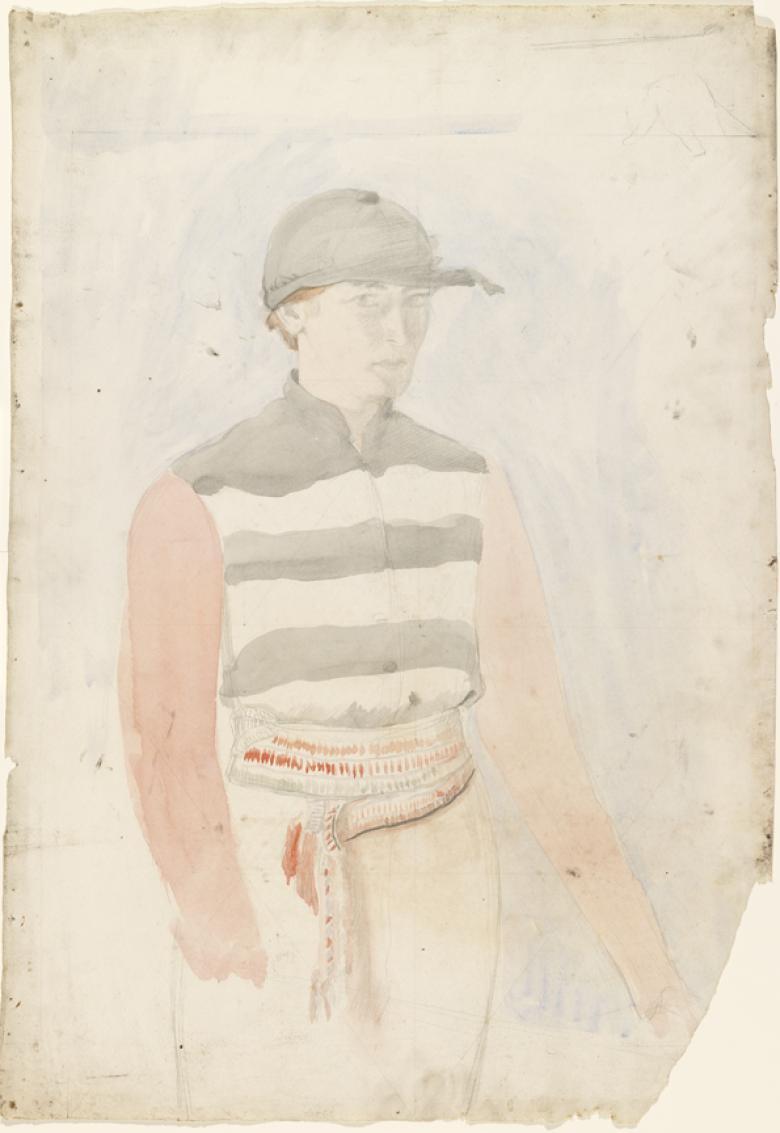 Margaret Clarke (1888–1961), Self-portrait as a jockey, wearing a crios. © The artist's estate. Photograph © National Gallery of Ireland.
Credit
Margaret Clarke (1884–1961)
Born Margaret Crilley in Newry, Co. Down, Clarke first studied at the Newry Municipal Technical College, before commencing studies for the Art Teacher's Certificate at the Dublin Metropolitan School of Art. Her talent was recognised through several school prizes and scholarships, and by her teacher William Orpen. Following the completion of her own studies, Clarke was appointed as Orpen's teaching assistant and, when he ceased teaching at the school in 1914, she was appointed in his stead.
Drawings by Clarke in the Gallery's collection demonstrate her skill at figure drawing, and her ability to capture light, shadow and movement on paper. Clarke's self-portrait in the guise of a jockey (above) also pays homage to her teaching, while also incorporating the crios, a colourful woven belt traditionally worn by Aran Islanders—an area of Ireland where Clarke spent her summers from 1913 to 1915.
In 1927, Clarke was elected a full Academician of the Royal Hibernian Academy, only the second female artist to achieve this professional recognition at this date. Her position as one of Ireland's leading portraitists was consolidated by several high-profile commissions, while her allegorical, religious, and subject paintings show the breadth of her artistic interests.
Following the death of her husband, Harry, in 1931, Clarke became a director of the Harry Clarke Studio, and spent much of her time working to protect his artistic legacy. In addition to this, Clarke served on the committee for the establishment of the Irish Exhibition of Living Art in the 1940s, and was also involved in organising a retrospective exhibition of the work of Evie Hone in 1958. At the time of her death, in 1961, Clarke was cataloguing the work of Mainie Jellett.
Clarke's position as a significant artist in Irish art history has recently been re-established through a publication and the exhibition Margaret Clarke: An Independent Spirit which was on display at the National Gallery of Ireland and F.E. McWilliam Gallery in 2017.