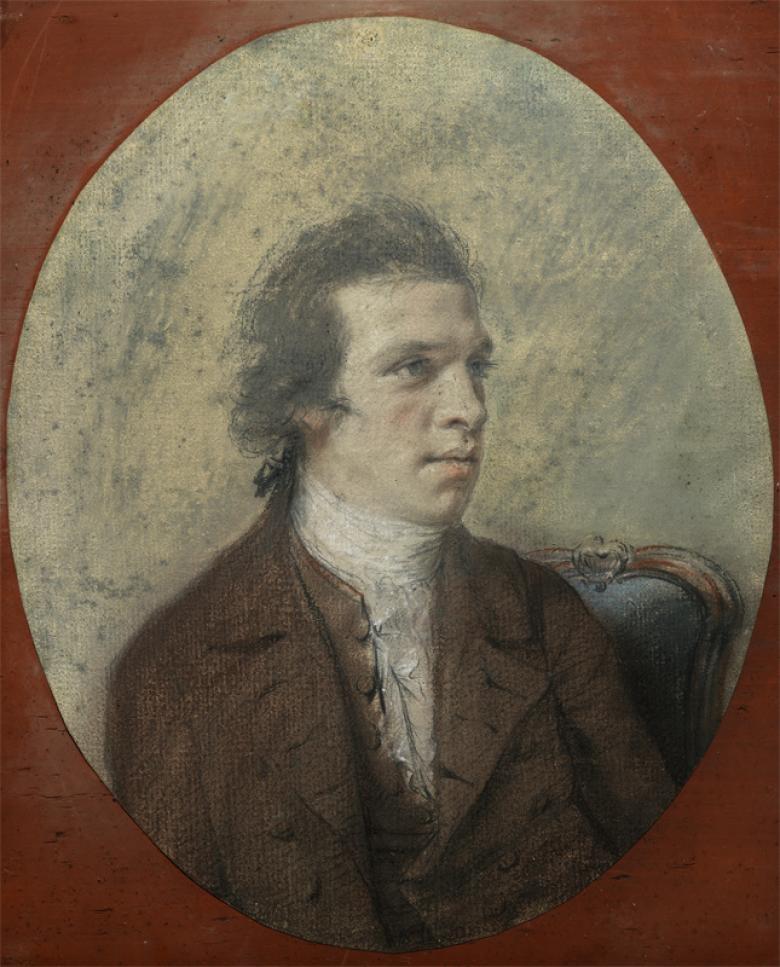 Hugh Douglas Hamilton (1740-1808 ), 'Portrait of Thomas Roberts (1748-1777), Artist', c.1769. Photo © National Gallery of Ireland

Credit
Thomas Roberts (1748–1777)
During a brief career, cut short by his death aged just twenty-nine years old, Thomas Roberts produced a large number of paintings of outstanding quality. Born in Waterford, the son of an architect, Roberts attended the Dublin Society Drawings Schools in 1793 where he successfully competed for annual premiums and awards. He also undertook further training with the landscape and portrait painter, George Mullins (fl. 1756 – c.1786).
From 1770, Roberts travelled throughout Ireland, particularly in the north-west, painting general and demesne landscapes. Robert's series of paintings of Lucan House and its demesne demonstrate the artist's interest in adding human details to his paintings, as well as his interest in depicting water.
Hugh Douglas Hamilton's pastel portrait of Roberts in the Gallery's collection is the only known likeness of the artist. It was likely painted when Hamilton visited the home of Mullins, where Roberts was lodging. Following a period of ill health, Roberts travelled to Bath in 1776 to take the spa waters and other medical treatment. On the advice of his doctor, he continued to the warmer climate of Lisbon, dying there just a few months after he arrived in March 1777.