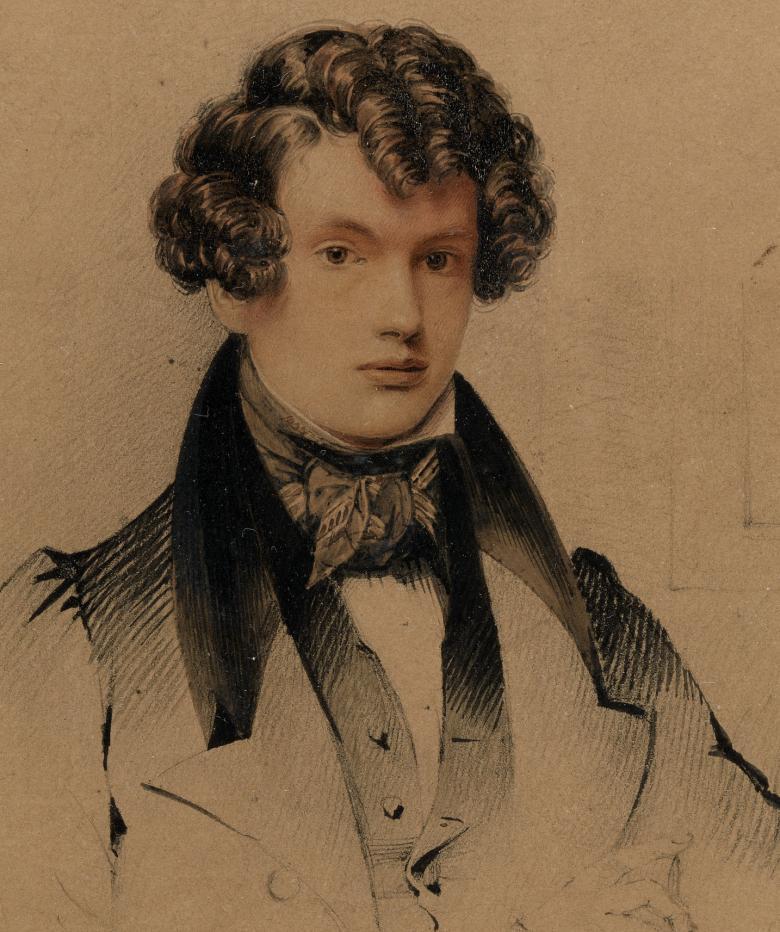 Daniel Maclise, 'Self-Portrait' (frontispiece to O'Driscoll's 'A Memoir of Daniel Maclise R.A.,' 1871), 1829. © National Gallery of Ireland


Credit
Daniel Maclise (1806-1870)
Daniel Maclise was born in Cork on 25 January 1806 to a family of Scottish descent. After a brief period working in a bank, Maclise's passion for drawing led him to pursue a career in art which he studied at the Cork Society of Arts. His lifelong interest in antiquities began through his acquaintance with the antiquarian Richard Sainthill and folklorist Thomas Crofton Croker. Maclise copied from their collections, and they secured commissions for the young artist from their circle of wealthy and influential friends.
He moved to London in 1826 to attend the Royal Academy where he excelled as a student, particularly in life drawing and history painting. He began exhibiting in the RA in 1829, was made an associate in 1830, and an academician in 1840. Crofton Croker introduced Maclise to many influential people and he soon became a member of the literary and artistic circles of London.
In 1830 Maclise travelled to Paris where he came into contact with French and classical art in the Louvre, the Luxembourg, and Versailles. He studied and copied from these artworks, which greatly influenced his own work over the years.
Alongside his successful career as an artist, Maclise also worked as an illustrator, contributing to Fraser's Magazine, and illustrating works by Milton, Tennyson, Thomas Moore and Charles Dickens, amongst others.
He is perhaps best remembered for his monumental history paintings, including the frescos and oil works completed as part of the House of Lords Commission between 1859 and 1864. Working on these frescos put a great strain on his health, however, in his later years he continued working on scenes from the works of Shakespeare, as well as being actively involved in the RA. He died 25 April 1870 of acute pneumonia and is buried at Kensal Green cemetery, London.