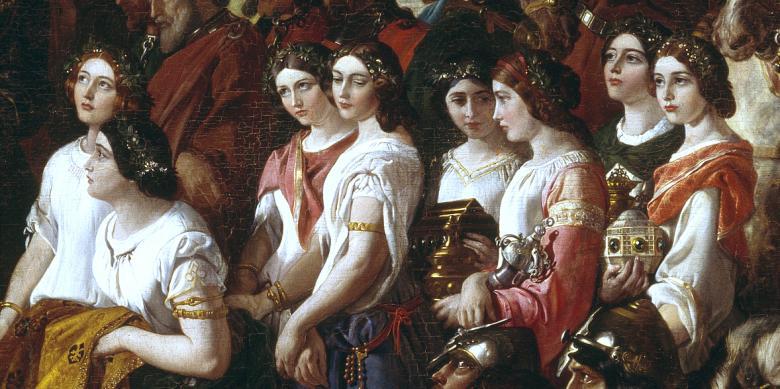 Daniel Maclise (1806-1870), detail from 'The Marriage of Strongbow and Aoife', c.1854. © National Gallery of Ireland.
Credit
In the late 1160s Dermot MacMurrough, king of Leinster, was struggling to retain his throne. After being expelled from Ireland he sought Strongbow's assistance in retaking his kingdom. A deal was struck and Strongbow invaded Waterford on 23 August 1170. 
Sources describe the battle as short but violent. The most contemporary source, Giraldus Cambrensis, stated that 'the invaders eagerly effected an entry…into the city and won a most bloody victory, large numbers of the citizens being slaughtered in the streets'.
In return for Strongbow's assistance, MacMurrough offered his daughter's hand in marriage and the wedding took place in Christ Church Cathedral in Waterford soon after the battle.
Maclise was probably aware of a number of key sources including Giraldus Cambrensis's Expugnatio Hibernica written in approximately 1189. Giraldus's account provides descriptions of both Strongbow and MacMurrough as well as the siege of Waterford. Although Giraldus spent time travelling around Ireland, he is not considered a wholly objective source since he wrote primarily for the glorification of English rulers.
Other sources include an epic verse written in French by an unknown author entitled The Song of Dermot and the Earl, and an early history of Ireland called Foras Feasa ar Éirinn by Geoffrey Keating, written c.1634.
Interpretation and meaning
Paintings, like history, can be interpreted in many different ways, and considerable debate surrounds the interpretation of this marriage scene.