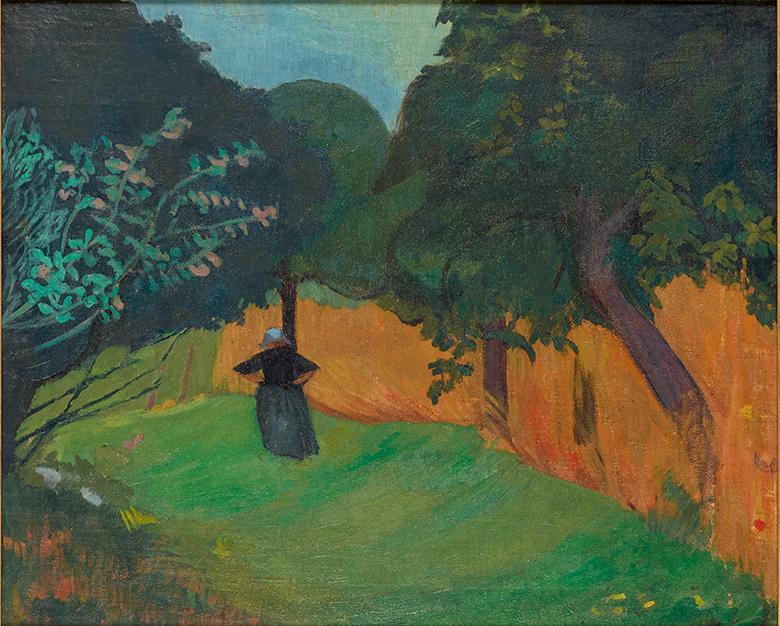 Paul Sérusier, 'Breton Woman next to a Field of Corn', c.1890-9. Image © Ashmolean Museum, University of Oxford
Credit
This series of three conversational podcasts features stories, thoughts and individual responses to the exhibition Roderic O'Conor and the Moderns (18 July – 29 October 2018). 
Combining speakers from diverse professions, with rich sound design and music specially commissioned from composer Michael Fleming, these episodes take you inside the exhibition and evoke Roderic O'Conor's world at the end of the nineteenth century: a time and place which inspired a revolution in European art.
Episode 1
Artist as profession and legacy, with Dr Brendan Rooney and artist Cian McLoughlin.
Brendan Rooney, Curator of Irish Art and Head Curator at the National Gallery of Ireland, has written widely on Irish art and is the co-curator of Roderic O'Conor and the Moderns.
Cian McLoughlin is a Dublin-based artist whose work is largely focused on portraiture and urban landscapes. A graduate of architecture, he went on to complete a Masters in Film Studies in UCD before dedicating himself full time to painting.
Listen now
Episode 2
France: The time, the place, the principles with Paul McLauchlan and Andrea Horan.
In this episode, Andrea Horan and Paul McLauchlan discuss the aesthetics of turn-of-the-century France: the people, the place, the fashions, and the colours, out of which the art of the Moderns was born.
Paul McLauchlan, an 18-year-old student from Cork, is a fashion writer and critic offering examinations of the intersection between fashion, politics and culture via his blog (www.sanguinestyle.com) and his social media platforms. McLauchlan has contributed to The New York Times, Fashionista and The Business of Fashion.
Andrea Horan is the co-founder of Tropical Popical Nail Salon on South William Street, Dublin. Renowned for their innovative focus on artistry and education, Tropical Popical fuses beauty training with art making. In June 2018 they commenced a yearlong creative collaboration with the National Gallery of Ireland.
Listen now
Transcript
Download the full PDF transcript of episode 2 now
Episode 3
Artist Colonies: Exchange of ideas and practices, with Una Sealy, RHA, and Mick O'Dea, PRHA.
In this episode, Una Sealy and Mick O'Dea discuss the exchange of artistic ideas and practices that artists' colonies, such as those in Pont-Aven during the second half of the 20th century, engendered. 
Una Sealy is a graduate of Dún Laoghaire College of Art and Design (now IADT), and was elected an Associate of the Royal Hibernian Academy in 2010. She has had an enduring interest in the work of Roderic O'Conor throughout her career and will be artist-in-residence in the Gallery this summer.
Mick O'Dea is one of Ireland's most highly regarded portrait artists and a member of Aosdána and the RHA since 1996. His work is held in both public and corporate collections including The Arts Council of Ireland, The Royal Hibernian Academy and the National Gallery of Ireland.
Listen now
Transcript
Download the full PDF transcript of episode 3 now
Extra episode!
Bal-musette: The iconic French sound
With live recordings, studio sessions and dialogue, musicians Martin Tourish (accordion), Dave Redmond (double bass) and Stephen Daly (guitar) tell the story of Bal-musette: its origin, history and impact.
Originally from Co. Donegal, Martin Tourish is an accordionist, composer and producer, now based in Dublin. A member of the band Altan, with whom he performs internationally, he has recorded film music for the Naxos label with the National Symphony Orchestra of Ireland, and played venues such as the Royal Albert Hall with The Chieftains, and the Grand Ole Opry with Altan and Ricky Skaggs.
David Redmond is best known for his collaborations with renowned Irish and International groups, and musicians including the acclaimed American pianist Bill Carrothers as part of the Kevin Brady Trio, Larry Coryell, and the UK jazz vocalist Ian Shaw. He is also a member of Yurodny (one of Irelands leading World Music groups). 
Stephen Daly's musical interests vary from Trad to Balkan to Jazz and swing. Playing guitar, banjo and violin, he has worked with acts and artists such as Betty Swing Machine, Wally Page, Jerry Fish, and has toured Ireland and the UK extensively with the North Strand Kontra Band. A regular feature on the gypsy jazz scene, he currently fronts the Dublin-based outfit, the Tolka Hot Club.
Listen now