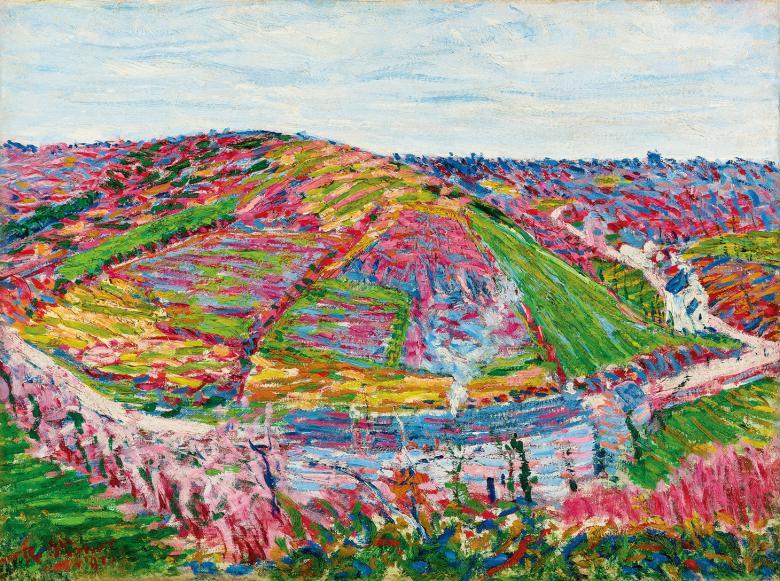 Roderic O'Conor, 'Landscape, Pont-Aven', 1892. Trustees of the W.R. Warburton 1996 Settlement. Photograph courtesy of Sotheby's
Credit
Imagining France is a series of podcasts organised as part of the exhibition Roderic O'Conor and the Moderns. Between Paris and Pont-Aven (18 July– 29October 2018).
In this episode, Una Sealy, RHA, and Mick O'Dea, PRHA, discuss the exchange of artistic ideas and practices that artists' colonies, such as those in Pont-Aven during the second half of the 20th century, engendered.
Una Sealy is a graduate of Dún Laoghaire College of Art and Design (now IADT), and was elected an Associate of the Royal Hibernian Academy in 2010. She has had an enduring interest in the work of Roderic O'Conor throughout her career and was artist-in-residence in the Gallery in early autumn.
Mick O'Dea is one of Ireland's most highly regarded portrait artists and a member of Aosdána and the RHA since 1996. His work is held in both public and corporate collections including The Arts Council of Ireland, The Royal Hibernian Academy and the National Gallery of Ireland.
Note for listeners: Due to new e-privacy measures on our site, you'll need to click on the cookie symbol in the bottom-left corner of this page and tick the boxes to accept statistics and marketing cookies in order to listen to the podcast embedded on this page. Alternatively, you can follow the links to listen on other platforms.
Listen now
Listen on other platforms
Listen to the embedded podcast above, or follow a link to listen on different platforms:
Transcript
Download the full PDF transcript of this Imagining France podcast episode.
About Imagining France
This series of podcasts, combining speakers from diverse professions, features stories, thoughts and individual responses, taking you inside the exhibition and evoking O'Conor's world at the end of the 19th century, a time and place which inspired a revolution in European art.
The music featured in each episode has been specially commissioned from Irish contemporary composer Michael Fleming. Inspired by works in the exhibition the pieces include:
After Le Cap Canaille, Cassis, 1913, Roderic O'Conor
After Head of a Breton Boy with Cap, c.1893, Roderic O'Conor
After Landscape, Pont-Aven, 1892, Roderic O'Conor
After Pont-Aven Sketchbook, 1892–3, Cuno Amiet
Other episodes: