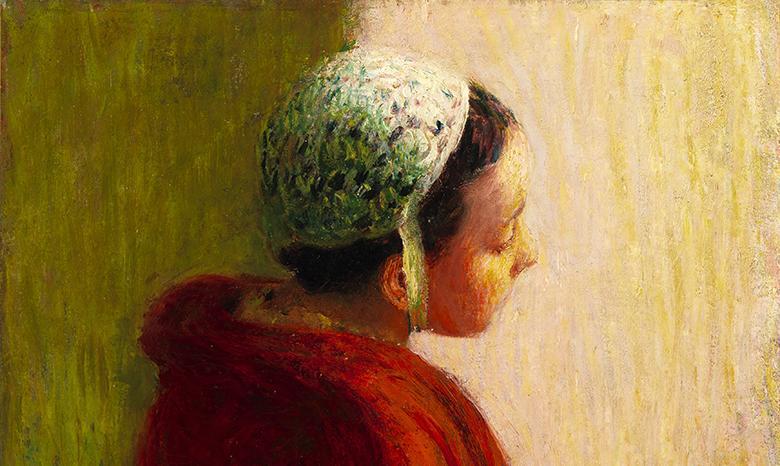 Detail from Roderic O'Conor, 'La Jeune Bretonne', c.1895. Photo © National Gallery of Ireland
Credit
Imagining France is a series of podcasts organised as part of the exhibition Roderic O'Conor and the Moderns. Between Paris and Pont-Aven (18 July – 29 October 2018).
For this first episode, we bring together Dr Brendan Rooney, Head Curator at the National Gallery of Ireland and co-curator of the exhibition, and artist Cian McLoughlin. They consider the practice and techniques of the Pont-Aven artists and the environment out of which the works emerged.
Note for listeners: Due to new e-privacy measures on our site, you'll need to click on the cookie symbol in the bottom-left corner of this page and tick the boxes to accept statistics and marketing cookies in order to listen to the podcast embedded on this page. Alternatively, you can follow the links to listen on other platforms.
Listen to episode 1 now
Listen on other platforms
Listen to the embedded podcast above, or follow a link to listen on different platforms:
About Imagining France
This series of three podcast episodes combines speakers from diverse professions sharing their stories, thoughts and individual responses. Each episode takes you inside the exhibition and evokes Roderic O'Conor's world at the end of the 19th century, a time and place which inspired a revolution in European art.
The music featured in each episode has been specially commissioned from Irish contemporary composer Michael Fleming. Inspired by works in the exhibition the pieces include:
After Le Cap Canaille, Cassis, 1913, Roderic O'Conor
After Head of a Breton Boy with Cap, c.1893, Roderic O'Conor
After Landscape, Pont-Aven, 1892, Roderic O'Conor
After Pont-Aven Sketchbook, 1892–3, Cuno Amiet
Other episodes in the series: