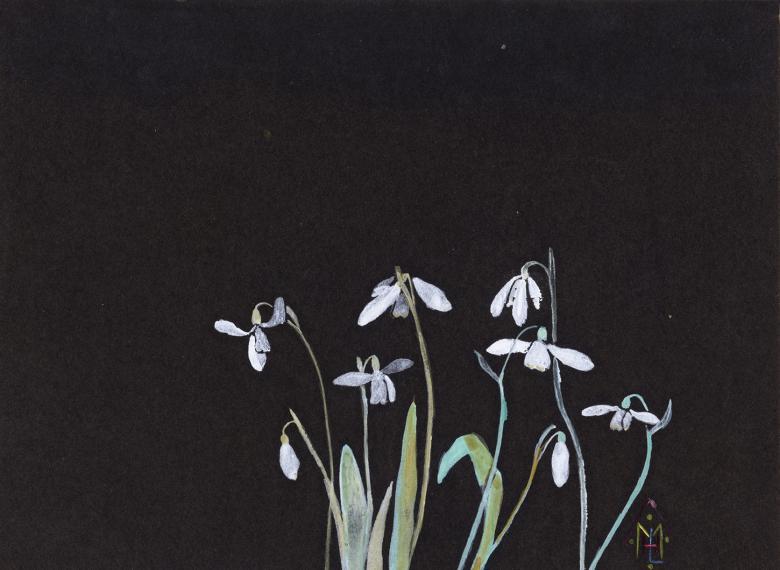 Lillias Mitchell (1915-2000), Snowdrops, 1929. Image © National Gallery of Ireland
Credit
The Gallery's ESB Centre for the Study of Irish Art and Yeats Archive contain rich archival collections which illuminate our understanding of Irish artists and their celebration of the natural world.
Read on to explore the archives and to uncover items by a selection of Irish artists that illustrate the wonders of nature.
Frederic William Burton
Frederic William Burton (1816–1900) was an Irish painter and former director of the National Gallery, London (1874–94). His best known work is The Meeting on the Turret Stairs, a vibrant watercolour which is in our collection. 
Burton's father, Samuel, was an amateur painter who encouraged his son when he displayed an interest and natural ability in drawing from a young age. Burton trained at the Dublin Society's Drawing Schools and began his career as a painter of miniature portraits.
The antiquarian and artist George Petrie was a mentor and friend who brought Burton to Connemara, in 1838, to document and sketch Irish historical ruins and monuments. Their work was important in promoting an understanding of Ireland's proud and ancient heritage in the mid-19th century, and is likely that this experience fostered an appreciation of the west of Ireland for Burton as a place of mysticism and great beauty. 
In the images below, Burton used watercolours, his medium of choice throughout his career, to depict vivid red roses in full bloom. The painting is from a page in one of his notebooks, which is part of the collection in our ESB Centre for the Study of Irish Art. The notebook is a fascinating and highly personal object that reveals elements of both Burton's artistic and personal life. As well as a number of other watercolours like this one, the notebook is filled with poetry and cut-outs. There are four pasted cut-outs of women, which are accompanied by four poems in Burton's handwriting called 'The Roses', 'Farewell to Mary', 'I Think of Thee', and 'Farewell'.
The rose carries many symbolic interpretations, the most common of which is romantic love. Perhaps Burton was expressing his affection towards one of the women mentioned in his notebook?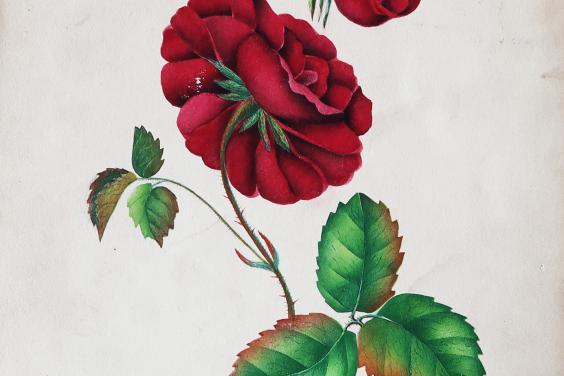 Frederic William Burton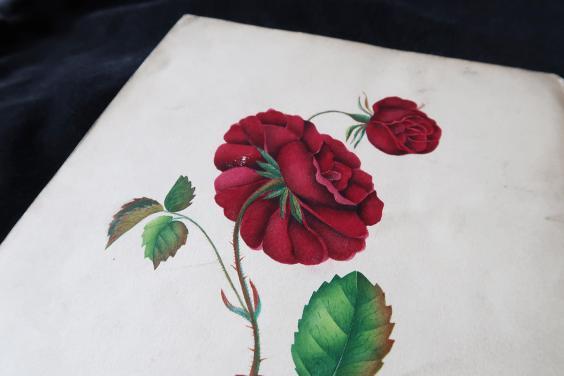 Frederic William Burton
Thomas Moore and Daniel Maclise
"At home and abroad, Moore's Irish Melodies created a realm of influence that continued to define Irish culture for many decades to come." (from Una Hunt's Sources and Style in Moore's Irish Melodies, 2017) 
Thomas Moore was an Irish poet and composer, born in 1779 to John Moore, a Roman Catholic wine merchant, and Anastasia Codd, from County Wexford. He grew up on Aungier Street in the centre of Dublin. Moore originally trained as a lawyer, and graduated from Trinity College in 1795, moving to London a few years later in 1799. Moore began to gain notoriety as a musician, performing regularly in the concert halls of Britain and Ireland. Between 1808 and 1834, he published his popular collected works The Irish Melodies, often known simply as Moore's Melodies. The Irish Melodies were a lucrative series for Moore and earned him an annual income of around £500. The melodies comprised 130 poems including 'The Last Rose of Summer' and 'The Minstrel Boy' set to the music of Moore and Sir John Stevenson. 
Moore, while poetic, also expressed a satirical political undertone that argued for justice for Irish Catholics. His melodies were often played in the drawing rooms of Victorian homes throughout London during the 19th century, and it has been suggested that Moore "concentrated on making some aspect of Celtic civilisation acceptable to a British audience" (Turpin, 1895).
Moore frequently made reference to ancient Irish mythology, folklore, and the beauty and mysticism of the Irish landscape as a way to translate his political ideologies. In the tune The Meeting of the Waters, Moore evokes the landscape between Rathdrum and Arklow where the rivers Avon and Avoca meet:"There is not in the wide world a valley so sweet / As that vale in whose bosom the bright waters meet".
His ethereal expression of the Irish landscape would prompt the illustrations of his friend Daniel Maclise (1806–1870), the Irish painter and illustrator, who, in an 1846 edition, embellished the pages of Moore's melodies with decadent borders of rich foliage and scenes of an ancient and traditional Éire.
Maclise was born in Cork, the son of a Presbyterian highland soldier who went on to become a shoemaker. Maclise worked in Newenham's bank for two years but he was eager to study art, eventually attending classes at the Cork School of Art.
Moore knew Maclise personally and invited him to illustrate the 1846 edition of The Irish Melodies which was not only one of Maclise's most impressive illustrated books, but one of the most prominent of the Victorian period. Maclise's use of the harp and shamrock pay homage to a Celtic past which had disappeared due to political upheaval; his illustrations were the earliest phase of the Celtic revival. Maclise's most well known painting is the large-scale 'The Marriage of Strongbow and Aoife', which hangs in our Shaw Room, and you can read all about the fascinating symbolism in that painting here. 
Maclise's exquisite illustrations work in tandem with the lyrical genius of Moore to create an object that is truly spectacular. Maclise's works illuminate the words of Moore to create "perhaps, the purest national tribute ever bequeathed by a poet to his country". Moore's lyrics and their visual accompaniments create a Celtic hinterland that evokes a deep appreciation for Ireland's vast landscape and surrounding sea.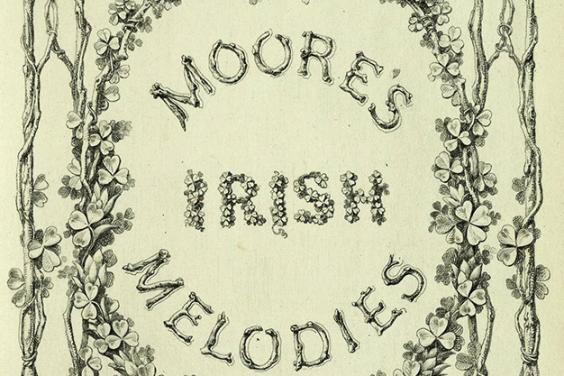 Moore's Melodies Illustrated by Daniel Maclise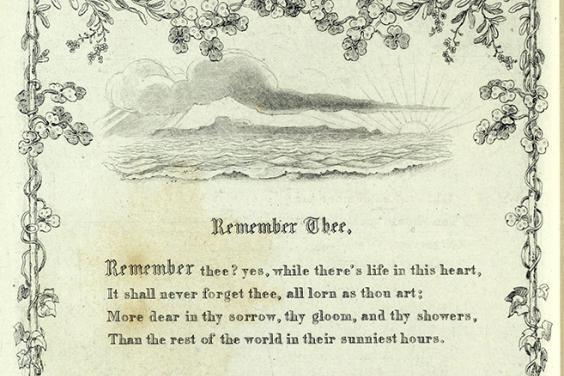 Moore's Melodies Illustrated by Daniel Maclise
Elizabeth Corbet Yeats
Elizabeth Corbet Yeats, often referred to as 'Lolly', was born in London in 1868 to John Butler Yeats and Susan Yeats (née Pollexfen). Elizabeth was part of the artistic Yeats family - her father John was a skilled portraitist, her brothers William and Jack were, respectively, a poet and an artist, and her sister Susan was an artist. While the achievements of the Yeats sisters are often overshadowed by those of their brothers, they played a very important role in the development of Irish cultural life, specifically craft and design.
In 1883, Elizabeth and her sister Susan enrolled in the Dublin Metropolitan School of Art and took classes in the Royal Dublin Society. Elizabeth returned to England to train as a kindergarten teacher at the Froebel College in Bedford (1888–1892) and graduated with distinction. After her training she taught as a visiting teacher at Froebel Society, Chiswick High School and the Central Foundation School. She also ran a painting class in Ireland where she taught many prominent Irish artists as children, including Mainie Jellett, Louis le Brocquy, and her niece Anne Yeats.
In 1902, Evelyn Gleeson, an embroidery, carpet, and tapestry designer, invited Elizabeth and Susan to join the Dun Emer Guild, an arts and crafts co-operative based in Dundrum in South Dublin. Susan would manage the embroidery department and Elizabeth would manage the printing press. Before returning to Dublin, Elizabeth enrolled in a four week printmaking course with the Women's Printing Society in Westminster in order to learn all the skills necessary for her new role at Dun Emer. 
Elizabeth was a gifted printmaker and her printing work was intrinsic to the Celtic literary revival. Dun Emer Press printed some of the most important literary works of the time by writers such W.B. Yeats, Douglas Hyde, and Lady Gregory. In1908, Elizabeth and Susan Yeats split from Gleeson and started their own initiative, The Cuala Industries, which consisted of a printing press and embroidery department.
Elizabeth was a person of many talents. As well as being an educator and a printer, she was also a landscape painter. She published four painting manuals; Brushwork (1896), Brushwork Studies of Flowers, Fruits and Animals (1898), Brushwork Copy Book (1899) and Elementary Brushwork Studies (1900) .The manual was used to teach children how to use watercolour techniques to paint flowers and plants, and includes twenty-four colourful plates (below). These publications were an important source of income for Elizabeth and the wider Yeats family, allowing them to continue their artistic endeavours, which would ultimately promote and shape the Celtic Revival in Ireland. 
Elizabeth's interest in the natural world is evident in her choice of subject matter in her painting manuals, but also in her printing press work which often referenced the flora and fauna of Ireland.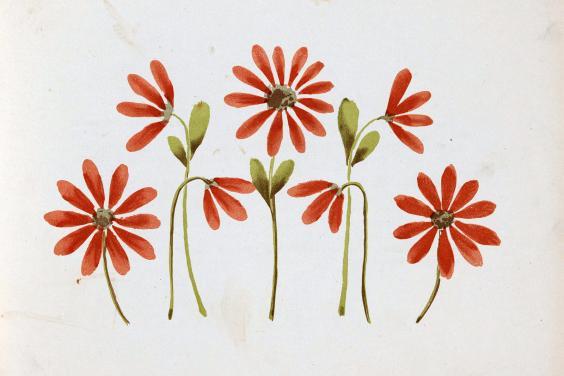 Elizabeth Corbet Yeats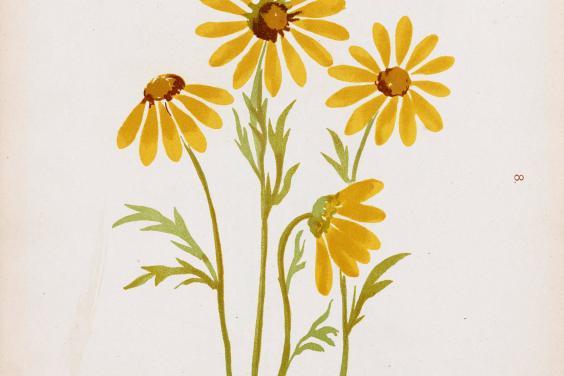 Elizabeth Corbet Yeats
Ruth Lane Poole
Ruth Lane Poole was born in 1886 to a wealthy merchant family from Sligo. Following the separation of her parents Henrietta and Frederick Pollexfen in 1900, Ruth became a ward of her cousin Susan (Lily) Yeats. Ruth was Susan's apprentice while she ran the embroidery department at Dun Emer Industries and later Cuala. She prepared decorative embroidery designs such as the one pictured above. The cushion cover, which was designed by Elizabeth Yeats and executed by Ruth, was created using the finest of Irish materials, including silk and wool thread, on blue poplin. Poplin is a woven silk warp and woollen weft that is both durable and aesthetically beautiful, and it was a popular material which was widely used during the Irish arts and crafts movement. 
In July 1911, Ruth married an English-Australian forester called Charles Lane Poole, and was given away by her cousin William Butler Yeats. After the wedding, Ruth remained in Ireland for five years while Charles worked in Sierra Leone. Due to Charles' job they relocated quite often, but eventually settled in Australia, where they had three children.
Ruth maintained an interest in design and wrote frequently about interior design for magazines and newspapers. In 1926 she was commissioned to design and furnish the interiors of the residences of the Prime Minister and Governor General in Canberra. 
Like so many of the women artists who worked for the Dun Emer Industries and Cuala, not much is known about her life or her artistic career. However, it is apparent from what we do know that she was a highly skilful and talented individual who learned to embroider intricate designs using precious materials at a young age. Her experience growing up around the Yeats family no doubt fuelled her creativity and fostered a keen interest in design, and her achievements in Australia speak for themselves.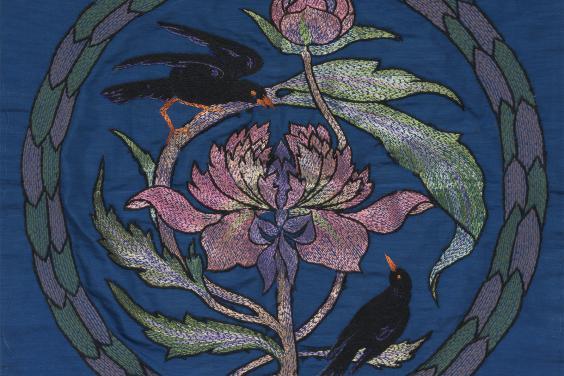 Blackbirds and Peony cushion cover, by Ruth Lane Poole, c. 1903. Design by Elizabeth Corbet Yeats.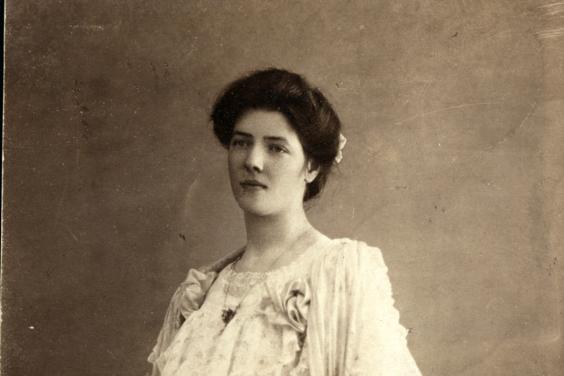 Ruth Pollexfen, 1904.
Lillias Mitchell
Helen Lillias Mitchell (1915–2000) was born in Rathgar, Dublin. As a child, she displayed an aptitude for art, and studied sculpture and painting with Elizabeth Corbet Yeats. Mitchell's art class certificates can be found in the Yeats Archive and are interesting objects in relation to tracing Mitchell's artistic progress, and also in revealing the teaching criteria and levels of practice set out by Elizabeth Corbet Yeats for her young students. 
Mitchell developed a flair for weaving and in 1946 she set up a weaving school with Morfudd Roberts, called the Golden Fleece. By 1950 she had met the minister for Education and was invited  to set up a weaving department in the National College of Art and Design. As the weaving department grew, it required more space and was relocated into two prefabricated huts in the garden of Dáil Eireann. It was there that Lillias taught weaving, spinning and dyeing until she retired in 1979. After her retirement, she focused her energy on painting, and was elected as a member of the Royal Hibernian Academy. She exhibited her work several times during the 1980s and 1990s. 
Lillias painted Snowdrops (at the top of the page) at the age of fourteen. She used watercolours to depict delicate snowdrops creeping up from the foreground of the composition. Her attention to detail and understanding of the natural world are apparent - the snowdrop at the far left appears to be caught in the wind, as its petals sweep upwards. Mitchell's prolific career has shaped the landscape of weaving in Ireland.