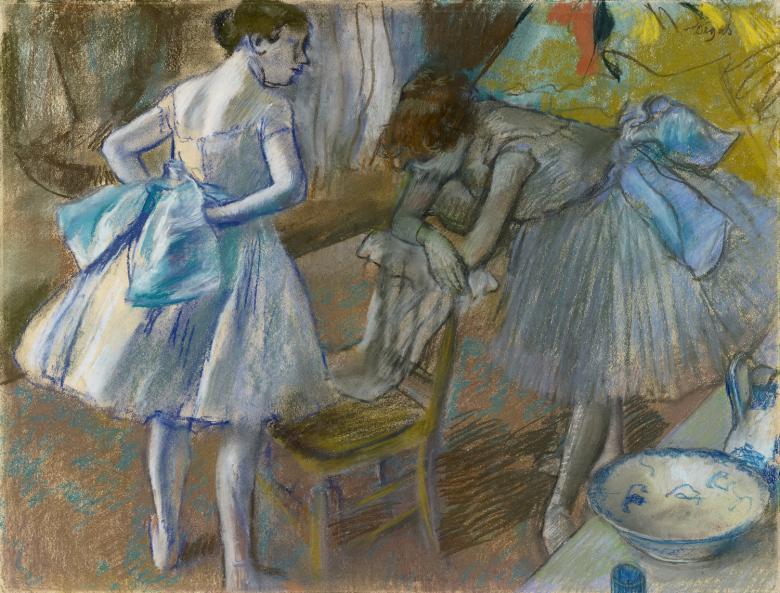 Edgar Degas (1834-1917), 'Two Ballet Dancers in a Dressing Room', c.1880. Image National Gallery of Ireland.
Credit
| | |
| --- | --- |
| Year | c.1880 |
| Size | 48.5 x 64 cm |
| Medium | Pastel on paper |
| Provenance | Bequeathed, Edward Martyn, 1924 |
| Number | NGI.2740 |
Curator's Choice
We've asked the Gallery's curators to select some of their favourite works from the collection. Here, Niamh MacNally, Curator of the Prints and Drawings Study Room, shares Degas' drawing:
"Degas was captivated by the vibrant ballet world in Paris. From the 1870s, he observed and recorded the graceful gestures and movements of dancers, first representing performances and, later, studio rehearsals. He repeatedly described the details of the dancers' agility, precision, and strength in a wide variety of media. In 1885, he gained privileged access to the Paris Opéra, which enabled him to move freely behind the scenes and sketch the dancers in their routine work environment.
In this richly coloured pastel, ballerinas (more than likely members of the corps de ballet) take a moment's rest in their dressing room before going on stage. A rail of costumes forms the backdrop and points to the fact that this may be a quick-change area. Degas skilfully renders the textures of their tulle skirts, tied with large blue sashes, as well as the artificial light that illuminates the dancer with her back to the viewer. The slightly elevated viewpoint and the cropped nature of the composition contribute to the overall sense of immediacy of this image.
It is likely that the Irish novelist and playwright Edward Martyn, who visited Paris with fellow writer George Moore in 1886, bought this pastel directly from the artist's dealer Paul Durand-Ruel. Martyn bequeathed the drawing to the National Gallery of Ireland in 1924.
At the present time, this exquisite pastel reminds me of all the actors, dancers, musicians, singers and performers who enrich the lives of those who experience their work at first hand. I look forward, like many, to enjoying the thrill of the performance once again in the near future."