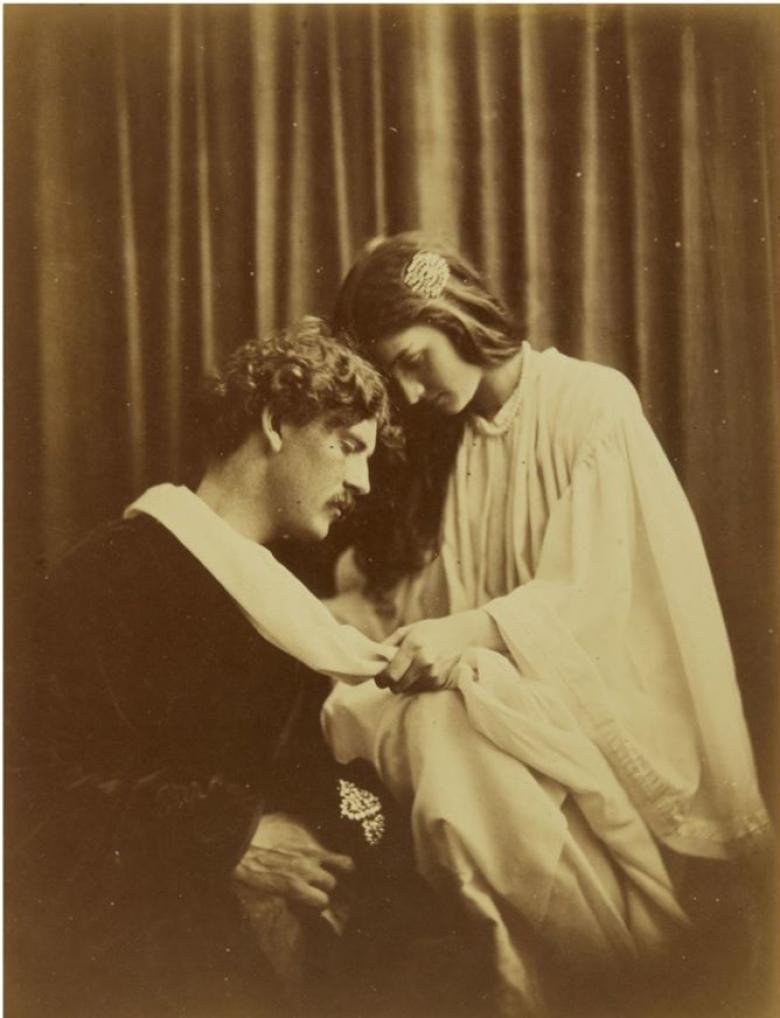 Julia Margaret Cameron (1815 - 1879), Browning's Sordello (Henry John Stedman Cotton and Mary Ryan), 1867. Photo © National Gallery of Ireland.
Credit
| | |
| --- | --- |
| Year | 1867 |
| Size | Image: 33.3 x 25.7 cm |
| Medium | Albumen print |
| Provenance | Purchased, 2019 |
| Number | NGI.2019.330 |
Curator's Choice
We've asked the Gallery's curators to select some of their favourite works from the collection. Here Sarah McAuliffe, Curatorial Fellow, shares this beautiful photograph.
"Julia Margaret Cameron converted a chicken coop into a studio and a coal bin into a darkroom, on her property on the Isle of Wight, and began making portraits. Among her sitters were her friends the poets Alfred Lord Tennyson and Henry Wadsworth Longfellow, and scientist Charles Darwin. Especially noteworthy from this period are Cameron's sensitive renderings of female beauty, as in her portraits of the actress Ellen Terry, her niece Julia Jackson and her Irish maid Mary Ryan.
At the age of 10, Mary Ryan was saved from a life of begging, along with her mother. Touched by Mary's grace, Cameron took on her upbringing beside her own children, and in return Mary became a loyal maid and muse for the photographer, before marrying Sir Henry Stedman Cotton (more of which later).
The inspiration for this particular portrait comes from Sordello, a narrative poem by Robert Browning (1840). Sordello was an Italian poet/warrior of the early 13th century. Cameron often sought inspiration for her photographs by exploring other art forms, such as painting, philosophy and poetry, so it comes as no surprise that she drew on the writing of Browning.
In addition to Cameron's unique style and her courage to experiment with a medium that was completely dominated by men during the 19th century, what I like most about this work is the story behind its acquisition.
In 2018, when the Gallery started to actively collect photography, one of the first works acquired was a portrait of Mary, After the Manner of Perugino (c.1865), one of the few extant portraits of her. Soon after, we learned that Sir Henry Cotton had fallen in love with Mary after viewing one of Cameron's portraits of her at an exhibition in England, and in 2020, another photograph of Mary Ryan came up at auction, this time with her love, Sir Henry Cotton (the photograph above). The pair married in 1867, and went on to have four children. They often posed for Cameron; on their wedding day, she photographed them, in costume, as Romeo and Juliet."